Danielle Wightman-Stone

|
When you think Joules, feminine, outdoorsy prints is generally the common consensus, the high street fashion and lifestyle retailer has created a unique offering on the high street making its signature prints of florals, stripes and bold colours the focus of its women's, men's and children's collections. FashionUnited chatted with the retailer's head of print, Laura Douglas on the challenges she faces creating Joules' prints, how the process is changing with the retailer's current expansion, as well as her advice on how graduates can succeed in the print sector.
How did you get into fashion and decide on print design?
"I did an art foundation course and then I went onto Northumbria University and did a fashion and marketing degree, as I initially specialised in product. Once I graduated my first job was at Joules and I started as a marketing assistant and then slowly worked my way up.
"2016 will mark my 10th year here at Joules. With the change and the growth we've been having, every year has felt like a new business. It has been an amazing journey to be part of, and it is never dull.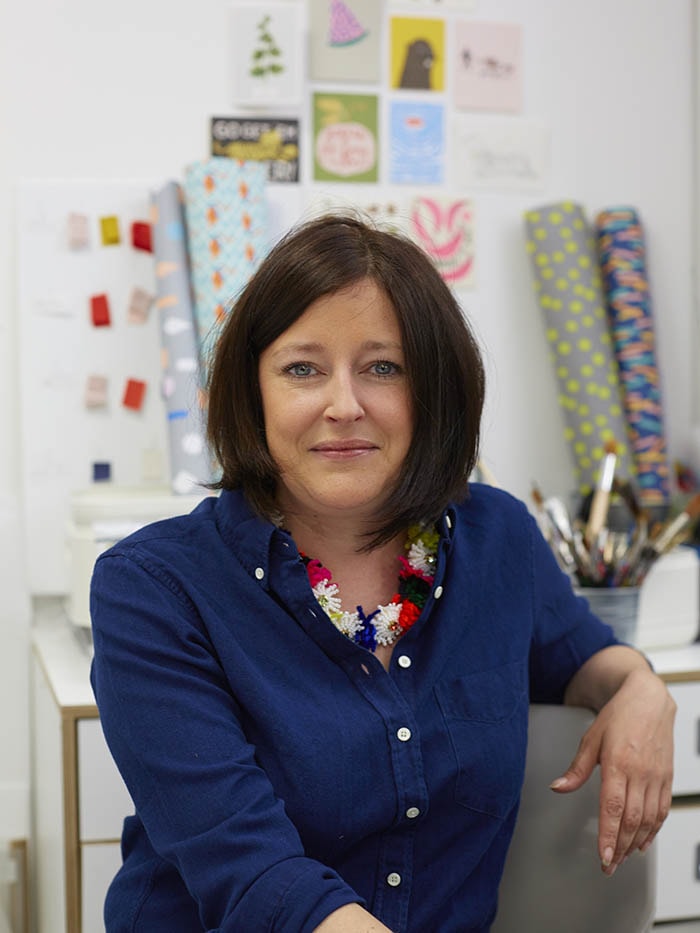 "Initially I specialised in childrenswear and then because I loved print I moved into that department. I think having that product experience has helped me have a holistic view over that whole process - from the conception of the garments to how we can translate that into a print, and how print works across the products. I currently look after all areas of the business with regards to print, bar men's."
What's a typical day for the head of print at Joules?
"It varies dependent on the time of year and what we are working on. I start off the season talking to the product designers and buyers, pulling concept stories and themes, and then my job is to ensure that everything is coming together and that the key messages are coming through.
"It's important for us to remain true to our brand, with the way trends go, it is very easy for businesses to go off course in terms of who they are and what they stand for, and I just ensure that we are keeping that message through the prints. We follow trends but ultimately we are true to what our customers want, which is probably the biggest and important role I play, to ensure that the prints represent who we are as a brand across all areas.
"Also, as we are so print heavy, it also ensuring that because of our varying sizes of stores that there is a nice balance across all areas, and how they sit in a retail environment together. It's about having that holistic view over the business and keeping it focused."
What is a Joules customer looking for in the prints?
"I think our customer has a real sense of fun and they don't take themselves too seriously and they come to Joules for something different that not everyone else offers on the high street. They are looking for bright and bold and they aren't afraid to experiment with colour.
"They related to what we stand for as a brand, in our family values, which I think comes across in the clothes as they are fun, bright and the quirks of the print. That's why I think they come back to us."
Is the expansion of Joules impacting on how you produce your prints?
"As we are expanding, American and Germany are key markets for us, we work so far in advance because of our print process, everything we produce is done from scratch and ultimately that adds time onto your lead time, so we have to work so far in advance to create all these beautiful products that hit the store. We are tending to opt for retail focused ranges, where we select from the wholesale package, and then add on with more fashion-reaction pieces to enhance our product offerings."
Does Joules growing allow you to be more experimental or has it meant you need to be more focused?
"Florals are our hallmark that's what we are known for and they stand out for us. The bigger we get it allows us to do more unusual prints, such as the indigos, which has been so phenomenally successful, it isn't something that people would necessarily come to us for, but I think it works as it is a bit of calm within the florals.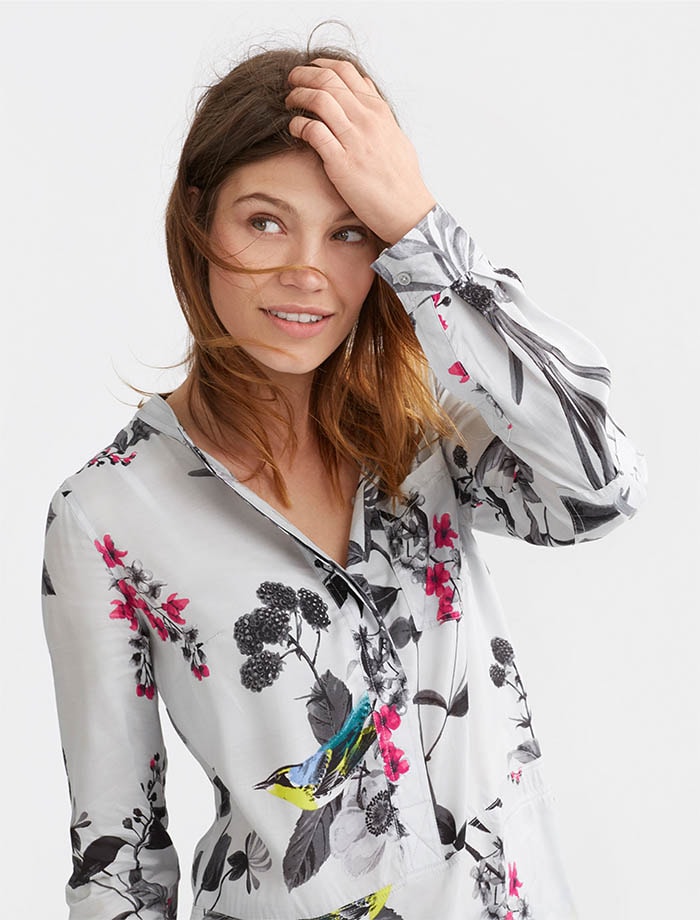 "It is about expanding and keeping the hallmark florals but expanding the range with new prints, such as the monos we added this season, which is quite interesting for us as we are quite a colourful brand. It is about expanding and diversifying with prints that aren't expected of us, but to do it in a way that's very Joules."
Joules must have a huge archive of prints - how do you come up with new designs?
"We have an archive that could probably rival most print studios, sometimes things get used one season, and not the next, and then we will revisit it and change it slightly to what we are working on.
"We have changed as a business, initially, we used to take vintage prints from print studios and recolour them and make them beautiful, but printing has grown and the team we have is amazing and so talented. Now we take vintage and one of the designers will paint sections of it, work it in photoshop to produce new prints. Now what we generate is like works of art. Now our prints are all original artworks."
How big is the print team at Joules?
"We have a vast team now, 16 of us, and each person has a different approach to creating print - for instance painting beautiful watercolour florals get scanned in, adapted, and the colours get tweaked and changed, while another designer could be taking elements of two vintage print and marry them together with effects on photoshop.
"On the high street you get a lot of flat prints, with not a lot of depth, when you look at Joules prints they are so multi-layered, they are just so intricate and beautiful and that's because of the talented pool of people at Joules."
What challenges does a print designer face?
"Within Joules it is time, we are a truly multichannel business, evolving and continuing to expand into new markets we are so busy, and we only have one range, which needs to work for so many different uses. We need to ensure that we have time to keep the standard and the quality of the prints high for the amount of work we are doing. It's our goal to keep things special and beautiful, remembering all the hallmarks that make Joules prints, a Joules print.
What do you look for in a print designer?
"It's a challenge to find someone who has unbelievable talent while also understanding that a product needs to sell. I see a lack of commerciality amongst graduates, it's fine to be experimental while at university, but businesses are looking for print designers who can produce commercially viable prints that are exceptional.
"It is that level of commerciality that goes slightly array when they are producing their graduate collections. While being slightly unusual and thinking outside of the box, graduates also have to understand that they will have to go work inside a commercial environment.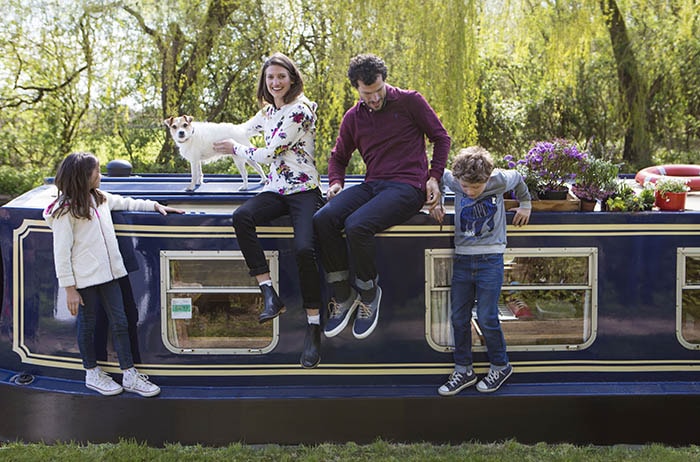 "As a company most of our print designers have come from graduates, which means that we can steer and guide them, and they grow with the business and they understand our brand DNA and get what Joules is about. It has been a much easier way for us to cultivate that talent."
What advice would you give to graduates wanting to get into print design?
"Do as much work experience as possible. Understand the business you are looking to get into, when you apply for a job, swat up, make sure you know everything about the brand. It shows an eagerness and keenness that they want to be part of the journey. We want people to have passion if they don't have passion they don't create as well. It's also that commercial balance, which is sometimes so lacking.
"There are only a certain amount of positions that come up each year you have to be flexible and look at other options if they don't fit within your initial remit."

During the month of August FashionUnited will focus on Work in Fashion. For all reads on on the theme, click
here
.
Images: courtesy of Joules