My Sister is a clothing company with a strong social message. The celebrity-loved brand, which launched a major reinvention last month, is devoted to shedding light on the dangers of sex trafficking. Each item features designs that highlight an aspect of the issue - and promote a words of empowerment.
Founded by Mandy Multerer and Wayne Zink, My Sister frequently joins forces with non-profit organizations to aid the fight against sexual exploitation. Pieces are also crafted in ethical factories, in which workers are compensated with a living wage.
FashionUnited had the chance to speak with the company's Chief Product Officer Heather Shore to learn more about My Sister's mission and the challenges of tackling a difficult issue through fashion.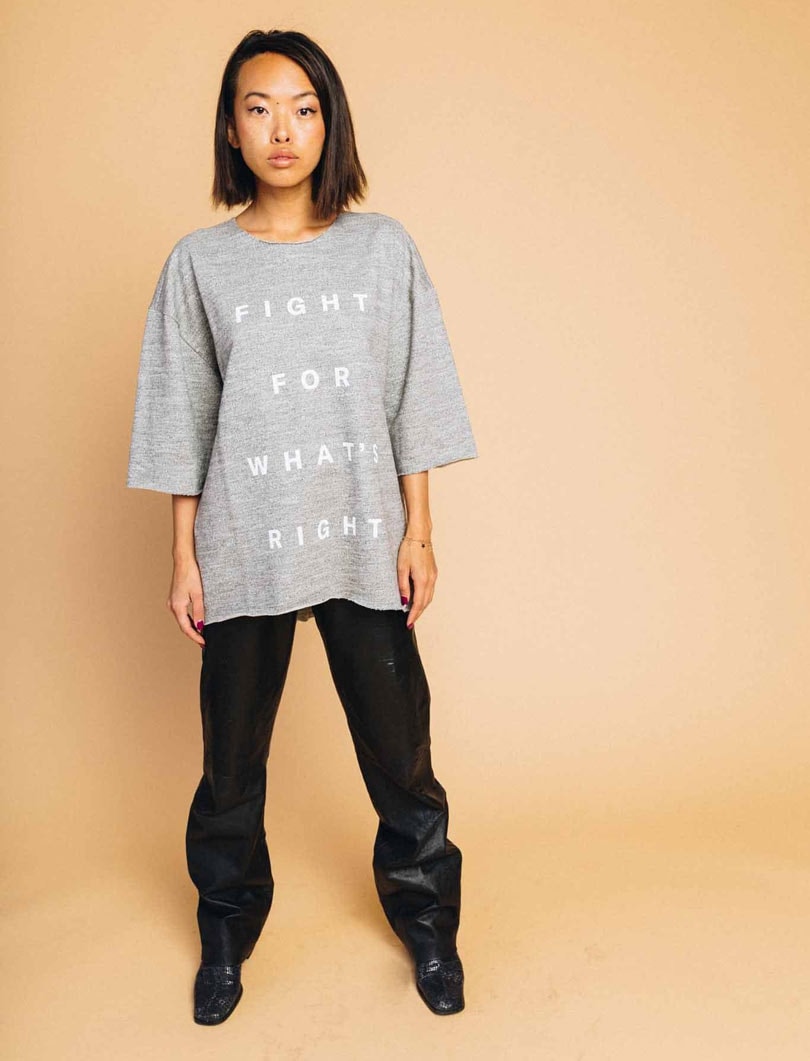 What inspired your determination to shed light on sex trafficking survivors through a clothing company?
Exploitation everywhere is unacceptable to us, and sexual exploitation specifically is so difficult to get out of when the trafficked person chooses because of earning potential, chemical dependency (often self-medicating without reliable or affordable insurance), reliance on the trafficker, violence from the trafficker and a myriad of other issues that are inter-related.
We chose to put statements of solidarity and ally-ship on clothing and accessories because it allows supporters (our customers) to educate their communities on the reality of exploited people and express what they believe in.
What were some of the challenges you faced early on when it came to procuring backing and an initial fanbase?
Perhaps unsurprisingly, people have been overwhelmingly supportive - With so much discouraging news, there is still so much good happening and when our community was made aware of what we were building and why it wasn't a hard sell. The on-going questions we asked then and ask now are: What is needed by survivors? What support can we provide? How can we be most efficient and effective with the dollars we funnel and how can we grow what's working? Those remain the challenges and the passion of this work.
You've partnered with organizations aimed at a similar cause, how did you go about building relationships with them and ensure they were on board with collaborating?
There is some really incredible work going on locally and across the country inside nonprofits and benefits companies feeding the mission to support survivors and raise awareness. We aren't "saviors" - we're partners who can put our retail skills to use in this very focused way. The nonprofits we work with have successful, dedicated programs that just need more support, and we've been able to form great relationships because we learn and grow together.
There have been a number of celebrities like Blake Lively and Amy Schumer who have come out in support of the brand, how did you approach reaching out to them?
We've been surprised and grateful to have been approached by celebrities - women who have teeth in the #TimesUp and #MeToo movement who are determined to change the landscape for women and girls (and by extension, everyone). These women have reached out to their friends and made the brand known to them, and that attention has already filtered money to our nonprofit partners.
It's been important to you that the clothing is made in humane conditions when crafted in factories abroad. What is the process like of seeking out these types of manufacturers?
The sourcing process to find ethnically-aligned apparel partners isn't easy yet, but it's certainly improved vastly over the last few years. We work with overseas and domestic factories - companies like Suuchi and Known Supply, who are committed to a diverse and fairly-compensated staff and who are subsequently some of the most exciting companies out there doing this work.
What are some of the biggest changes that you are pushing for when it comes to protecting trafficking survivors and how have you gone about highlighting these issues with your company?
The biggest challenge we see regarding sex trafficking prevention is curbing and ultimately eliminating the demand that causes it. Our "I Don't Buy It" t-shirt is a unisex style, but has been offered throughout the last few years (we re-introduced it for the Super Bowl this year).

But of course our biggest efforts involve supporting survivors, focused on life and work skill-building and employment with training from keeping regular work hours to learning how to research effectively. These are useful skills for survivors to learn and potentially teach others as they navigate a different way of making a living and better opportunities for themselves.

We believe in the Equality Model (also known as the Nordic Model) which decriminalizes all those who are trafficked, provides support services to help them exit, and makes buying people for sex a criminal offense in order to reduce the demand that drives sex trafficking.

Items can be purchased at www.mysister.org and can be shipped throughout the U.S. and worldwide. Proceeds of each item go to the survivors of sex trafficking and various charities like Girls Educational and Mentoring Services' (GEMS).

Photos courtesy of the brand