Six Master Tailor Institute students graduated with a master's degree in Tailoring, specialising in Women's Couture, Men's Costume and Historic Costume last week. The young designers, who took the three-year course, were given ten weeks to produce an outfit which they would exhibit during their graduation. Taking inspiration from couturiers such as Raf Simons and Ralph & Russo, the students produced dresses and suits to the highest couture standard for their final presentation.
The graduate ceremony took place in the Master Tailor Institute, during which each graduate, after walking their designs down a small catwalk, received flowers and signed their degree certificates.The graduation was attended by supporters of the school, The Municipality of Amsterdam, National Opera & Ballet and Amsterdam Theater Group, as well as a representative from Meester Koetsierfonds, Tess van Zalinge and the future employers of the new tailors.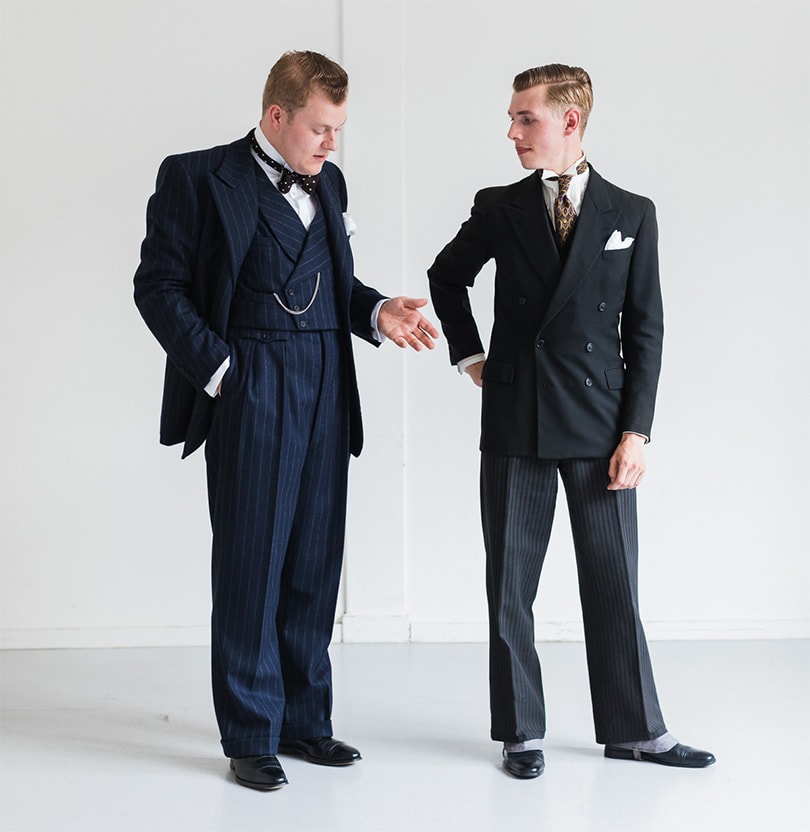 Tom van het Hof was awarded the highest honours for his master's degree final design - a three piece suit inspired by vintage Esquire fashion magazines from 1934. Speaking of the design, Hof told FashionUnited that his "obsession with 20s and 30s vintage fashion" influenced his decisions, adding that "the small details, shapes and materials that distinguish old from modern is what makes the designs so much better". Throughout the 10 week design process, Hof said he "didn't feel rushed, just confident with what he was doing", finishing his design with one day to spare.
Another stand out design was made by student, Birgit Beernink. Replicating a dress from Viktor & Rolf's 2012 summer collection - Beernink created a black dress featuring holes with pink threaded through and a mesh lining that could be seen on the chest and arms. Inspired by dolls, the dress is an exact replica of the Viktor & Rolf's dress.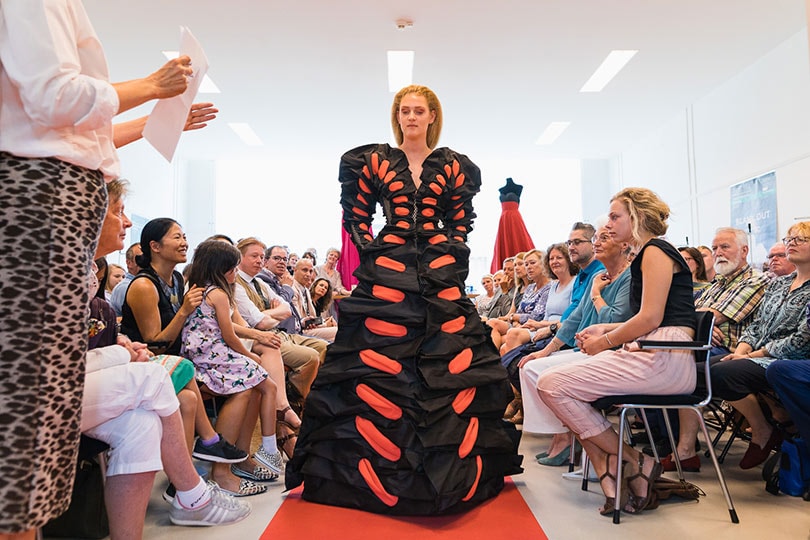 Among the other designs were a pink, Dior inspired 'new look' dress, created with use of a corset. A blue dress which was made with over 20 meters of fabric, a navy pinstripe suit and a tartan dress suit, with a matching purple motif.
Based in Amsterdam's West, Master Tailor Institute is renowned for its specialist tailoring courses, 'providing education to a new generation of modern 'bespoke tailors' for theater, opera, ballet, film and haute couture since 2011'. The school is very small, with only 100 students, "you can know everyone by name, and everyone works together when help is needed" said Carolien Shulmeister head of marketing and communication at the school, speaking of the last minute preparations before the graduation ceremony.
Photos courtesy of Meesteropleiding Coupeur, Willem de Kam