The Supima annual design competition, in its ninth year, demonstrates that there is no end of ways to reimagine that most familiar of fabrics, cotton. Founded in 1954, Supima produces highest quality pima cotton from multi-generational farms located in California and the South West. Modeled after the Wool Secretariat competition of 1954 that famously launched the names of Karl Lagerfeld and Yves Saint Laurent into the fashion consciousness, Supima seeks to highlight emerging talent and identify and encourage future design icons.
The challenge was set to the 6 finalists to create an eveningwear collection of 5 looks. They were provided with 5 varieties of untreated, uncolored cotton, from shirting to corduroy, to do with as they saw fit. Their mentor during the process was established New York-based designer Bibhu Mohapatra, and the reward for the winning contestant as judged by a panel of a dozen fashion professionals, 10,000 dollars.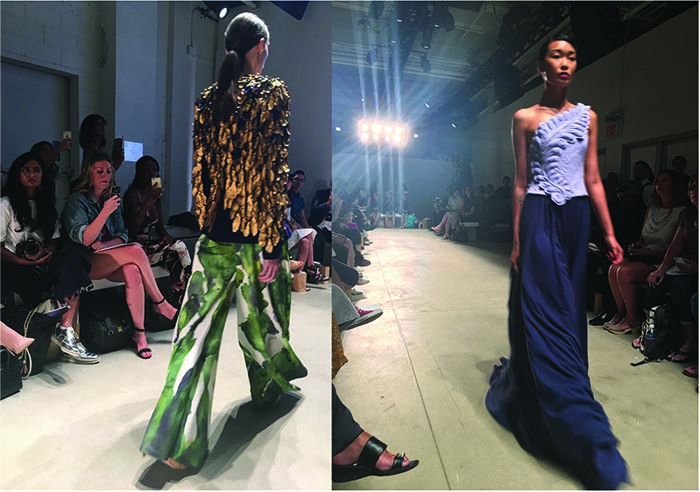 Supima Student Show announces winners
FIDM student Duston Jasso's goddess gowns sprouting gilded feathers became a summer cottage industry that occupied his entire family as he enlisted them in the hand-making of each individual plume, then applied them in opulent clusters across blazers and gowns. This angelic inspiration and the laser focus to execute it might must be down to the fact that he swears by his morning meditation ritual, takes walks and concentrates on his breathing.
The rhythms and layers of jazz music provided the starting point for FIT graduate Jiyeon Lee's collection which she translated through trapunto and quilting techniques in soothing lavenders and indigos.
Kara Kroeger from Kent State has had a busy few months, not only preparing her Supima collection which features intricate braiding and rope techniques, but she has also shown at China Fashion Week and claimed the Kenneth Cole Innovation Award––despite having never designed shoes before. Her prize of a paid year-long fellowship within the Kenneth Cole company begins on Monday, and she moved to the city just yesterday. Her lucky charm for days like today? "I always wear something that I've designed myself. That's my ritual." So far, her designs have been getting plenty of outings.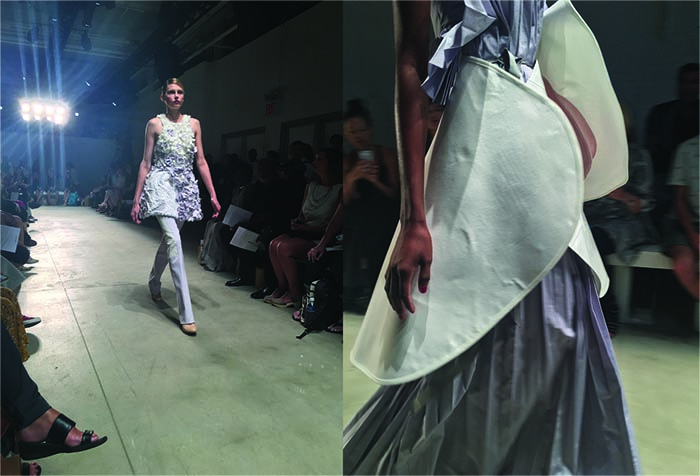 Jacqueline Zeyi Chen from Parsons looked back to a childhood trauma for the conception of her collection. At aged 11 she found herself severely allergic to cold weather, forced to wear hats and wind-protective garments all year round. She sought to mimic the symptoms for her Supima collection through textile manipulation that evokes the hives that broke out on her skin, with floor-length layering which incorporates hat-like structures and nostalgically coloring the fruits of her memories in soft neutrals and pastels. She has already expanded her thesis collection in preparation for her first full show under the name Zeyi Studio which will be unveiled on September 25.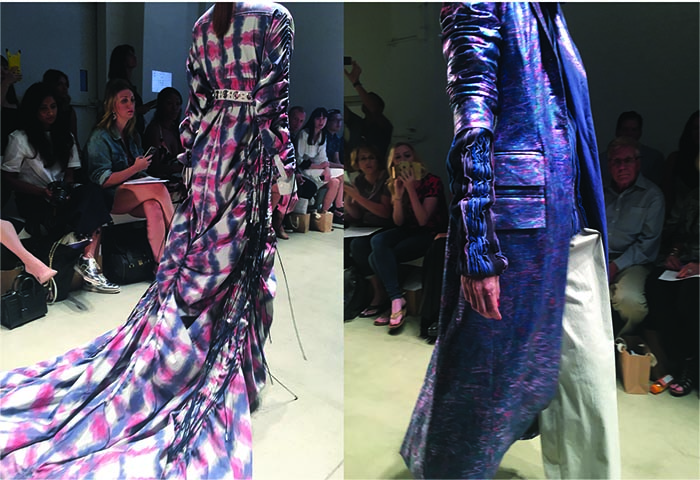 Jacob Blau from Rhode Island School of Design admits he hadn't designed womenswear since his sophomore year but called upon all his menswear training and fabric knowledge to create his eveningwear for Supima. His pieces boast a dramatic dyeing technique created by using an eye dropper filled with scarlet and navy paint, regimented rows of eyelets, and the statement "While we still can."
Combining the outlook of a 50's woman with 90's rave culture and his own feelings on Brexit and "the American reality TV show that is our politics at the moment" results in precision tailoring with a punk spirit. Blau says he would like to live in London: "I always romanticize U.K. design more than I should possibly. They seem to dress more for themselves than New Yorkers." But he also has his eyes on Antwerp and here at home hopes to target Thom Browne and Calvin Klein for interviews. Blau laughs when I ask what he will do if he wins the prize money. "If my mum asks, I'll say I'll save it. But I'd like to go on vacation to Iceland." The metallic-hued knee-length jacket of his fifth outfit recalling the dramatic Aurora Borealis suggests he might have been there already in his dreams.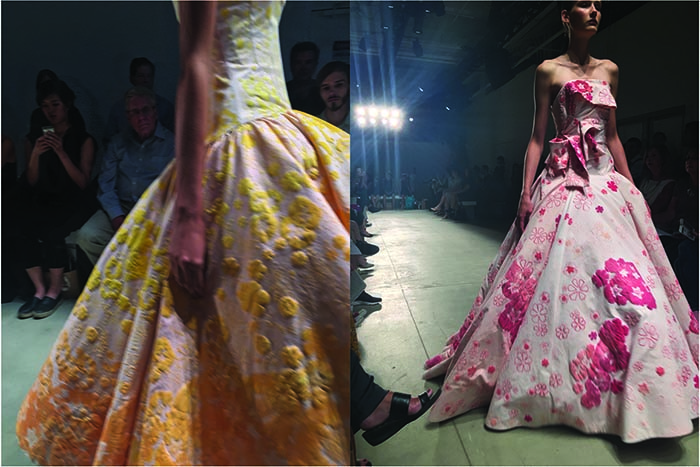 Jeffrey Taylor from SCAD cites his mother, the first lady of her church, as the leading lady in his design inspiration files also. He recounts how her silhouettes always had to be just so and of the importance of bold color in her Sunday outfits which drove the feminine but dramatic silhouettes he shows today. Fifties silhouettes with exuberant skirts all flocked with joyful florals and some obi-style belts encircling the torsos are pleasing updates on the beloved ballgown.
While the merits of each student's collection are many, and their individual responses to cotton fascinating, there can be only one winner. The moment has arrived. The winner of the 10,000 dollars prize money is...Jeffrey Taylor.
By contributing guest editor Jackie Mallon, who is on the teaching faculty of several NYC fashion programmes and is the author of Silk for the Feed Dogs, a novel set in the international fashion industry.
All photos by Jackie Mallon