The KTCHN concept was devised during the TMO Fashion Business School business plan project, which forms part of the curriculum covering entrepreneurship and innovation. KTCHN is a catering textile made from the fashion industry's production surpluses. The external, professional jury, which assesses the feasibility of all the concepts at the school's request, deemed the concept to be so unique and viable that the inventors, Babs Servaas and Cathelijne Killian, decided to further develop KTCHN. This was done as part of TMO's Entrepreneurship Pathway. And very successfully too. They were awarded the Meester Koetsier Entrepreneur Award six months later, which included a 10,000 euro investment. An interview.
Tell us more about KTCHN
"Babs: KTCHN is a sustainable catering textile, made from the clothing industry's production surpluses. Research shows that nearly 22 million garments are burned every year. Obviously terrible from an environmental point of view! This often involves garments without any flaws or defects. KTCHN collects the garments according to colour - currently only white - and subsequently mechanically removes any attachments, such as buttons. The garments are then passed through the shredder so you can no longer see any prints, yarn is spun from the fibres and finally the fabric is woven.
This process is more expensive than regular production, but it is sustainable. We conducted research among hospitality professionals, which showed they want to be more sustainable and are willing to pay more for sustainable catering textiles.
KTCHN allows us to respond to the current organic, vegan and sustainable trend. The number of organic, vegetarian and vegan restaurants is on the up and we are seeing a constant increase in organic quality labels. The KTCHN line consists of napkins and tablecloths. These all feature the KTCHN label, making sure the catering establishment's guests can instantly see the business invests in sustainable catering textiles. We also give the hospitality entrepreneur the opportunity to communicate about KTCHN via, for example, the menu or the website. But also the other way around, by 'using' the catering entrepreneur as a KTCHN brand ambassador.
How did you start?
Cathelijne: The idea first came about during the BP5 project. I was following someone on Instagram who turned old clothes into new items. We found out about the enormous overproduction of garments following a research project. Our initial plan was to make new clothes out of these surpluses, but that couldn't really be referred to as innovative. A fellow student came up with the idea of producing catering textiles. And that's how KTCHN was born.
The concept was further developed during semester 6. We mainly focussed on research into the production possibilities, the composition of the product and the range at the time. We worked towards a more focused approach from the initial extensive plan. That's why we're only producing tablecloths and napkins.
You won the Meester Koetsier Entrepreneur Award in June. What was that like?
Babs: It was totally unexpected, but, because of that, absolutely amazing. We were quite level-headed about it all. We believed in our idea, but the other ideas were very good too. So it was a huge surprise and fantastic to get the recognition and compliments from the professional jury. Our teachers were also really excited and enthusiastic.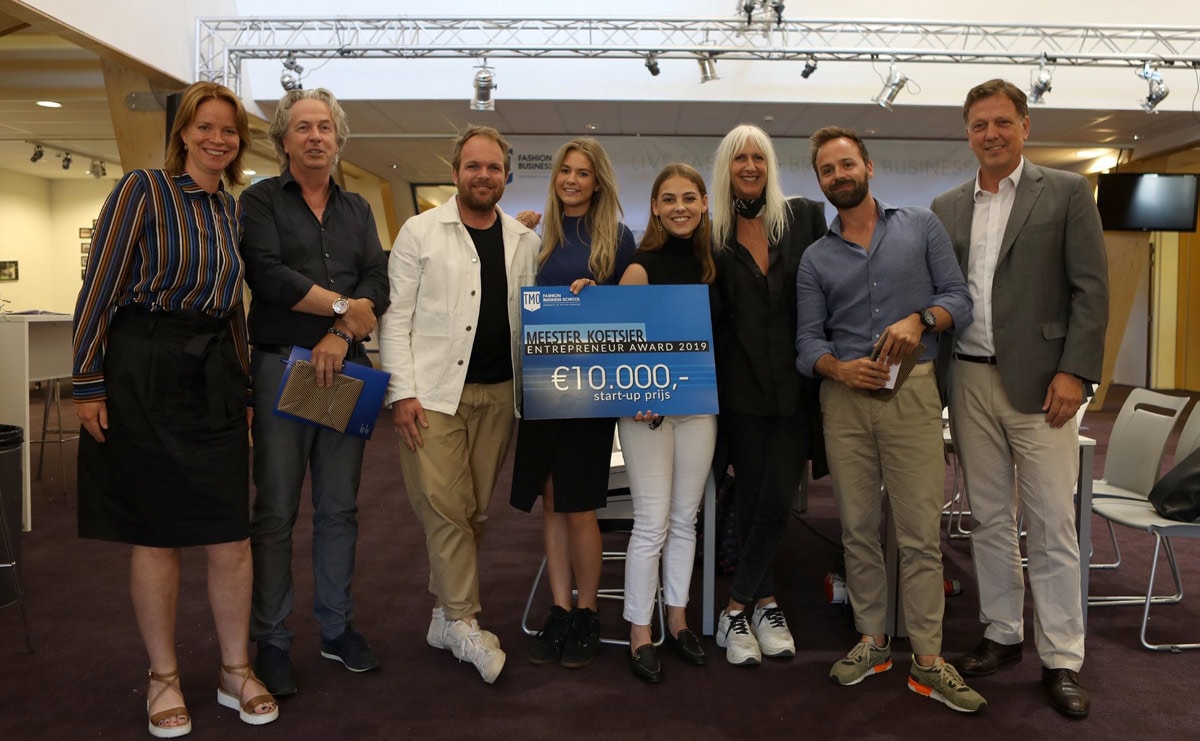 Corien Beks (Modint), Peter van der Waals (Entrepreneur), Twan van der Laar (CCO Humanoid), the winners Babs and Cathelijne, Mariette Hoitink (Owner HTNK and Boardmember Meester Koetsier Foundation), Charles Kalhorn (FashionUnited), Gerard Werkhoven (Business Coach and Consultant).
What are you going to do with the prize?
Cathelijne: We are both going to start with doing a work experience placement, as we really want to gain some practical experience. Babs is going to do a work placement at the Bijenkorf and I'm doing one at Colourful Rebel. We'll take our time to investigate whether KTCHN is feasible and whether we'll go to the Chamber of Commerce once we have completed our work placements. However, we will take some time to look at all the possibilities during our work placements, so we can possibly make an immediate start once we're done. We'll also be in touch with the Koetsier Award judges! They have already offered their help."
Want to know more about TMO Fashion Business School? Click here!