REPORT_ The Arcadia Group operating profit fell to 189.3 million pounds (296.9 million dollars) for the year ended August 30, 2014 compared to 201.2 million pounds (315.6 million dollars) last year. Total Group pretax profit of pre-exceptional items stood at 143.1million pounds compared to 148.1 million pounds last year. Total sales were 2,706.5 million pounds (4,245 million dollars) compared to last year figure of 2,682.6 million pounds (4,207.8 million dollars). In the first 10 weeks of this year total VAT inclusive like-for-like sales were down below 1.2 percent. The Group has attributed the fall in sales against last year to unseasonably mild and wet weather.
Underlying UK retail like-for-like sales were up over 0.1 percent and ecommerce sales grew by over 13.4 percent. Total like-for-like sales were up over 1.6 percent with Arcadia like-for-like sales up over 0.7 percent and BHS like-for-like sales moving up over 3.6 percent. Retail margin was down below 0.6 percent points against last year.
Commenting on the results, Philip Green said, "Over the past year, we have continued to trade successfully in the UK, with strong performances in particular from Dorothy Perkins and Wallis. We have been successfully working with our investors Leonard Green & Partners to develop the Topshop Topman brands, both in the UK and internationally. In the USA we opened three new wholly owned stores, bringing the total now to seven. Again within the USA, we have further developed our partnership with Nordstrom, now trading out of 52 Topshop concessions and 55 Topman concessions in addition to Nordstrom.com. A further net 55 Topshop Topman international franchise outlets have been opened during the year."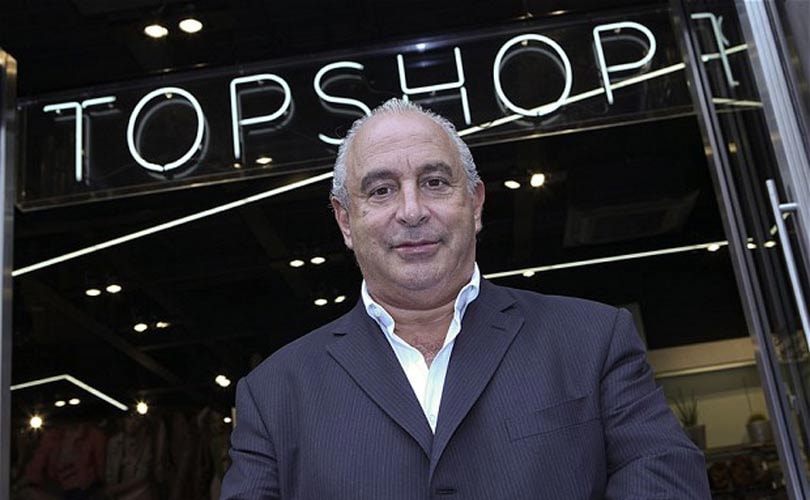 Group plans to open two new Topshop Topman stores in Houston and Atlanta for spring 2015, and our first wholly owned store in Europe opens in Amsterdam on February 26, building upon the existing six European department stores. Additionally, the Company is developing trading relationship with Lane Crawford in Hong Kong, having opened a further two stores in the summer. Across the wider Group, there have been a net 43 new franchise outlets launched, whilst many of its brands have also seen substantial growth in wholesale operations - currently trading across 10 different international websites including Zalando and Shangpin.
"BHS remains challenging however, with this sector of retail continuing to be very tough, whilst strong growth online helped to underpin their performance last year. We are continuing to trial the three new food stores opened this past year, which have traded favourably in the early stages. We continue to review our property portfolio in the UK, given the number of leases due to expire. Over the last year we have closed a net 64 stores and our current UK store portfolio stands at 2,311," added Green.
The Group has recently announced the creation of a 50/50 joint venture company, Parkwood Topshop Athletic, to produce a global athletic street-wear brand with Beyonce launching in Autumn 2015.