Twins sets, over-sized cardigans and knitted dresses, it all felt strangely wearable at the Sibling show, who sent girls down the runway with 80s inspired punk hair to Blondie's 'Call Me,' The look was sophisticated school girls with ripped up tweed, razored hair and cardigans with a punk edge. There was latex, Mongolian fur, cobweb knits, shocking pink and orange sherbet, even a deux-piece in tweed in the 5th look, but intriguingly it all worked.
Brazilian born and London-based designer Lucas Nascimento is best known for his luxurious knitwear and fine jersey. For AW15 he showed loose knit jumpsuits and leather coats lined with knitted woollen-like textures, including his signature Lurex and cashmere. Elsewhere the housecoat was re-imagined as outerwear in tropical flower jacquards overlaid with thin mesh, perhaps that's where his South American sensibility shone through.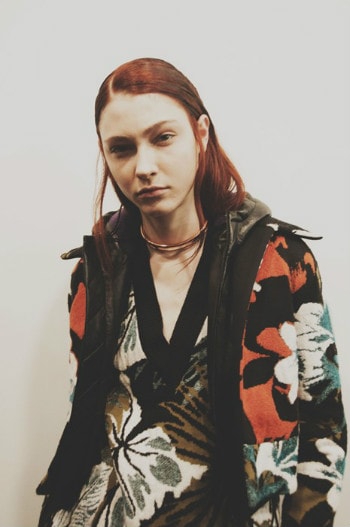 "I like this idea of Soviet girls in Berlin in the late 80s/90s," J.W. Anderson said after his show. "They all had their own stamp on something. They'd be experimenting with this idea of fashion. And it's this idea that when you put clothes on, you become a character." In true 80s style there were leather tulip skirts with big belts,, pussy bow blouses, lamé, metal fringing and chunky heeled knee-high boots with silver orbs attached to the sides. But the styles didn't look vintage, what with the 80s new wave and primary colours, rather they were beautifully executed and felt luxurious, like an ankle length leather coat in palest pink, or a belted candy apple red leather skirt.
Inspired by artist and sculptor Louise Joséphine Bourgeois, Simone Rocha's collection was evocative and poetic. The snow notes read "tapestry and tulle, tweed and lace," but the show opened with velvet, dramatically cut in a floral motif and bulb pocket skirt. Add to that the tapestry Rocha experimented with, and it made for a profound weightiness in this collection. The tapestry is perhaps less commercial than the softer black silk dresses embellished with ruffles or pieces in red or black plaid tweed, which introduced a graphic and lighter element to the show.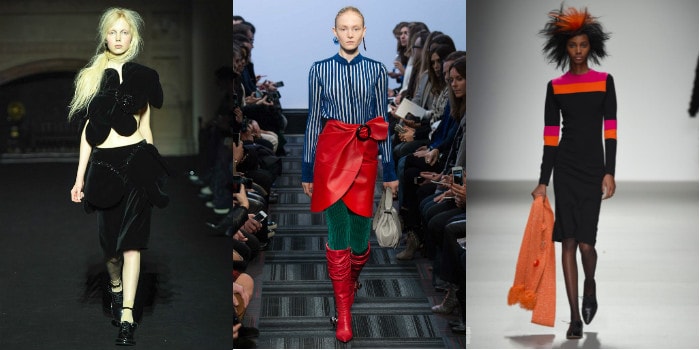 The return of Gareth Pugh to the London Fashion Week catwalk was never going to be a lighthearted affair. In fact his show was more of a ritual with a warrior edge, with models wearing a red cross of war paint on their faces, set in stark contrast to the blackness of the clothes. And about these clothes, Pugh knows how to push boundaries. A cloak, a harness, an Elizabethan collar, leather breast plates, this is not a story about wearability but more about a designer's creativity, which for the past 10 years has been honed in Paris. The show opened with a film by longtime collaborator Ruth Hogben and closed with a model holding a huge red flag. Thankfully Pugh's war is far from over.