Ever since it was announced that nine designers, including Charlotte Olympia, Jimmy Choo, Stuart Weitzman, Paul Andrew, Nicholas Kirkwood, Jerome Rousseau, Alexandre Birman, Salvatore Ferragamo, and René Caviolla, would be designing a Cinderella inspired shoe collection available at Saks Fifth Avenue shoe lovers everywhere have been anxiously awaiting its arrival in stores. Well, wait no longer because the collection has finally arrived, and can be seen on display at the Saks Fifth Avenue flagship store between 50th and 51st Streets on 5th Avenue right across from Rockefeller Center. The window display is sure generating Saks more than its share of tourist traffic, especially now as tourists make their slow and steady return to the big apple, but they also received a little help.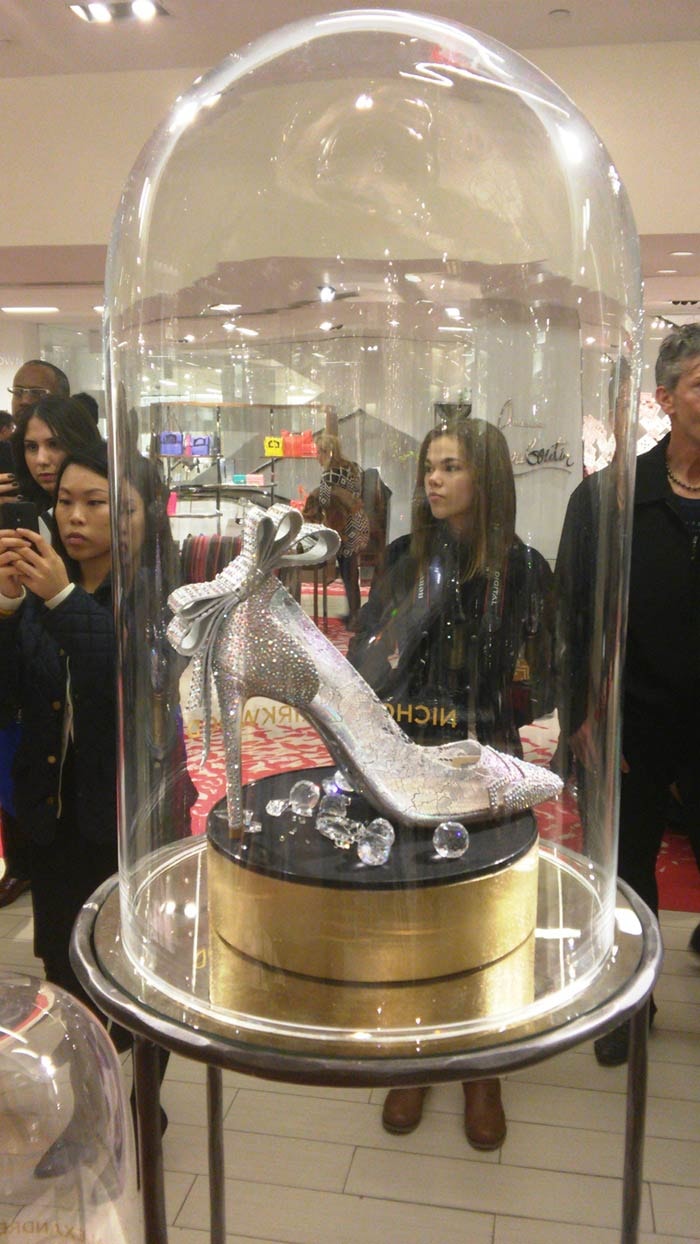 Cinderella collection arrives at Saks
On Monday, March 9th, 2015, stars of the new Disney film, namely Lily Evans who plays Cinderella and Richard Madden who plays Prince Charming appeared at the legendary Saks shoe salon to discuss their roles in the new family-friendly movie that will be hitting theaters this week, in addition to promoting the new shoe collection, several pieces of which were autographed by Evans herself. While the collection has just hit stores between the window displays which are to die for and the press conference with the stars generating store traffic the collection is well on its way to being a success.

Fans of Evans were clamoring to see if they could get their hands on the several pairs of autographed shoes she signed, so those could easily be arriving to E-bay for more than double the price by the end of the year. As for the visual displays, they are made to look like Cinderella lost in the forest, and include two beautiful Cinderella style dresses with more sparkles than Tinkerbell with all nine of the shoes hanging in place on a podium in a glass cover as if they were about to be presented to her by Prince Charming. Given the amount of people lined up outside of Saks fifth just to take pictures with the display it's proof that visual merchandising certainly can have an effect on sales. While it is too early to tell what kind of sales numbers this is generating for Saks Fifth Avenue by the looks of it they won't be disappointed with their Q1 revenue for shoes this year. If there is a secret to fashion success it's make every girl's fairy tale come true. For those of you who thought you might be too old to dress up as Cinderella there are nine luxury shoe designers who would severely beg to differ.