Last night, on April 17th, 2015, Lord & Taylor had a very successful and fashionable event at their flagship location on Fifth Avenue in New York City. The event was one of their usual friends and family events, but, this one was a bit different, because to help drive traffic for the event the iconic department store called upon the help of fashion bloggers. The event featured Helena Glazer of Brooklyn Blonde, Lua Perez of Le Happy, Marcel Floruss of One Dapper Street, Rachel Iwanyszyn of Jag Lever, and Keiko Lynn.
The event brought out quite a good crowd of people, and between the bloggers handing out gift cards valued anywhere between ten and twenty dollars, plus the additional 25 percent Lord & Taylor was already offering, the event surely generated them some excellent sales. Of course, Lord & Taylor's approach to this event speaks volumes to something else going on in America: The comeback of the American department store.
In other countries, like Holland and France for example, department stores are seeing a slow and steady demise. People want more intimate shopping spaces, they want a more personalized shopping experience, and of course e-commerce is becoming king. However, somehow in America department stores are finding success.
All department stores might not be doing astoundingly, but everyone is finding a way to keep up with the Jones'. Macy's has said that it is still working on trying to figure out how to appeal to younger clientele, but, Lord & Taylor might have found the solution to that. To appeal to the digital generation you have to speak their language. That's why inviting bloggers to their friends and family event was the perfect idea. The four bloggers who were hosting cumulatively had some 3 million plus followers.
With just a few photos posted to Instagram, bloggers could easily have a store or hot new item of clothing turn into the most buzzed thing on the internet for the evening. Lord & Taylor might not have the national department store domination it did back in its prime, but it is still one of the most iconic department stores in America. Other department stores that are certainly owning the retail game include Nordstrom, Neiman Marcus, and Saks Fifth Avenue.
Take the new Nordstrom Tower for instance that is slated to open in 2018. New Yorker's have long dreamed of having a Nordstrom in the city, as the nearest one is in Westchester, which is quite the train ride. How has Nordstrom Inc. managed to be so successful in an era where everyone turned to more affordable items? For starters, they are very selective with where they put their new stores. They make sure that wherever they build it people will come.
Their other secret weapon would have to be Nordstrom Rack, their outlet retail chain that has actually grown to exceed Nordstrom in the number of stores across the U.S. Nordstrom Rack appeals to the younger generation who dreams of getting their hands on those designer things, but between student loans and a tough job market don't, they may not have the money to go and buy them the day they are made available in official Nordstrom stores. Instead, they can wait a fashion season and get them at the fraction of the cost. If the Nordstrom Rack in Union Square NYC is any indicator, the outlet chain is certainly a success and a long time hit among customers.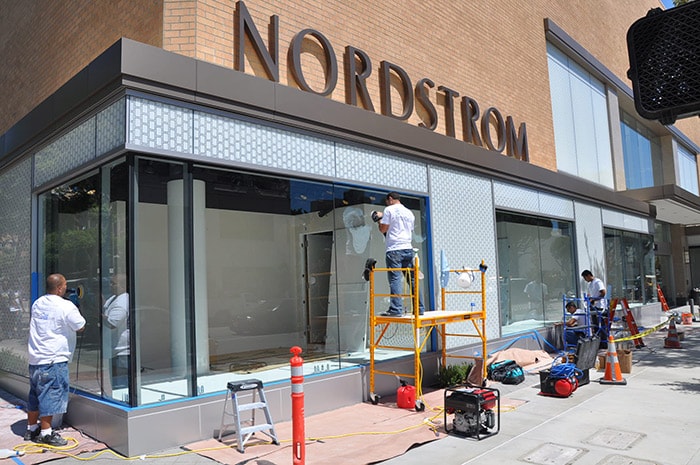 Nordstrom's idea is that eventually Nordstrom Rack customers as they become older and more financially stable and successful will turn to their Nordstrom Stores for their fashion needs. Nordstrom isn't the only luxury retail giant that has its eyes set on New York City, however. Neiman Marcus is expected to open a store in New York City also by 2018, and it's been a long time coming.
Department stores back on top in America
Where Neiman Marcus traditionally was only located in suburbs, they finally decided it was time to have a presence in New York. With their competitor Saks calling NYC home for decades it's a wonder what took them this long. Of course, Saks had no intention of letting Neiman Marcus's arrival in NYC go unnoticed. Saks is expected to open a new store at World Trade Center in 2016, bringing the most powerful mid to high-end department stores in America (Macy's, Bloomingdale's, Lord & Taylor, Barney's, Nordstrom, Neiman Marcus, Saks Fifth Avenue, and Bergdorf Goodman) all onto one island: Manhattan.
Barney's recently shuttered the doors on several of their Co-Op Stores, and has turned several of them into regular Barney's stores, and is also reportedly looking to add a new location as well. Specialty stores, on the other hand, have actually seen sales slow down a bit. Stores like Zara and H&M are doing quite well, but brands like Michael Kors growth have seen slow and stagnant growth. So, what do department stores have that specialty stores have been lacking lately?
Well, for department stores it seems to be a matter of playing catch-up. For a while, individual labels have been dominating the social media world with everything including Facebook, Twitter, Instagram, Tumblr, and Snapchat. Finally, department stores are catching up to the rest of the fashion world, and have really found their social media presence using it to help their stores get attention.
For the American department store it was all a matter of finding a new formula for success, and they found it through a two part-formula. One part appealing to millenials and the social media generation, and the second part was all about location. When Lord & Taylor pulled out of other regions in America in the South and on the West Coast many years ago they still found success in the Northeast, and have retained their status as one of the top department stores in America. When Nordstrom Rack was looking to expand they did so with strong consideration for what locations had the type of shoppers that would be clamoring to the doors of their stores.
Seven years ago at the peak of the financial crisis department stores were surviving on hope and a prayer, but, now, they are back, bold, big, and just as beautiful as ever. The American department store is headed towards a new future, and a much brighter one than the period they had in the latter half of the first decade of the twenty-first century. People certainly love a good come back, and America's department stores, especially in New York City, are stronger and more fashionable than ever.
Photo 1: Racked
Photo 2: restoredglass.com