Giorgio Armani is preparing to move into the fast fashion sector and launch the world's "first Italian fast fashion brand whose DNA is strongly Armani". The Italian fashion house Armani announced its enterprising plan on Thursday, after the Group had finalized the acquisition of its A|X Armani Exchange

label. Armani has obtained the remaining 50 percent of the label in order to gain full ownership and now aims to transfer the brand into a fast fashion brand "aimed at a young audience".



Although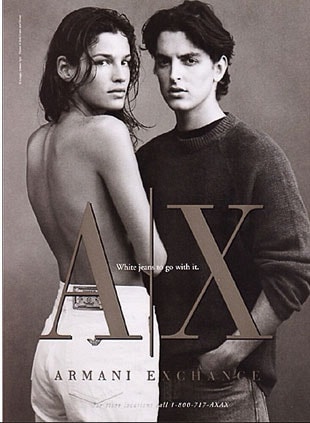 the group did not share any further details on how it will transform A|X Armani Exchange into a fast-fashion label, the group did indicate that it was advised by Rothschild before obtaining all rights to the brand. The group's statement suggests that the label will emulate some of more successful fast fashion labels among millennials such as Zara, H&M and Forever 21.
The announcement was made alongside with the group's financial results for 2013, which revealed a 18.2 percent growth in operating profits to 401 million euros. The group stated that the majority of its growth was due to its strong labels and its advantages distribution channels, in spite of the lack demand for luxury goods in a number of emerging markets.
A|X to become the "first Italian fast fashion brand"
"The success of a brand lies in its ability to unite creativity and sales, and these results confirm just that, given the reception that our products have had on the market," commented Giorgio Armani, president of the Armani group in a press release.
"The strong profitability and liquidity that we have available also allows us to accelerate our investments for future development. This will start with A/X in which we will invest this year and the next in order to obtain a consistent integration in the portfolio of brands of which the group is comprised."
A|X Armani Exchange was first launched in 1991 and opened its first store in Manhattan within the same year. In 2005, the group entered a joint venture with Como Holdings Inc, with Ong Beng Seng and his partner Christina Ong, long business partners of the group who became licensees of the label to help increase global sales of A|X Armani Exchange. However in 2008, Armani decided to increase his stake in the brand to 50 percent.
The Italian fashion label currently has over 270 store worldwide, with a strong market presence in the US. The Armani group's labels include Giorgio Armani, Giorgio Armani Privé, Emporio Armani, Armani Collezioni, AJ Armani Jeans, Armani Junior and Armani Casa, as well as A|X Armani Exchange.
Photos: A|X Armani Exchange campaigns