Last week's Fashion Summit in Copenhagen brought together the leading voices in the world of fashion, luxury, business and enterprise to discuss the industry's social and environmental responsibility and solutions. The interesting outcome was perhaps the admittance,

for the first time, that 'fashion' and 'sustainability' do not necessarily go hand in hand.
Highly impossible to trace complex supply chain
The complex supply chain for the majority of high street and fast fashion brands that have enormous sales volumes is simply not fully traceable. It is impossible to know every link in the chain for companies managing thousands of factories and suppliers in some of the world's poorest nations.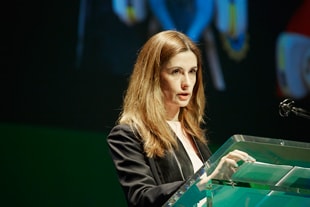 Not surprisingly, despite the emphasis on solutions at the summit, few concrete ideas shone through among the rousing speeches, which included FT's fashion editor Vanessa Friedman, sustainable fashion guru Livia Firth, and the Danish deputy prime minister Margrethe Vestager, who spoke of a proposal to include a standard sustainability mark next to the price on an item of clothing.

So while the level of campaigning and commitment was high, it was the familiar themes of making the world a better place and fashion as a great place to start. The sense was of a crowd of industry figures genuinely committed to and invested in sustainability, gathering together to reassure themselves of the good work going on but leaving with few new ideas, noted the Guardian.

Image: Livia Firth