The Intertextile fair in southern China's town of Shenzhen - officially the Intertextile Pavilion at the Shenzhen International Trade Fair for Apparel Fabrics and Accessories – took place from 10th to 12th July 2014 and managed to attract a record number of buyers

and exhibitors this year: Over 17,500 buyers from 27 countries and regions attended the fair – a 34 percent increase from 2013 – and almost 700 exhibitors from eight countries and regions, an increase of 12.7 percent, easily filling the 30,000 square meters allocated for the fair at Shenzhen Convention & Exhibition Center; 33 percent more exhibition space than in 2013.


Taking advantage of the proximity to hubs like Hong Kong and Guangzhou, a number of leading international companies like Brooks Brothers, Diesel, Esprit, G2000, Givenchy, LF Sourcing, Liebeskind, Pepe Jeans, Replay and Silvereed attended the fair and looked for fabrics and accessories.
South China offers great potential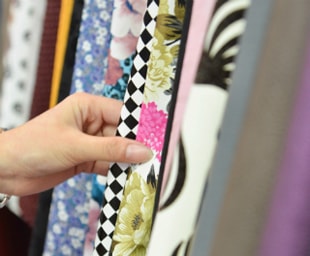 "The general consensus of our exhibitors was that there is a lot of potential in the south of China, and that this fair is the best platform to tap into that. The rise in both exhibitor and buyer numbers confirms that there is a need for a fair of this type in the region, and we feel it complements our existing apparel fabrics and accessories fairs in Shanghai well," said a pleased Wendy Wen, senior general manager of co-organisers Messe Frankfurt (HK) Ltd.
Korea, Taiwan and India had their own pavilions and the exhibitors were satisfied with the response and the products on offer. "Intertextile Pavilion Shenzhen is a mature fair in the market now and is quite internationalised. Our exhibitors responded positively about the visitor flow so we are happy with the result; we will definitely participate next year," confirmed Jane Fang, project manager with the Taiwan Textile Federation.
The location in southern China is another big draw as the area around Shenzhen is a production hub for womenswear and casual wear. The potential of the yarn market in this region is also high and many buyers took advantage of that by looking for new business relationships. "We can meet a range of buyers here including designers and fashion brands, and they are more educated and have better product knowledge than before. The fair is a good platform to reach the Chinese market," noted Anney Mawhinney from British firm Westcott Design Ltd.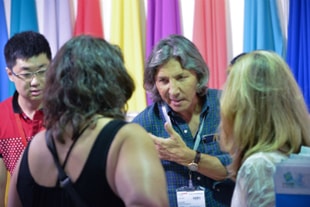 The next Intertextile Pavilion Shenzhen will be held at the same place again in mid-July 2015. The next Messe Frankfurt apparel fabrics and accessories fair in China is Intertextile Shanghai Apparel Fabrics – Autumn Edition 2014 which will be held in Shanghai from 20th to 23rd October 2014.

Photos: Intertextile Pavilion Shenzhen