Dutch fashion designer Iris van Herpen launched her own label a mere seven years ago, but has built up a CV most can only dream of. Only last week, she won the much-coveted ANDAM Fashion Award, which includes 250,000 euros in prize money and one year's mentoring by François-Henri Pinault, the

ceo of luxury conglomerate Kering.



Creating a collection from silk, satin or suede holds no challenge for me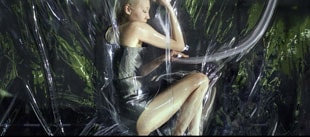 When FashionUnited visited the young designer in her studio two years ago, Van Herpen had just moved into a warehouse on the IJ in Amsterdam and was busily preparing for her first solo exhibition in the Groninger Museum, which was to open in March of that year. Despite the pressure of Van Herpen's hectic travel schedule, the atmosphere was relaxed. The designer was surrounded by interns and freelancers who were working on restoring pieces from earlier collections - among which a collar ordered by Lady Gaga. Nothing in her gritty schedule suggested that Van Herpen had only launched her brand four years earlier. She graduated from ArtEZ in Arnhem in 2006, followed by an internship at Alexander McQueen in London. One year later, she launched her eponymous label.
Ever since, her career has skyrocketed. She participated in Fashion Week in Amsterdam and London and her designs featured in such publications as Vogue, Harper's Bazaar and Numero. In 2011, her 3D dress was nominated one of the fifty best inventions of the year by TIME Magazine. That same year she won the Dutch Fashion Awards and was admitted to the prestigious Chambre Syndicale de la Haute Couture - the French organisation that awards designers the status of haute couturier - as a guest member. Then, last week, she was awarded the ANDAM prize, adding another feather to her cap.
Sculpture
What makes Van Herpen so successful are her sculptural, handmade creations and her use of unusual materials. Fashion is not an accurate way to describe her work; it is much more than that. It is wearable art that tends to resemble sculpture. Nevertheless, fashion is her 'bag'. It is necessary for her creations to be wearable. "They need to be wearable, because only then do my creations come to life."
A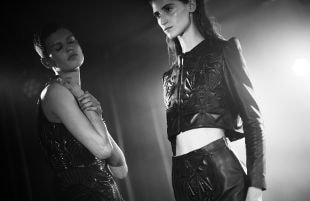 nother aspect Van Herpen cannot do without is material. Unlike most designers, she does not start her collection off with a sketch for a design, but with a drawn-out search for the materials which she tests in her studio. It was one of these experiments that led to the busks made of children's umbrellas; she ordered seven hundred of them to create futuristic collars. "New collections should always include new materials. By testing them, you get very unexpected results. Creating a collection from silk, satin or suede holds no challenge for me."
Unfortunately, Van Herpen seems to already have used most of the materials available to her. She finds it frustrating that there is such limited progression of new materials in fashion, as opposed to other artistic disciplines. That is why it has become her mission to rectify this. She already has something new in mind: to control a substance like water or smoke. "Can you imagine how much more comfortable that must be? Imagine how it feels when you take a bath. Imagine being able to wear that feeling. How comfortable would that be? Maybe these ideas are naive, but it gets me thinking outside of the box."
Although Van Herpen has other-worldly ideas about materials, everyday life forms the basis for her collections. The shapes and structures of micro-organisms, which unlike other living creatures do not have eyes, a nose and arms, led her to create her Micro collection in 2012. The result of that was a collection that did indeed resemble a shield-like yet ethereal quality possessed by insect-like creatures.
Innovative couture
Her innovative designs caught the attention of the Chambre Syndicale, who invited her to become a guest member in the summer of 2011. The list of requirements for admission is daunting: one needs to have at least twenty employees, participate in the couture shows for a minimum of five years and have a studio in Paris. In recent years, the organisation has become more lenient. The recession has affected sales of its members - including Dior, Chanel and Givenchy - and the Chambre Syndicale has been looking to new names to reinvigorate the industry. Van Herpen applauds this development. "Times are changing and fashion of old is no longer relevant. I think that by inviting someone such as myself - who works by hand and approaches haute couture in a completely different way - to join, they are showing themselves to be open to this change."
What appeals to her about the Chambre Syndicale is that the organisation offers a rare place to experiment. Van Herpen's pet peeve is the other side of fashion: the big, fast-paced machine that aims to dress the public as cheaply as possible. It upsets her that every season, more than half of all clothing is destroyed. And that someone can buy a shirt or trousers for a few pounds, but feel no emotional connection to an outfit. "These days there is no more time to develop a fabric or try a new technique. It's all just repetition. I think it's such a shame." It is that thought that motivates her to design pieces that are only created once and will therefore be worn by consecutive generations.
Text: Stephanie Broek

Editing and translation: Wendela van den Broek
Images: Iris van Herpen Voltage, Iris van Herpen Biopiracy