The prestigious Woolmark Prize saw Indian designer Rahul Mishra take home the accolade, which comes with a financial contribution of 100,000 Australian dollars. Rahul Mishra is known for his contribution to Indian handloom and his brand's

philosophy revolves around integrating the rich heritage of Indian craft with the varying pulse of global fashion.



This year the juding panel included Gucci's Frida Giannini, Style.com's Tim Blanks, Italian Vogue's Franca Sozzani and Alexa Chung.

"For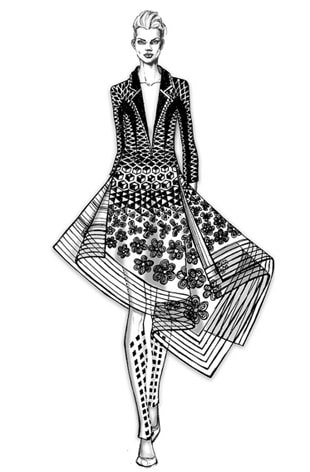 me, Rahul has won because of his ability to apply his knowledge of embroideries through wool, one of the most versatile fibres with originality in an unexpected way," explained Frida Giannini, Gucci's Creative Director soon after the announcement.
Indian heritage meets global fashion
After a global search, reaching across 20 countries and involving over 48 designers, five talents came forth from the recommending bodies, which are as diverse as the British Fashion Council to the Pakistan Design Council. British label Sibling was nominated for the UK.
"His interpretation was so delicate and beautiful," said Alexa Chung. "I was really moved by Rahul's story. I believe he is well deserving of this award."
Mishra stated: "I feel like this is a dream and this is giving me new hopes for my future career. This award will change the perception of global fashion in regards to Indian fashion and this is all because of wool – an amazing fibre, the fibre of possibilities."
The collection will be available in partner retailers globally from August 2014.
Woolmark was founded in 1964 and is one of the world's leading textile fibres. The company is owned by AWI, the Australian Wool Innovation, a non-profit organisation represented by more than 27,000 woolgrowers.
The nominees for the 2014/15 IWP regional competition will be announced in April 2014.
Image: Rahul Mishra