London - With less than a day to go before the kick off of the holiday shopping period kicks off, more and more retailers have begun to spread out their Black Friday discounts in the hopes of preventing a immediate rush to their brick-and-mortar stores. However as consumers turn to their mobile devices several times throughout the day to find the perfect deal, when can retailers expect to deal with peak hours on the store floor?
Surprisingly, consumers may be better off visiting their favourite stores earlier in the morning, or after work tomorrow as technological giant Google data indicates these time periods are less likely to be busy. Using data gathered from the discounting bonanza last year, the tech company was able to chart when brick-and-mortar retailers are most likely to be hit by maximum foot traffic from shoppers keen to get their hands on a deal from Google Maps.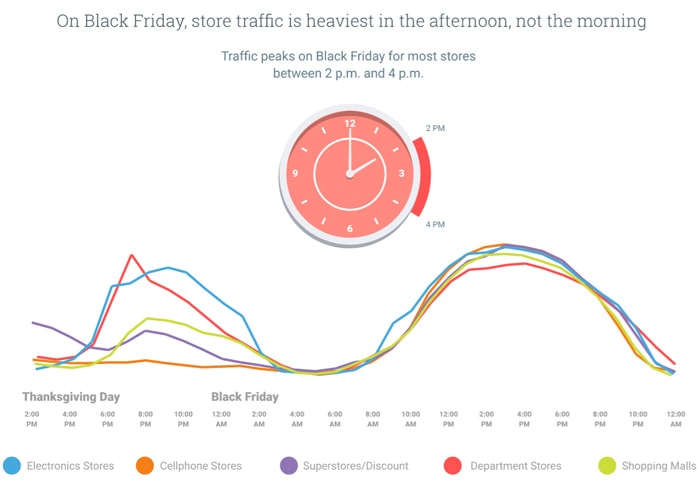 Store traffic to peak between 2 and 4 pm this Black Friday
According to Google store traffic on Black Friday will be heaviest in the afternoon this year, rather than the morning, dispelling the myth of shoppers camping outside of their favourite stores all night long. Store traffic for most stores on Black Friday tends to peak in fact between 2 and 4 pm, suggesting that the early bird does indeed get its worm. The quietest shopping period on Black Friday based on the data are typically between 6 and 8 am.
As many retailer also extend their Black Friday deals to start on Thursday, Thanksgiving day in the US, data suggests that more consumers are also likely to pay a visit to their favourite store after their turkey dinner to avoid the crowds on Friday. With nearly as many shoppers hitting the high-streets and shopping centres on Thursday evening between 6 and 7 pm, retailers should be prepared to handle the influx this holiday season.
However, consumers planning on skipping out the deals offered on Black Friday to avoid the crowds and doing their holiday shopping in the run up to Christmas may find themselves in an even more dire situation. According to Google's mobile traffic data, the majority of stores do not witness the largest spikes in store traffic until the last Saturday before Christmas, as shoppers scramble to finish the last of the gift shopping before the big day.
Of course, with more consumers shopping online, many retailers already started offering Black Friday deals this week, so for those keen to avoid other shoppers although, there is always the option to shop from the comfort of your own home this Black Friday.
Image source: Google/Ipsos MediaCT