AFP

|
Cheerleader outfits can be protected by copyright, the US Supreme Court ruled Wednesday in a verdict criticized by some as curbing creative freedom in the world of fashion and costumes. The vote among the eight judges was 6-2, a rare instance in which conservatives and liberals on the nation's highest court agreed on something.
The case may seem minor but it holds major economic consequences for the clothing industry, with some worrying that patents on the things people wear will become commonplace. The judges ruled in favor of Varsity, the world's largest manufacturer of cheerleader uniforms. It had accused a smaller competitor, Star Athletica, of copying some of its designs.
Under federal law, a design can be protected by copyright if it can be distinguished as unrelated to the purpose of the article to which it's attached. In this case, Varsity argued that the chevron pattern -- a V or an inverted V -- on its cheerleading outfits is a conceptual creation separate from the uniform's function, and therefore eligible for copyright protection. Star Athletica maintained the opposite.
Coincidentally, the court heard arguments in the case last year on Halloween -- the day when kids in America dress up in costumes and go house-to-house asking for candy.
Useful or just for looks?
The judges explored the lines between aesthetics and function, looking at the role of camouflage on military fatigues, for instance, and skirt designs that are meant to make the wearer look thinner. Six months later they have concluded that a feature designed into a useful article -- in this case a cheerleader uniform -- has intellectual property right protection if the feature "can be perceived as a two- or three-dimensional work of art separate from the useful article."
It drew diametrically opposed reactions. "This case is a huge victory for the fashion industry, which has relied on protection for fabric prints and other surface designs for the last-half century and can continue to do so," said Susan Scafidi, founder of the Fashion Law Institute at Fordham University, who advised Varsity in this legal battle.
Among the groups worried that the high court ruling will have negative implications are fans of "cosplay," who dress up in costumes that borrow from characters in Japanese manga comics, video games and other spheres. Cosplayers often appropriate costume elements that could be legally protected: uniforms, military insignias, logos and so on. They fear the Supreme Court will now limit their creative freedom.
Van Gogh's shoes
"We continue to be concerned about the stifling of creativity and cosplay a ruling of this breadth could create, and hope the court in the future will have a chance to limit it," said Matthew Parker, a lawyer for The Royal Manticoran Navy (TRMN), a fan club inspired by David Weber's Honor Harrington science-fiction series.
Its members dress in a variety of nautical uniforms. In a dissenting opinion, Judge Stephen Breyer attached a photo of an ordinary snow shovel that artist Marchel Duchamp had declared to be an artwork, and a picture of shoes painted by Vincent Van Gogh.
"Varsity cannot obtain copyright protection that would give them the power to prevent others from making those useful uniforms, any more than Van Gogh can copyright comfortable old shoes by painting their likeness," Breyer wrote. (AFP)
Photos: Varsity's Division, UCA & UDA College Cheerleading & Dance Team at the National Championship, Varsity.
AFP

|
Alibaba and Malaysia announced Wednesday that they will set up a logistics and e-commerce hub in the Southeast Asian country to boost small and medium-sized companies, a first for the internet giant outside China.
The hub will be located near Kuala Lumpur International Airport as part of a "digital free trade zone" formally launched by Alibaba's founder Jack Ma and Malaysian Prime Minister Najib Razak in the capital. The facility will act as a warehouse and centralised customs clearance for Malaysia and the region, Alibaba said in a statement.
Officials refused to divulge investment figures, but an Alibaba spokeswoman said the facility would be operational at the end of 2019. Ma, who in November became the Malaysian government's "digital economy" adviser, said "97 percent of business in Malaysia are small businesses but they control only less than 40 percent" of economic output.
"I think 90 percent of small businesses could produce at least 80 percent of the GDP... if we have more small businesses, that means we have more jobs." Najib said at the event with Ma that "the only sector that can give double-digit growth is the digital economy."
Alibaba is China's dominant player in online commerce, with its Taobao platform estimated to hold more than 90 percent of the consumer-to-consumer market, while its Tmall platform is believed to have over half of business-to-consumer transactions. The company, often compared to US giants Amazon and eBay, has expanded outside its core e-commerce business, in sectors ranging from sports to entertainment. (AFP)
Vivian Hendriksz

|
London - Authentic Brands Group (ABG) parent company of Juicy Couture, Airwalk and Spider, has joined forces with renowned golfer Greg Norman to form a joint venture to own and manage the Shark Brand.
The move sees Greg Norman joining the roster of ABG's increasing celebrity and entertainment portfolio, which includes brands such as Marilyn Monroe and Shaquille O'Neal. Seen as a pioneer in athlete brand building, Norman the "Great White Shark" has won over 90 tournaments across the globe, including two British Open Championships. His eponymous company includes a diverse portfolio of more than a dozen well-established and successful companies across consumer goods and services, real estate, and investments.
"We are thrilled to welcome Greg Norman to the ABG fold. Greg's attributes and global appeal extend far beyond golf into travel, luxury, lifestyle, and more," commented Jamie Salter, Chairman and CEO, ABG. "Welcoming another 'greatest' athlete into our Sports, Fashion and Celebrity & Entertainment portfolios marks another step in our growth strategy while establishing immediate credibility for ABG in an entirely new space." Together the two aim to leverage Norman's expertise and strong brand portfolio to accelerate the eponymous brand's global presence and increase its revenue.
"Our shared purpose and vision makes ABG the ideal strategic partner. This alliance will unlock my company's full potential by joining with one of the foremost brand development companies in the world," added Greg Norman. "As we celebrate the 30-year anniversary of the Greg Norman Company, it is markedly important to continue to evolve the brand, reach new audiences and expand our portfolio, and ABG is undoubtedly the right partner to help us on that journey."
ABG is set to focus on growing and developing the Greg Norman Company array of consumer products and endorsements to offer programs which reflect Norman's confidence, sophistication, charisma, and appeal. The Greg Norman Golf Course Design, Greg Norman Real Estate, Greg Norman Media, Greg Norman Investments, Greg Norman's Australian Grille and Shark Wake Park are excluded from this partnership.
Photos: Courtesy of ABG and Greg Norman
Prachi Singh

|
Online fashion portal Jabong has added American fashion brand Forever 21 to its product portfolio. The company said, Forever 21, which is the 5th largest specialty retailer in the United States, will be available on Jabong in variants across the apparel, accessories and footwear categories such as play-in tops, dresses, t-shirts, cosmetics, intimates and shoes with prices ranging from Rs 499 to Rs 2,400.
"Forever 21 is a pioneer and global leader in the fast fashion category and its addition will strengthen the comprehensive line of finely curated international portfolio on Jabong," said Gunjan Soni, Head of Jabong in a statement.
"We are thrilled to launch on Jabong, which has carved a unique niche among the upmarket fashionistas of India who swear by the hottest international designs. The combined strengths of Jabong and Myntra help us cover a major share of the online fashion retail market and uniquely curate our products to cater to the shopper preferences on each platform" added Abhinav Zutshi, India Business Head, Forever 21.
With Forever 21, Jabong said, it has now added 20 new brands on its platform in March itself and will be taking the number to 35 by the end of this month. Brands added to Jabong this month include New Era Caps, Wrogn, Mothercare, Roadster, Cover Story, AAY, Zivame and Mast and Harbor. The platform has earlier introduced a multitude of international fashion brands in India such as Topshop, Topman, Dorothy Perkins, Missguided and Next among others.
Picture:Forever 21 via The Gutenber PR
Simone Preuss

|
As part of its sustainability strategy, the Otto Group has almost doubled its order quantity for sustainable cotton for its own and licensed brands by 22 percentage points to 49 percent of the total cotton volume. Using certified cotton with the "Cotton Made in Africa" (CmiA) label has also saved more than 33 billion liters of water, announced the company yesterday in a press release.
"Cotton cultivation generally requires a high level of water use," explains Andreas Streubig, head of sustainability management at the Otto Group. "CmiA cotton is not irrigated artificially, but is grown exclusively with rainwater. By supporting the Cotton Made in Africa initiative, we not only contribute to sustainably improving the living conditions of the cotton farmers and their families, but also protect one of the world's most valuable resources - water."
Due to the exclusive use of rainwater, approximately 2,100 liters of water per kilogram of cotton are saved when cultivating CmiA cotton. In 2016, the Otto Group bought almost 16,000 metric tons of CmiA-certified cotton, thus contributing to saving more than 33 billion liters of water. With this amount, an entire town or around 750,000 people could be supplied for a whole year.
The goal is to convert the entire order quantity for own and licensed brands to sustainable cotton by 2020, that is organic cotton but mainly cotton certified according to the CmiA standard. In addition, the Otto Group follows the UN Agenda 2030 on Sustainable Development, which includes 17 Sustainable Development Goals (SDGs). Thus, customers who purchase articles with CmiA label from the Otto Group are actively helping to save water, combat poverty and improve the future of millions of people in Africa.
Cotton made in Africa is an initiative by the Aid by Trade Foundation (AbTF), which was launched in 2005 and helps African cotton farmers help themselves as it promotes sustainable cotton farming in sub-Saharan Africa. The initiative has international partners like Asos, H.I.S., Jack and Jones, the Otto Group and Penny that buy and process the cotton produced by around 670,000 smallholder farmers.
Photo & infographic: CmiA annual report 2015 /Otto Group
Vivian Hendriksz

|
INTERACTIVE MAP
The fashion industry is an ever-changing sector where anything goes. One year, your brand could be the most coveted and desirable it-brand, the next year it could be on the brink of bankruptcy. However, there are a few famed fashion houses and retailers who have fought against the odds and continue to deliver designs that satisfy their consumers fickle desires year in and year out. And it is precisely these fashion and retail companies who have become the leading international powerhouses, generating billions of dollars in revenue. But who are the entrepreneurs, the men and women behind these fashion empires, who continually manage to defy the fashion odds and increase their net worth year after year? Has Amancio Ortega managed to hold on to his title as the wealthiest man in fashion? Or has he been overtaken by another fashion mogul?
FashionUnited examines the net value and assets of the Top 10 Richest Billionaires in Fashion based on Forbes annual World's Billionaire ranking and shares its findings in the StoryMap below.
Click the button 'Start Exploring' to get started. Use the arrows to navigate through our map or simply click on the icons on the world map to learn more.
FashionUnited is set to publish its own Richest People in Fashion List H1 2017 in June.
Sara Ehlers

|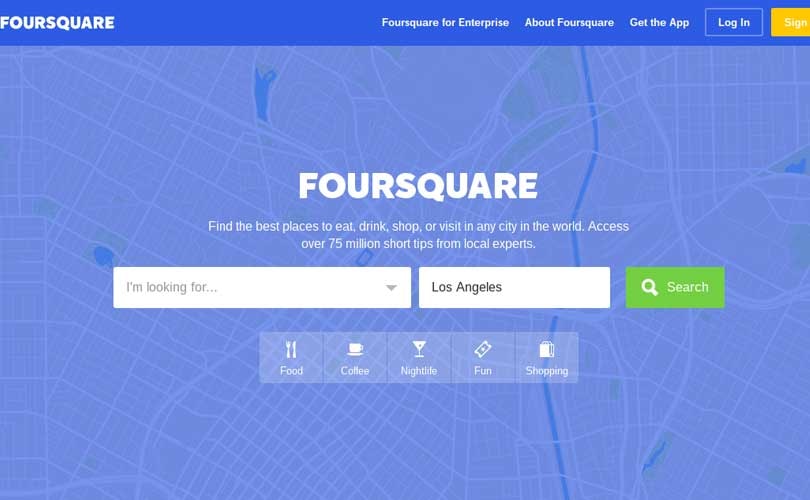 In a declining mall climate, Foursquare Analytics recently unveiled a plan to help retailers drive traffic.
The company planned to spill its secret on trends at the Shoptalk conference in Las Vegas. The second annual event is an event where retailers and industry insiders gather in order to see discuss and predict the retail climate for the future. Foursquare uses its technology in order to drive results on these retail trends and what it means for brick-and-mortar shops.
The app acts as a tool that demonstrates where customers go including stores, dining restaurants, cafes, and more. In order to help benefit retailers more, the app is offering a new solution so that advertisers an see this data and use its analysis to help drive store traffic. "it's a technology platform to understand your share of shopper traffic as a retailer or fashion brand with brick-and-mortar outlets and be able to see how its trending over time, where your customers are coming [and] going to," chief executive officer of the company Jeff Glueck told WWD.
Foursquare launches analytics tool for retailers
Foursquare allows for users to check in at nearly 100 million spots including retailers and other shopping experiences. Using this foot-traffic dashboard data in order to predict trends is one way that brick-and-mortars can fight against the current status of in-person shopping. With the new technology, retailers will e able to see metrics including age, gender, location, and whether or not the customer is new or returning. According to TechCrunch, the data is normalized in oder to accurately represent the U.S. population as a whole when observing the analytics.
The data will be available through Foursquare Analytics for anyone. Previously, this information was strictly limited to retailers who worked directly with the company. Branching out, it seems that the company is moving towards improve foot traffic of retailers on a national scale.
Photo: Foursquare
Kristopher Fraser

|
Saks Fifth Avenue faced a cyber security attack resulting in tens of thousands of customers having their information exposed on an unsecured website.
"We take this matter seriously," said a spokesman for Hudson's Bay, Saks' parent company. "We want to reassure our customers that no credit, payment or password information was ever exposed. The security of our customers is of utmost priority and we are moving quickly and aggressively to resolve the situation, which is limited to a low-single-digit percentage of e-mail addresses. We have resolved any issue related to customer phone numbers, which was an even smaller percent."
According to Buzzfeed the sites have an inconsistent approach to web encryption, protecting certain pages (such as the login page) but not others. Someone on the same local network could grab unencrypted web traffic and potentially use it to compromise an account.
Cyber Security has become a major issue for retailers. UK retail body British Retail Consortium recently published a step-by-step guide on how to manage cyber security threats. With the digital market continuously growing, retailers have to stay one step ahead of potential cyber security risks to protect their customers.
photo:via Cyber Security News Facebook
Kristopher Fraser

|
Activist investor Starboard Value LP has sold its stake in Macy's. Starboard had been pressuring Macy's to separate its retail business from its real estate business.
The move does give incoming chief executive officer Jeff Gennette more leeway with the company. Starboard's exit comes after Hudson Bay Co., the parent company of Lord & Taylor and Saks Fifth Avenue, failed to materialize their offer to buy Macy's.
Starboard wanted Macy's to extract cash from its real estate, which Macy's saw as a financial liability because they consider rent from sale leasebacks another form of debt.
In an effort to improve their financial performance, Macy's is shutting down some of its underperforming stores, and they have also entered a joint real estate venture with Brookfield Asset Management.
Former Macy's ceo Terry Lundgren is set to become executive chairman on March 23.
Starboard owned 3 million Macy's shares worth 107.8 million dollars according to the most recent public disclosure. However, Starboard proved to be no good for business since shares dropped 60 percent between 2015 when they first announced a position in the company and today.
Gennette already has some major plans for turning Macy's around. According to CNBC, his top five goals for the company are having dedicated clearance racks, relying on fewer sales associates, more focus on beauty, a decrease in coupons and more shop-in-shops.
In what could be a tough year for retail, as many expect the retail bubble to burst, Macy's is working to rebound their business.
photo:via Macy's Facebook
Vivian Hendriksz

|
London - PETA US has taken its fight against animal cruelty within the fashion industry to the boardroom. Following the initial public listing of outerwear company Canada Goose on the New York and Toronto Stock Exchange on Thursday morning, the animal welfare group invested 4,000 dollars (3236.8 pounds) in purchasing 230 shares in the company.
The move, which sees PETA acquiring the minimum number of shared needed to submit shareholder resolutions and attend the company's annual meetings, allows the group to call on the Canada Goose to make much needed policy changes concerning its use of coyote fur and geese down. As a shareholder in the company, PETA aims to bring in a shareholder resolution and ask them to stop using real fur, as well as down and feathers in their collections. "At the very least we would like to bring them to the negotiating table," said PETA spokesman Ben Williamson to CBC News.
At the moment the outerwear company continues to use coyote fur as a trim and lining for a number of its high-end parkas and jackets, as well as insulation made from goose and duck feathers, despite receiving regular compliments and facing protests from animal rights group like PETA. "Cruelty is part of every Canada Goose jacket trimmed with real fur and filled with real down", said PETA founder Ingrid Newkirk in a statement. "From holding demonstrations and taking resolutions to the boardroom to having people rip the fur from their collars and give their jackets to the homeless, PETA US is pushing the company to stop peddling parkas that cause immense pain and suffering to coyotes and geese."
Although coyotes are an invasive species in Canada, where the outerwear company sources its fur, the outdated metal traps used to capture the animals have been highlighted for their cruel and ineffective tactics to kill the animal caught. Coyotes have been known to chew through their own limbs in an attempt to escape, die from blood loss, infection or frostbite and are often trampled, beat or shot to death when trappers return to check their traps. In addition, other animals such as lynx, cats, dogs and birds, also known as "trash kills" are often accidentally crippled or killed by the same traps, according to PETA. The geese and ducks used for the down do not fare much better, as they are kept in crowded, dirty peds until they are killed.
Canada Goose maintains that although they believe all animals are entitled to human treatment in life and death and are committed to the responsible use and ethical sourcing of the animal materials used in its products, wearing fur is a personal choice. "We understand and respect that some people think animal products should never be used in any consumer products, however we do not share that view," said Canada Goose on its website. "We know that wearing fur is a personal choice and we respect that. In turn, we hope that people will respect our responsible use and ethical sourcing of fur."
This is not the first time PETA has acquired shares in a fashion company with the aim of bringing around change. The animal welfare group previously purchased shares in Italian fashion house Prada and Hermes in the hopes of persuading them to halt their use of exotic animal skins such as alligator and ostrich.
Photos: PETA protests against Canada Goose, Courtesy of PETA