As the menswear shows wrap up for another season, the trend wrap-ups begin to roll in from editors, bloggers and retailers. But while runway menswear has taken off in dramatic, exciting directions, permitting the design community to experience greater freedom to experiment than ever before, the trends within classic men's sportswear can be trickier to appreciate. Styles that are subtly tweaked seasonally or fabric blends that are modified by percentage increments can be a whispered message drowned out by the bold, loud statements emanating from global runways. Here's why they are worthy of a closer look.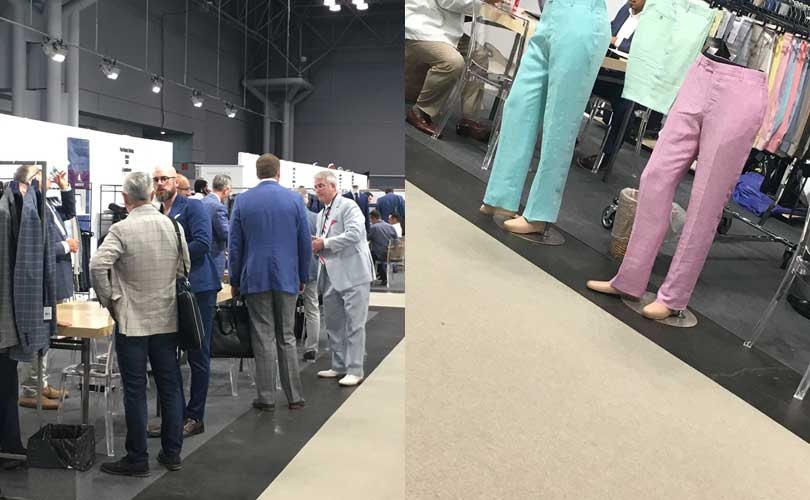 A global language
At PROJECT MRket held this week at the Javits Center, the show floor is divided into three sections: homegrown brands, Brits in New York, and Made In Italy. The more exuberant section appears to be the Made in Italy one which is billed as a showcase for "craftsmanship that borders on art." Buyers and vendors sparred good-naturedly in colorful pants, huddled in groups over fabric cards, or paced about as jackets were whipped from hangers and draped over shoulders. The specialization of the Brits in New York runs from "handmade footwear to Savile Row tailoring to colorful sartorial furnishings and British heritage brands." Heritage and craftsmanship are two key factors to the American vendors also, with one section entitled Modern Prep which is described as "Classics with a twist…colorful and spruced-up sportswear…collegiate dressing." So whether European or American, their mission is the same.
Jeremy Brandrick, who has designed for both runway and classic sportswear labels, explains this market from his experience, "Ideas tend to germinate longer and more thoroughly in this market than in womenswear or in runway men's. This market relies very much on specialty stores that have a carefully curated merchandised offering, often tailored to location, and they know their customer and remove any guesswork for them. Some of these stores hold a real cachet, among those in the know, even if the high fashion community isn't aware of them. And as the apparel market polarizes, they remain symbols of aspirational wardrobe-building."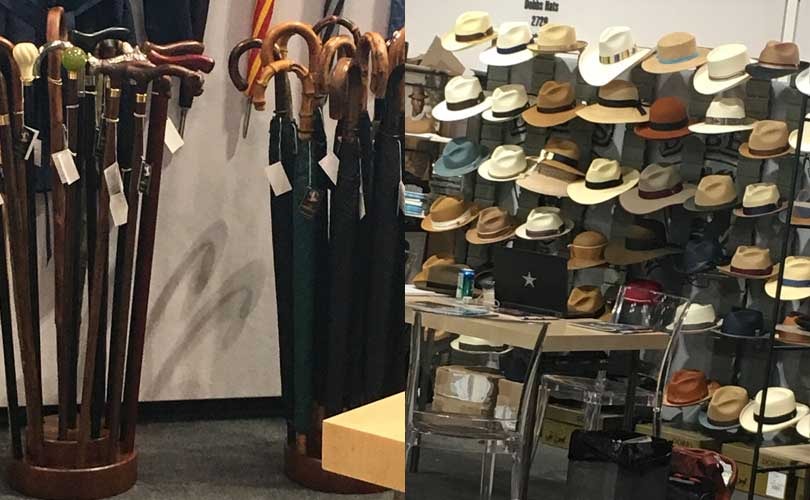 The Power of the international peacock
Surveying the men milling about the fair, I find the navy tailoring of yesteryear seems largely to have been replaced by what I can only describe as hues of Facebook blue. Menswear designer, Anthony Keegan, who has worked across the market from Kenneth Cole to Canada Goose, attributes new color in classics to "the trickle-down effect from Pitti Uomo." The Italian fabric fair has, he says, "become its own fashion show and is part of the culture now. It's not just the young doing it, but older men, mixing plaids, big hats, dandy pocket squares, wearing capes. There's a joy in dressing up, in tailoring, that was missing but has been given new life, and people respond to old houses and brands doing what they do best, and the love and consideration that goes into that product." Maybe this explains why the Italian stands were so animated.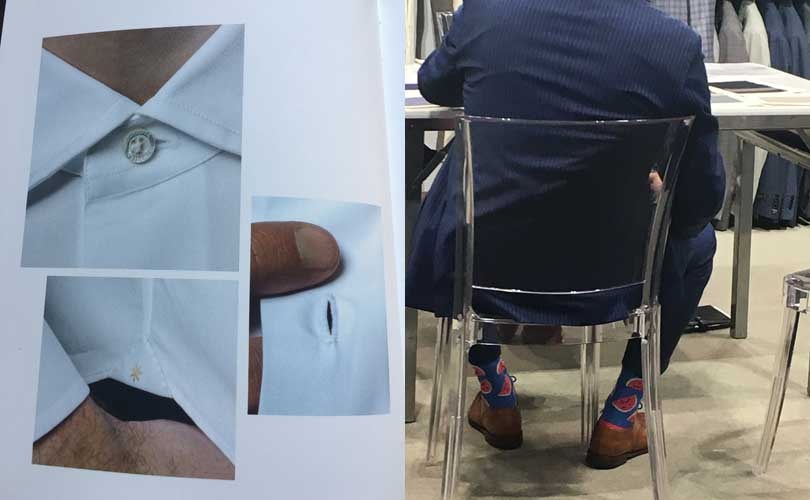 The devil is in the details
As our world becomes ever more Insta-friendly, the fashion industry––and human race––has become accustomed to to the detail of its surroundings being communicated in tender close up photography, coupled with a pithy caption. It's almost as if we need beauty to be isolated for us to see it. Collars, crisp cuffs, engraved buttoning, strike us as special when captured by a lens, but these intricacies can be overlooked when a product hangs in a stand in multiple versions. Thankfully retailers possess a more exacting eye than the rest of us might. The voice of the customer is infinitely more important than the opinions of editors. I pick up a Bagutta catalogue and study (no swiping) dozens of perfectly photographed shirt collars fastidiously named: Italian Style; Small Italian Style, French Style, Round Style, Round Tab Style, Soft Long Pointed Style; Soft Small Long Pointed Style.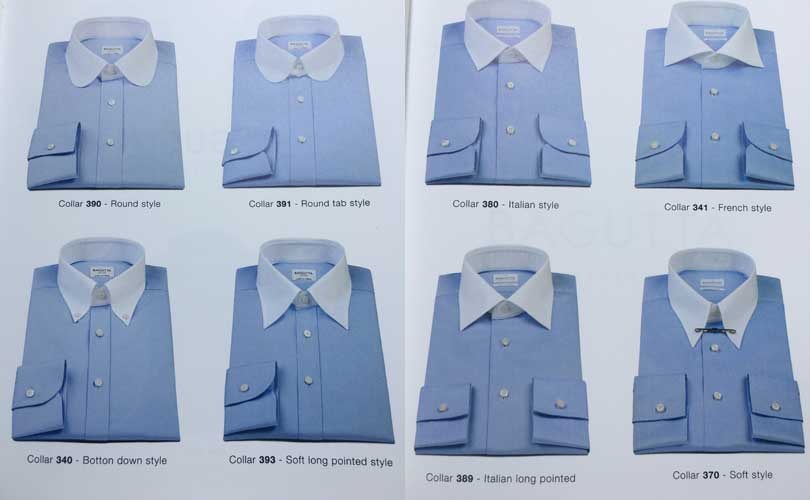 Peter McLaughlin, a menswear designer working in NYC, reacts to retail demands daily, and says, "Customers are so savvy nowadays and companies that continually do the same thing season after season, companies that once dominated, are struggling in today's market where fast fashion is taking over, which is why twisted classics are the way to growth." Twisted classics does sound so much more interesting than the now-cliché Classics with a twist.
Icons never die
The traces of Cary Grant and Paul Newman are never far from the surface in this area of the market as the elegant wardrobe staples of fifty years ago remain those of today. Womenswear evolved in myriad directions while menswear had a lot of catching up to do only recently gaining ground. A sharply tailored blazer in a windowpane plaid can be rendered dapper when worn with an equally well-crafted Panama hat. Flourishes are left to the small items and generally come through in pattern. I spy one gentleman in a sleek navy suit, but it's his watermelon-patterned socks that capture my attention. Brollies with sculpted handles evoke the gentlemanly stature associated with heroes of black-and-white movies and add a dash of romance. Playfulness can come through in a jauntily puffed pocket square, tropical print tie or, for the more decadent, a feathered bow-tie from South Carolina company, Brackish.
Clothes make the man, as the saying goes, but it's the peacockery, however subtle, that make him stand out.
By contributing guest editor Jackie Mallon, who is on the teaching faculty of several NYC fashion programmes and is the author of Silk for the Feed Dogs, a novel set in the international fashion industry.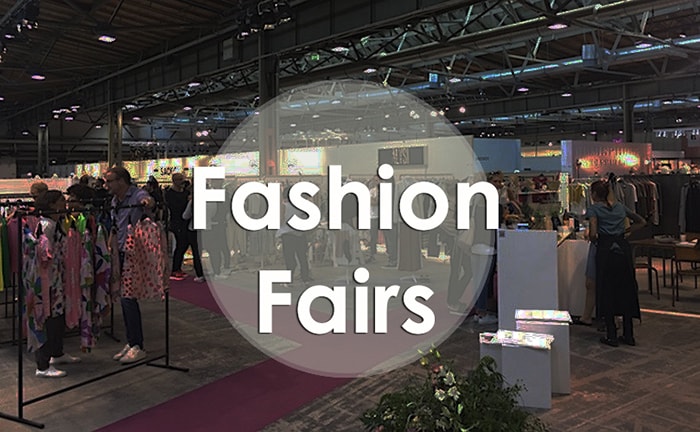 The trade fair season kicked off. During the month of July FashionUnited will focus on trade shows. For all reads on tradefairs, click
here
.
All photos author's own.