London - 7.5 percent of the global fashion industry have signed the Global Fashion Agenda's 'Call to Action for a Circular Fashion System', committing to accelerate the transition to a circular fashion system.
64 leading fashion companies and corporations have signed the commitment letter, which represents a total of 143 brands and account for 7.5 percent of the total fashion industry according to the Pulse of the Fashion Industry report. Key signatories include Asos, Adidas, Bestseller, Guess, Hugo Boss, Inditex, H&M Group, Kering, Reformation, Tommy Hilfiger and VF Corporation.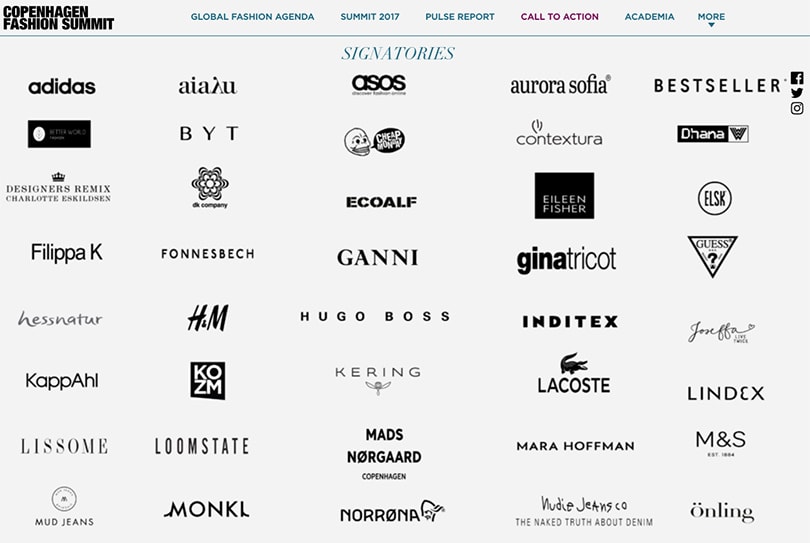 143 brands sign Global Fashion Agenda's Call to Action for a more sustainable future
Together these fashion companies have committed to defining a circular strategy for their own businesses by December 2017, setting up targets for 2020 and reporting on the progress of implementing their commitments. Companies who signed were able to commit to one or more of the following action points: implementing design strategy for cyclability; increasing the volume and processing of used garments collected; increasing the resale of use garments, or increasing the use of recycled textile fibres by 2020.
The announcement follows on from the annual conference on sustainable fashion, the Copenhagen Fashion Summit, which took place on May 11 and included the launch of the 'Call to Action.' The commitment is part of an initiative launched by the Global Fashion Agenda to encourage the industry's transition away from a linear and unsustainable business model to a more circular model by increasing the volume of used textiles collected, reused and recycled by 2020.
The fashion organization has taken a central role in urging industry stakeholders to sign the pledge and has committed to providing the network, knowledge, and advocacy to ensure the current issues and solutions in the fashion industry are lifted, communicated and implemented. In addition, the Global Fashion Agenda is set to publish a progress report annually each May.
Throughout the year the Global Fashion Agenda will make several 'toolboxes' available to the fashion companies who have signed the pledge which offers knowledge, insights, and inspiration into the various areas of circular fashion. The first toolbox launched focuses on garment collection and is available to all of the commitments signatories. The toolbox, created in partnership with I:CO, offers practical tips on how to set up a garment collection scheme and features tips from various brands and experts, including Reformation, H&M Group, Inditex, Target, Bestseller and Filippa K.
Photos: Courtesy of I:CO and the Global Fashion Agenda