Trendstop's footwear experts present three inspirational themes that will be impacting boot, heel and sports shoe categories into Fall/Winter 2018-19 and beyond. FashionUnited readers will discover the essential silhouettes, components and styling elements that will prove crucial in informing your next footwear collection. Our comprehensive footwear coverage identifies the season's most important looks before analyzing and evaluating their commercial value to give you the best possible basis for your decision making.
This week Trendstop present three of the season's key footwear. The Loose Fit Longline introduces new silhouettes that offer a fresh take on form and fit to the boot sector. The Contemporary Court illustrates how a classics style are continuing to evolve in evermore sophisticated ways through modernist lines and conceptual shapes. Tapping into the ongoing hybrid trend, The Fashion Sports Hiker fuses performance with practicality as traditional hiker styles and technical sports features are successfully combined.
The Loose Fit Longline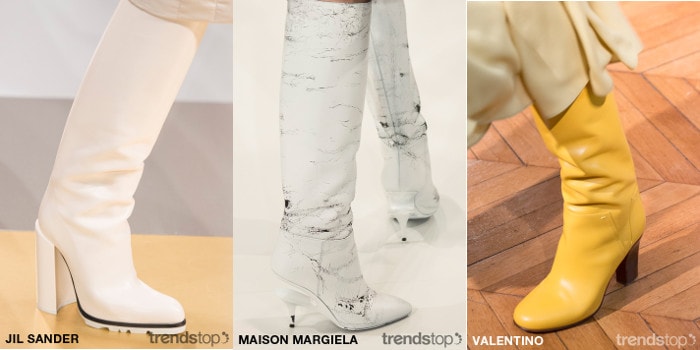 Longline boots take on a more relaxed feel for Fall with loose-fit legs, wide toplines and ruched leathers. Buttery soft skins and crisp paper-like textures enhance creased and crumpled textures that mix dressy formality with a laid-back lounge aesthetic.
The Contemporary Court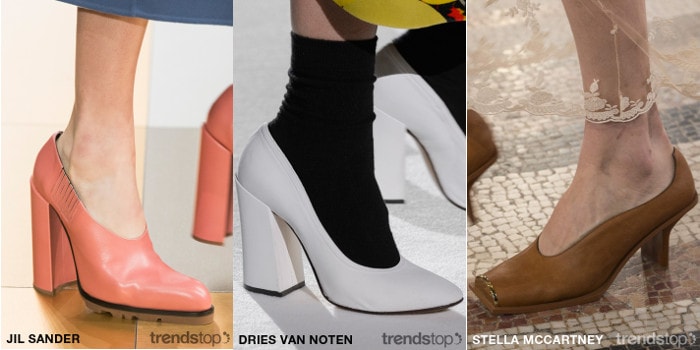 The classic court gains new direction as high cut uppers, substantial proportions and a minimalist aesthetic evolve into the contemporary arena. Pared back styling is elevated with undulating toplines and sophisticated conceptual heel shapes while enclosed uppers have a modern yet demure appeal.
The Fashion Sports Hiker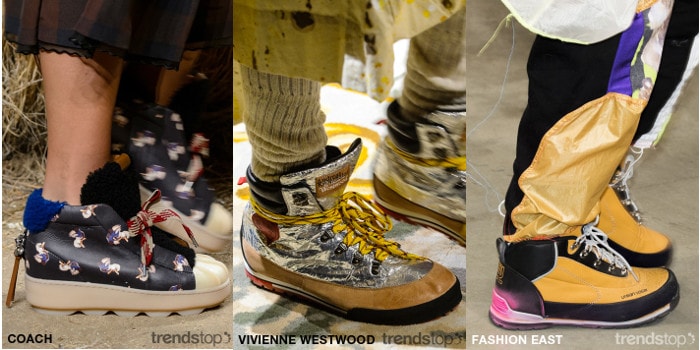 Performance sports look to the great outdoors as sneakers take their cue from hiking boots and walking shoes. High-top silhouettes come on sturdy sole with grippy tread, speed laces and ski clip fastenings and protective padded details. Metallic finishes and multicoloured laces echo bungee cords and mountain rescue survival blankets.
Exclusive Offer
FashionUnited readers can get free access to Trendstop's Spring Summer 2017 Footwear Forecast, featuring key silhouettes, styling direction and inspirational imagery. Simply click the banner to receive your free report.

Trendstop.com is one of the world's leading trend forecasting agencies for fashion and creative professionals, renowned for its insightful trend analysis and forecasts. Clients include H&M, Primark, Forever 21, Zalando, Geox, Evisu, Hugo Boss, L'Oreal and MTV.
Images courtesy of Trendstop: Jil Sander, Maison Margiela, Valentino, Dries Van Noten, Jil Sander, Stella McCartney,Coach, Vivienne Westwood, Fashion East, all Fall Winter 2017-18.