London - It is an undeniable fact that women are the driving force behind the fashion industry and make up the majority of the driving force. Which is why a number of fashion companies have launched their own initiatives and projects focusing on empowering women on March 8, International Women's Day.
Fashion companies ranging from Benetton to Gucci are starting a number of campaigns which focus on different issues concerning women, such as raising awareness for gender equality in garment factories and violence against women. For example, Chime for Change, the global campaign founded by Gucci, teamed up with Global Citizen, a group fighting to end poverty by 2030, teamed up and issued a public letter encouraging everyone to join their fight for gender equality.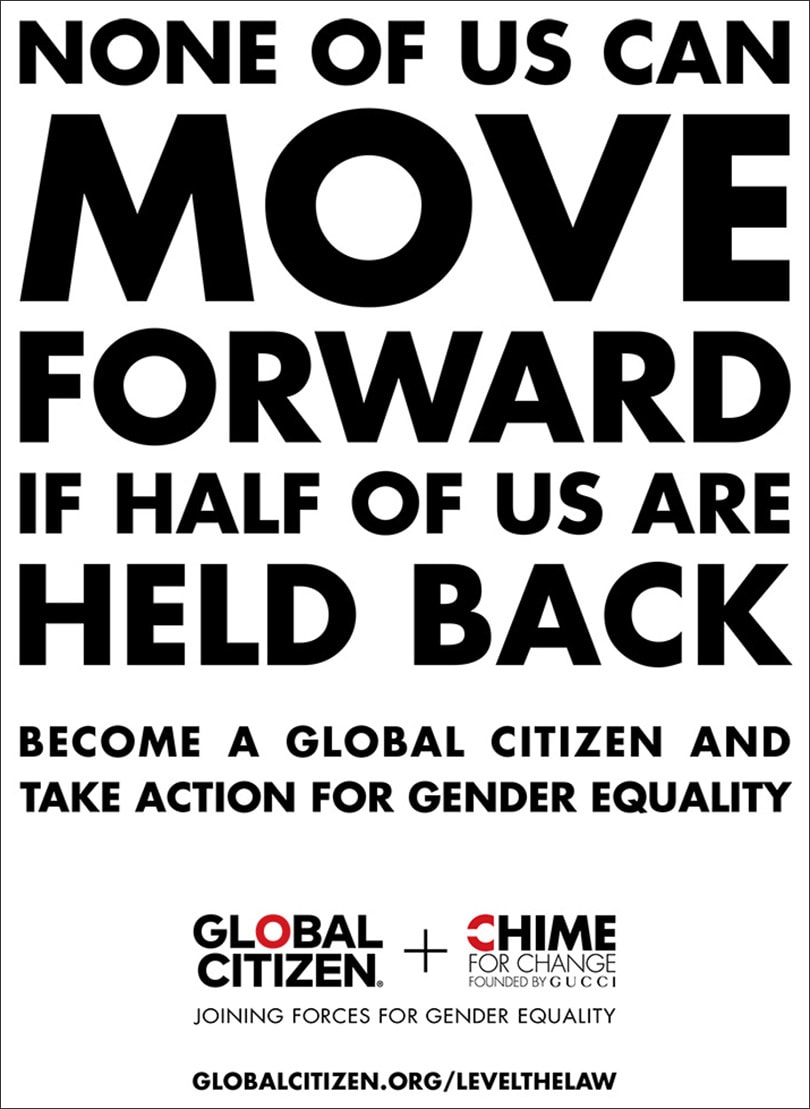 "All over the world, women are on the frontlines fighting for our future. Yet millions of girls and women are still denied basic equal rights. And recent policies and appointments in the United States jeopardize its position as a global leader and positive role model on human rights," reads the letter. "We stand together to say, in a voice louder than ever, that fighting for gender equality is the emergency and the opportunity of our time."
The letter was published in full in four leading newspapers today: The New York Times, The International New York Times, the Financial Times and The Wall Street Journal, and is signed by more than 25 industry influencers, including François-Henri Pinault, Kering's chairman and chief executive officer, Marco Bizzarri, Gucci's CEO and Alessandro Michele, Creative Director at Gucci.
The Benetton Group launched a new global campaign through its WE program named #UnitedByHalf, which aims to promote gender equality and women empowerment in its second largest menswear market outside of Italy, namely India. The campaign includes a short film calling on men to help ensure women receive their half and a website, where the public can pledge to fight for women empowerment. "This new campaign takes our message of women empowerment directly into one of our biggest global markets, notably for menswear," said Chiara Mio, leader of the Benetton's Group Sustainability Program and its Women Empowerment initiatives.
US designer Michael Kors is honouring the nine women who have inspired him over the last 35 years today on his label's Instagram, Twitter and Facebook accounts, starting with his own Mother, Joan Kors. Other women who have inspired him over the years include actress Blake Lively, Michelle Obama and Kate Hudson.
Another US fashion brand which took an important step in support women's rights today is Calvin Klein. Steve Shiffman, CEO of Calvin Klein Inc signed the Women's Empowerment Principles, a partnership initiative from the U.N Women which consists of seven steps a business can undertake to promote gender equality in their workplace. "Calvin Klein has long been a champion for gender equality, and as a brand we have led many cultural conversations surrounding this critical topic. It is important for us as a global leader to continue to fight for gender equality across the world, and lead true social change in everything we do," said Shiffman in a statement to WWD.
Photos: Courtesy of Benetton and Chime for Change