Trendstop's materials experts bring you an insider's guide to the essential print and fabric themes for lingerie and sports fashion that will be impacting the materials market into the SS19. Our team travelled to the Interfiliere event held at the Porte de Versailles Expo Centre in Paris where graphic surface effects and the sensory experiences of textile finishing inspired and elevated functional activewear fabrications. Nature influences also came to the fore with seasonal prints and 3D raised effect applied to intricate lace. Our comprehensive materials trade show coverage and image galleries evaluate each trend's commercial value and longevity, giving you the best possible basis for your decision making.
This week, FashionUnited readers get an exclusive look at four materials directions that will be informing the SS19 season. Digital Retro and The Graphic Stripe show how classic and vintage prints are being revived and refreshed for the new season. Leaf Motifs and 3D Floral Lace explore how nature themes are influencing lingerie and fine fashion fabrications.
Digital Retro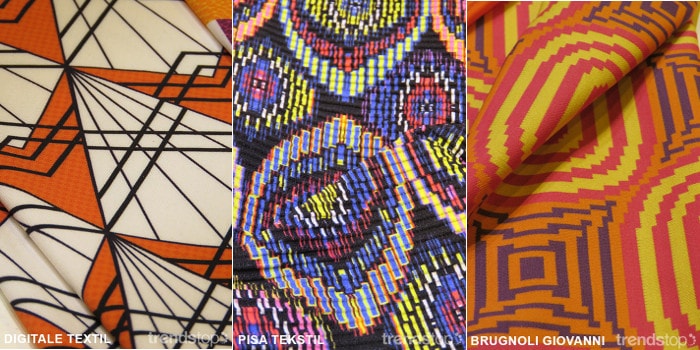 Retro prints are updated for SS19 with a digital era appeal. Pixelated effects are achieved through broken and distorted geometric prints and crinkle surface textures. Vintage brights are lifted by stark black and white while luminous accents add a dynamic flash of colour that electrifies all-over prints.
Leaf Motifs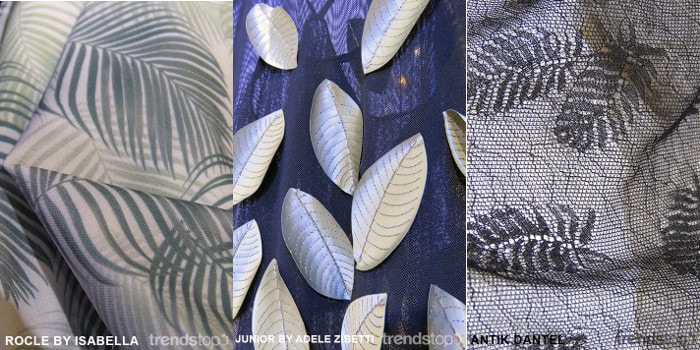 Nature themes come through in tropical palm prints, leafy appliques and delicate lacy fronds. Pale green tones and soft black grounds take foliage motifs in a more elegant direction for SS19, suitable for both fashion and lingerie applications.
The Graphic Stripe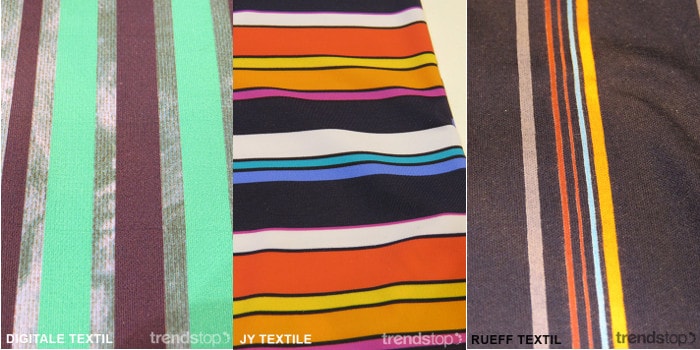 The classic stripe is elevated for summer with graphic linear patterns in a mix of vibrant hues. Multi-width stripes in sporting brights are given added pop against fashion accent tones and black while solid stripes over subtle print grounds create new contrasts.
3D Floral Lace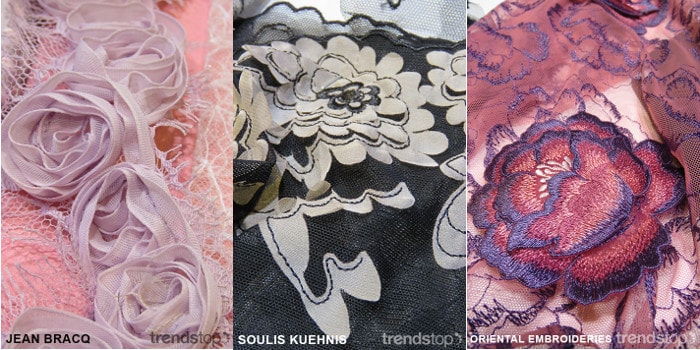 Traditional lace techniques gain added interest with 3D appliques and embellishment. Ribbon strands are coiled into raised rose blooms, fragile lingerie fabrics are cut and sewn into surface petal effects and heavily embroidered patches contrast against delicate net.
Exclusive Offer
FashionUnited readers can get free access to Trendstop's Spring/Summer 2018 In The Desert Material Forecast Theme, featuring key themed material directions for the upcoming season. Simply click the banner to receive your complimentary report.

Trendstop.com is one of the world's leading trend forecasting agencies for fashion and creative professionals, renowned for its insightful trend analysis and forecasts. Clients include H&M, Primark, Forever 21, Zalando, Geox, Evisu, Hugo Boss, L'Oreal and MTV.
Images courtesy of Trendstop, left to right: Digitale Textil, Pisa Tekstil, Brugnoli Giovanni, Rocle by Isabella, Junior by Adele Zibetti, Antik Dantel, Digitale Textil, JY Textile, Rueff Textil, Deep Blue by Jean Bracq, Soulis Kuehnis, Oriental Embroideries, all Spring Summer 2019.