On Wednesday, Jeffrey Kalinsky, founder of Jeffrey Atlanta and New York, presented the 16th annual Jeffrey Fashion Cares fundraiser at the Intrepid Sea, Air & Space Museum in New York City. Kalinsky founded the organization to heighten awareness of people living with HIV/AIDS and support the LGBTQ community. This year, the event benefitted three charities: The Elton John AIDS Foundation, The Ali Forney Center and Lambda Legal. The event was sponsored by Capitol One, Fire Island Pines and Sidley Austin.
"There's a world full of good causes that I believe fashion can and should support," Kalinsky said to FashionUnited. "I started Jeffrey Fashion Cares 28 years ago in Atlanta. It was my desire as a young, gay man to try and raise money for AIDS prevention. 16 years ago I decided to start this event with a desire to raise money for gay youth. For me, it's so much of a personal choice."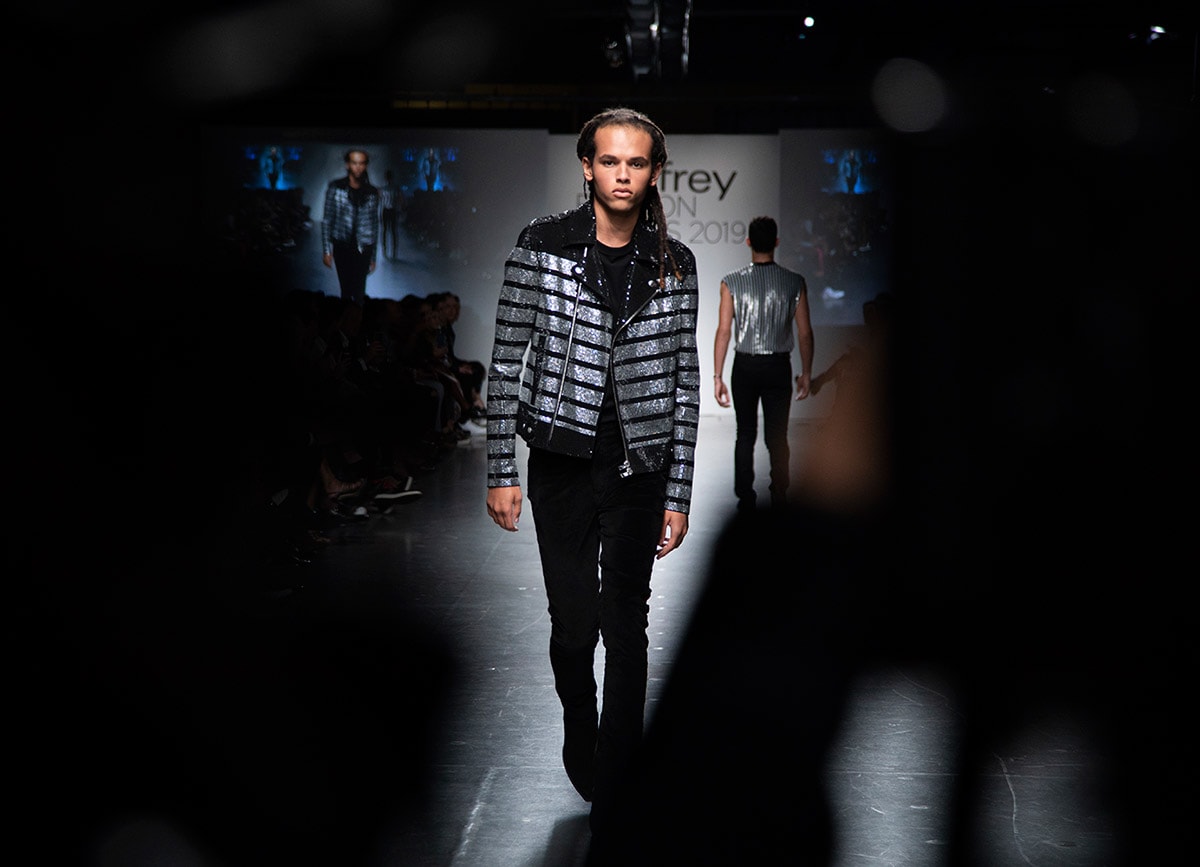 Gus Kenworthy hosts 16th annual Jeffrey Fashion Cares
In addition to this year being the 16th edition of Jeffrey Fashion Cares, it is also the 50th anniversary of the Stonewall Uprising which sparked the entire modern gay rights movement in America. "It's amazing that everything that 'started' 50 years ago, and in a lot of ways it's great where we are today, and in a lot of ways it's not great where we are today," Kalinsky said to FashionUnited. "I personally as a gay man want full human rights, and I don't want to worry about human rights, and today I still have to worry about my human rights."
Supermodel Chad White, who has walked the show for 14 years including this one, had some newly added responsibilities as one of the chairmen of this year's event. "I feel like I need to have more of a voice if I can to help get the message out and try to help even more than I already do," White said to FashionUnited. "It gives me more of an impact and I was already inspired to be involved with this cause, and I want to give as much time to it as possible."
Kalinsky has managed to bring together an incredible cast of fashion and entertainment influentials to help support his cause, including media personality Bevy Smith. "Unfortunately I had two cousins die of AIDS very early on during the epidemic, and since the '80s I've really been involved in prevention and education," Smith said to FashionUnited. "Black women are the highest number of growing cases in the U.S., and there are still people suffering. We have to remain diligent and vigilant about this."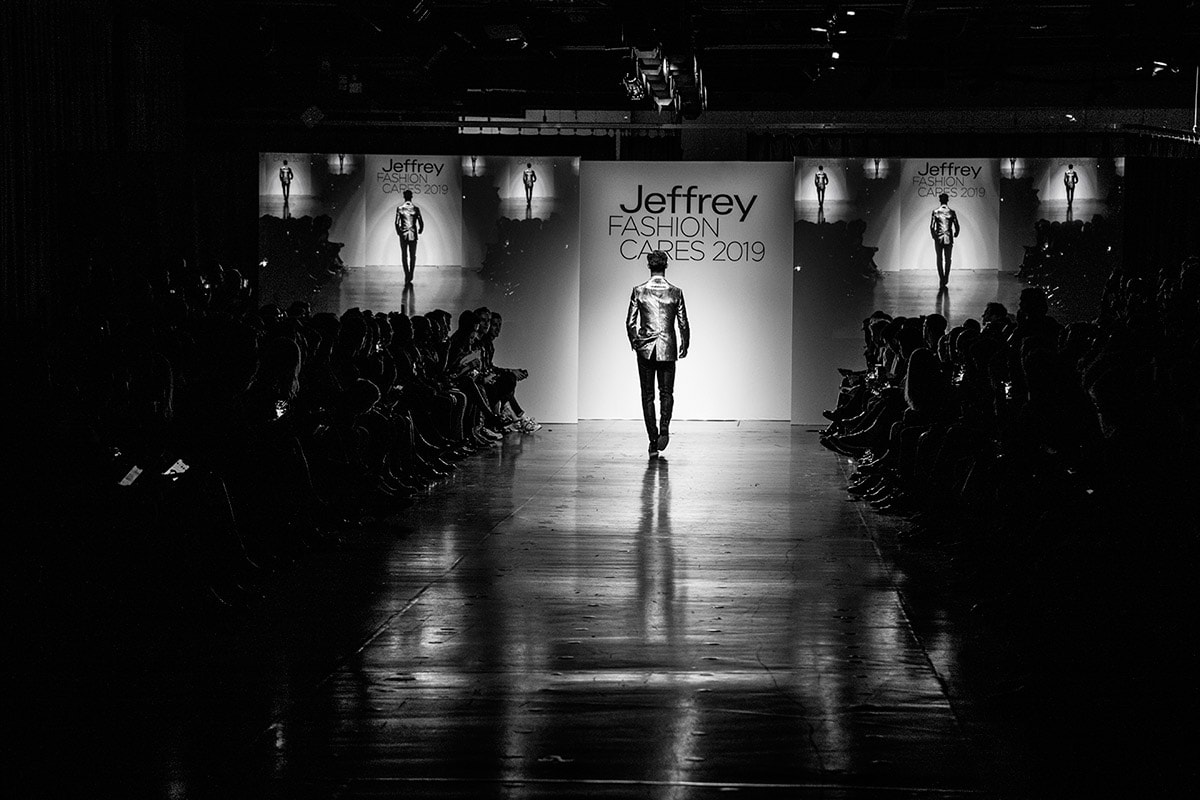 She added that, "One of the best things I've seen happen though is that this cause has galvanized folks and brought them together. The LGBTQ community can be very segregated by not just race, but even age and sexual orientation, and when I come to these kind of fundraisers you see all kinds of folks come together from all races, religions, and sexual orientations. It's important because we all need to come together to make a difference."
The drag community also loaned its support to the event, with "RuPaul's Drag Race" stars Peppermint and Milk in attendance to support the cause, and Milk even walking the runway show in a Balenciaga ensemble. "It's important for drag queens to support everything we can," Milk said to FashionUnited. "We shouldn't restrict ourselves to just one type of giving back. It is with all of the fans and followers I'm so grateful to have that I'm able to share information about advocacy work and not just the next great beauty secret."
This year's event was hosted by Olympian ski athlete Gus Kenworthy, who won the silver medal in Slopestyle at the 2014 Winter Olympics in Sochi, and three overall AFP World Championships. Kenworthy has been working with AIDS Lifecycle this year and has pledged to raise a huge amount of money for the cause. When Kalinsky asked him to come host this year he gave an immediate yes.
"Advocacy work is so important, especially when it comes to HIV/AIDS, because it's so stigmatized," Kenworthy said to FashionUnited. "We need to break that stigma by just having open communication, pushing people to become educated, knowing their status, and using safe sex practices."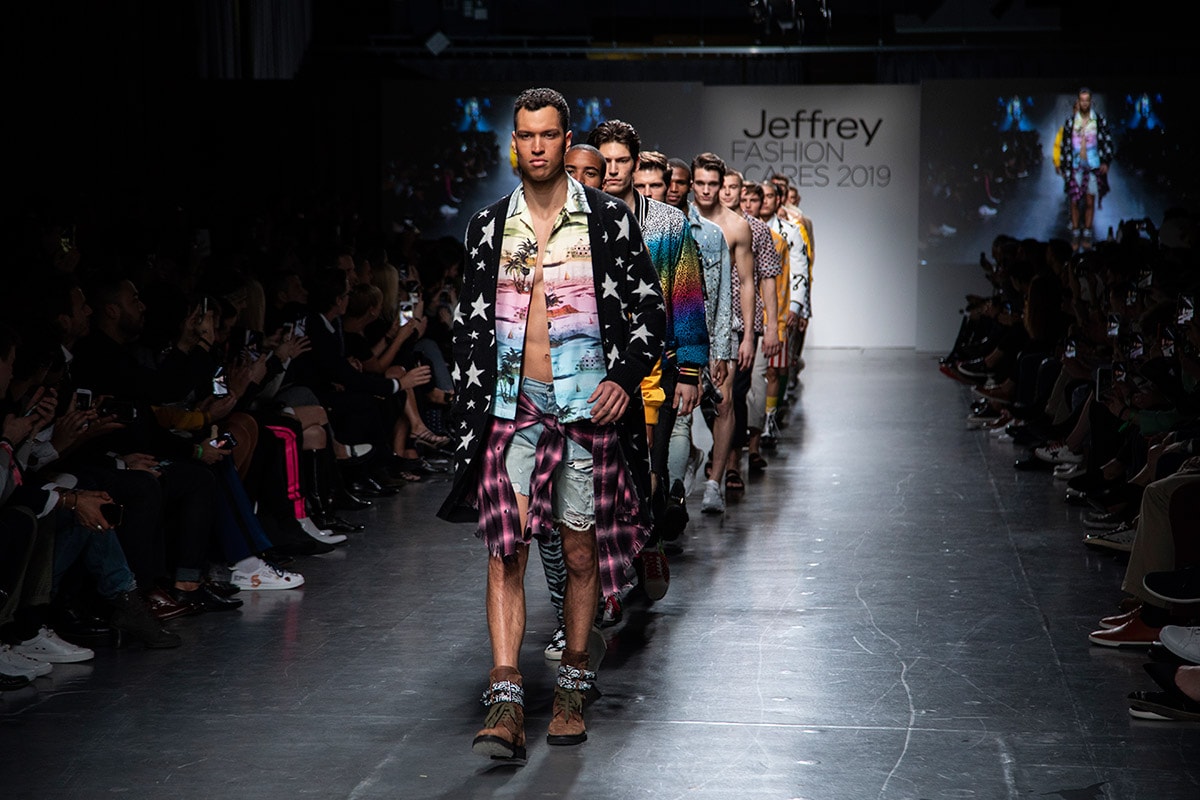 Kenworthy added that, "I hope within a decade we have found the cure for HIV and AIDS is no longer a thing we are dealing with. I'd love to see more education about it too. We don't have enough sex education in high school and it's not catered to gay and queer kids, and we are seeing more and more queer kids as people are becoming more comfortable in their skin. I'd like to see a more inclusive education that really hits all the notes, so people will know what's out there and how to handle it."

This year's event also honored Jordan Roth, president of the Jujamcyn Theaters and a prominent creative arts figure in America. Roth's theaters have hosted important queer productions from "Kinky Boots" to "Falsettos", and he has produced groundbreaking shows including "Angels in America" (for which he won one of his four Tony Awards) and "Head Over Heels".

Other VIP Guests included Titus Burgess, Leigh Lezark, RJ King, Timo Weiland, Christian Bendek, Joey Zauzig, Ismael Cruz Cordova, Eric Goldie, Henriques 'Kiko' Francisco, Chella Man, Marti Gould Cummings, Robbie Gordy, Christophe Sanchez-Vahle and Andrew Shirk.

photos: courtesy of Eli Schmidt