Today marks the debut opening of Primark's first US store in Boston, Massachusetts. Please stay tuned as we keep track of the store's official opening at 11 am, local time.
Live coverage now ended
13:30 pm
With Primark's debut store in Boston officially opened, FashionUnited ends its live coverage of the event. Only time can tell if the value-fashion Irish will prove to be a homerun in the US or just another foul ball.
13:25 pm
As the festivities slowly wind down and shoppers continue along their way in the new store, Primark employees at the head office continue their feast with pizza:
13:05 pm
The first shoppers leave the store with the classic Primark paper-bag. Part of the value-fashion retailer's appeal overseas is that shoppers can easily fill a paper bag for 50 pounds or euros.
11 tops, 2 pants, 2 tea towels, 1 candle = $66 #PrimarkBoston delivers on… https://t.co/4bTWK2w572

— Wendy Englebardt (@wendyroberts617) September 10, 2015
12:50 pm
In Boston and unsure if Primark is for you? Price and budget aware shoppers take note - according to a Sanford C. Bernstein anaylsis of Primark's product line-up, the Irish retailer's prices will be roughly 20 percent less than US counter part Forever 21, 33 percent less than Gap's favoured Old Navy brand and close to 40 percent less than H&M. According to Primark, the reason they are able to offer fashion at such low prices is due to a combination of huge volume orders, lack of marketing and not making the jump to e-commerce. In fact, the fast-fashion retailer claims that selling online for them would never be cost-effective.
Super low prices at Primark in Boston pic.twitter.com/hIckpVydsf

— Courtney Reagan (@CourtReagan) September 10, 2015
12:30 pm
Inside the store, shoppers are busy making their purchase. Managing Director of Conlumino, Neil Saunders takes a moment to post the following online on his experience at the Primark store opening in Boston:
American women looking at tops: "Oh my god it's $6 dollars, just $6 dollars". "Yeah, I can't believe it, I thought it'd be $15".

— Neil Saunders (@NeilRetail) September 10, 2015
Registers fairly busy. Lots of people walking round filling up their shopping bags! pic.twitter.com/ARABH9QHiy

— Neil Saunders (@NeilRetail) September 10, 2015
12:20 pm
Primark continues its opening celebration in spite of protestors outside the store. Clearly, not everyone seems to be pleased with the noise they are all making:
Great. Now we the #PrimarkUSA opening, somebody on a loudspeaker, protesters with a megaphone, AND a brass quartet. #cacophony #fb

— Julianne Ture (@churchyfur) September 10, 2015
It remains to be seen if the protestors deterred many shoppers from attending the Primark grand opening or not.
12:15 pm
As shoppers continue to line up outside the store and protestors continue to protest the store opening, celebrations continue on at Primark's US head office:
12:10 pm
With so many fashion choices for such small prices, shopping at Primark may seem a little daunting to US consumers who are not familiar with the brand. Therefore, the Independent has decided to take on the task and is offering 10 tips for American shoppers (really all shoppers) on how to best handle shopping at Primark.
10 tips on how US shoppers should tackle Primark http://t.co/fdKiLDFuNh

— The Independent (@Independent) September 10, 2015
12:00 pm
Jose Luis Martinez de Larramendi, the US President of Primark takes a moment to pose for a photo in Primark's debut store in Boston. "Our U.S. plans have been in development for some time now and we are thrilled to introduce the Primark experience to Boston," said de Larramendi, on the new store opening. "In addition to our signature 'amazing fashion, amazing prices,' we're committed to providing exceptional service through our customer promise of an easy, caring and fun experience."
11:55 am
Local stores and retailers in the neighbourhood also take to social media to welcome Primark to Boston.
Welcome Boston neighbor @Primark from across the street! Roary's enjoying the Grand Opening! #BID #CompassApts pic.twitter.com/ExknptA3Sy

— CompassFurnishedApts (@CompassFurnApts) September 10, 2015
Welcome to the neighborhood @Primark! @DTownBostonBID #Boston #DTX

— Teatro Boston (@Teatro_Boston) September 10, 2015
11:44 am
The store opening seems to have occurred peacefully enough - yet outside the store, a small protest seems to be taking place calling for the Irish value retailer to allow its workers to unionise.
Hey @Primark this should be a union store! 1u #Boston pic.twitter.com/H5GbjnvTzQ

— Fight For 15 Mass (@fightfor15mass) September 10, 2015
11:35 am
Other US shoppers who were unable to attend the store opening in person lament missing out on the event online:
PSA: the first Primark USA has opened in Boston today.....and I am not there :(

— NatsWhatsup (@natttalee_) September 10, 2015
I wish I was in Boston for the Primark opening

— Michelle (@halseyluek) September 10, 2015
Can we go to Boston for fall break just so we can go to Primark?

— Lisa (@cherrylisa12) September 10, 2015
11:30 am
More cupcakes and sweets to celebrate the store opening:
11:25 am
Tinashe, the artist who performed during Primark's opening celebration shares her photos of the new Primark store:
Primark U.S. Grand Opening Store Celebration in Boston (Tinashe) photo cred: http://t.co/486v3T7F66 pic.twitter.com/AjlLOGbVyY

— ALL EYES ON TINASHE (@TinasheOverload) September 10, 2015
11:15 am
#Primarkboston, #Primania, #PrimarkUSA and #Primark hashtags begin to appear all over social media channels as shoppers share their excitement on the store's opening.
Officially open in USA, Primark Boston #PrimarkUSA pic.twitter.com/QvHtTI6d94

— mark woods (@markw099s) September 10, 2015
11:10 am
"I'm thrilled to officially welcome Primark to Boston," said Mayor Walsh. "Primark will bring jobs and increased economic activity for our residents and visitors, and we are grateful they chose Downtown Crossing as the site of their first Northeast location."
"We have chosen the ideal location for our Northeastern U.S. home in the city of Boston. We are delighted to become part of the community and formally introduce shoppers to the Primark brand " adds Paul Marchant, chief executive officer of Primark of the new opening. "We are honoured to be a part of the city's fabric and to be playing a role in the ongoing vibrancy of the Downtown Crossing neighborhood, where both our Boston office and first store are located."
11:00 am
Following the ribbon cutting ceremony, Primark covers the store's official opening via Periscope and welcomes customers coming in.
Primark Boston is OPEN! #PrimarkUSA pic.twitter.com/W7LPl8cT0f

— Primark (@Primark) September 10, 2015
One customer complained that it was difficult to get into to the store due to the number of staff standing in the way.
10:55 am
The tension mounts for the opening outside...
10:52 am
Back in Primark's head office, employees prepare to celebrate the store opening, in cupcake style.
It's all about USA & Primark 1st store to Open in Boston so we thought we'd have a bit of cupcake fun@GatherinChplHQ pic.twitter.com/7dbsESyvQd

— mark anderson (@marky01) September 10, 2015
10:50 am
Inside the store, songs of celebration can be heard, as the team counts down to the official Primark opening...
10:48 am
US customers waiting outside of Primark's store in Boston are handed free cookies whilst they wait and are able to follow the official welcoming proceedings via outdoor tv-screens.
Mayor Walsh welcoming Primark to Boston. #PrimarkUSA pic.twitter.com/Y8tluTwKSm

— Peri (@heresperi) September 10, 2015
10:45 am
Primark has brought its usual blue balloons overseas to celebrate it's store opening. The balloons are the exact same shade as the Primark logo. As the official ceremony takes places inside the store, outside the queues to get inside the store finally seem to be appearing.
10:40 am
Breege o'Donoghue makes her traditional opening speech prior to the official store opening in 20 minutes.
Opening day at Primark Boston, proud to be Irish #hrboston #Primark - congrats & welcome pic.twitter.com/LsfI4ScXqO

— terry dunbar (@paddyinny) September 10, 2015
10:35 am
With 25 minutes to go to the official opening, the Mayor and fellow Irish man Marty Walsh arrives to cut the traditional blue ribbion. He is joined by Breege O' Donoghue, group director, business development and new market executive who has been present at nearly all of Primark's new store openings over the past years.
230 days since work began @Primark DTX Boston. 90+ workers every day. @marty_walsh arrives for ribbon cut @HavasPRUS pic.twitter.com/ItoAvUNRal

— Julie Hall (@juliehallboston) September 10, 2015
10:28 am
But those customers waiting in line for the store opening seem to be waiting with zealous optimism, with some calling the day 'the greatest day.'
10:15 am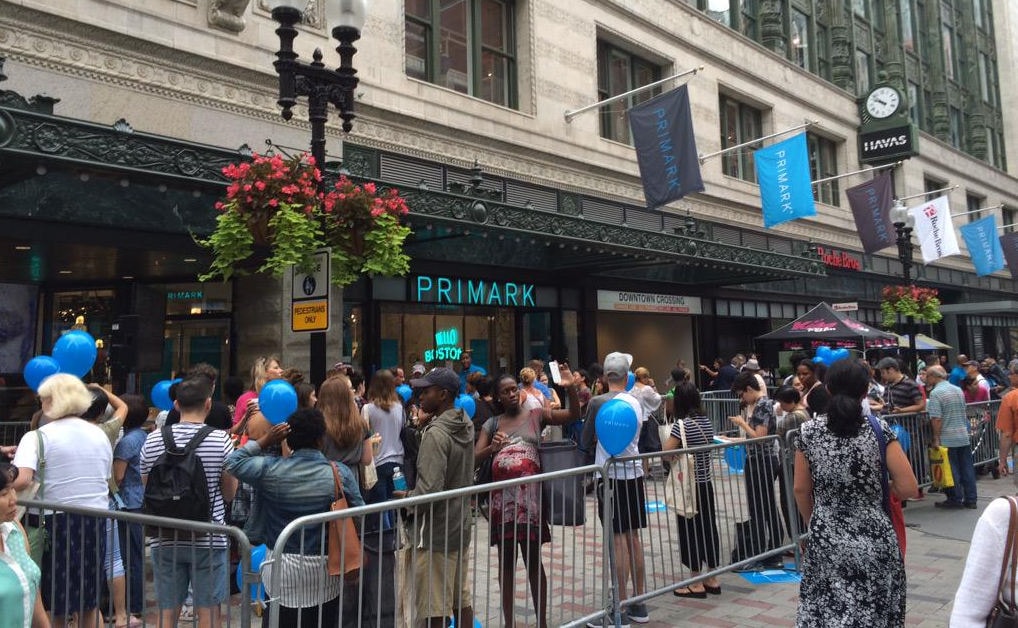 With less than an hour to go until Primark opens its first US store, the lines that the retailer may have been anticipating seem yet to form. This is in stark contrast to Primark's other overseas store openings, especially in France, Germany and the Netherlands, which drew hundreds of customers to the store in the early hours of the morning, who were more than happy to wait for the store opening.
10:05 am
Nevertheless, Primark is keen to win over its US customer. "We want people coming away saying, 'Those are amazing prices,' " said John Bason, chief financial officer of Primark's parent, Associated British Foods PLC to the Wall Street Journal. With men's pointed brogues retailing for as little as 17 US dollars, cross-body bags for 12 US dollars and funnel coats for 24 US dollars, the Irish promises to have something for the entire family.
One hour to go! Boots $24 #PrimarkUSA pic.twitter.com/kqiO6qqpQm

— Primark (@Primark) September 10, 2015
09:55 am
Not everyone is happy with Primark's arrival. A protest was held outside of the Boston store last month calling for the Irish retailer to allow its workers to unionise. Union works and organisers demanded that Primark's workers in Boston be represented by UFCW local union 1445 - the same union for Filene's workers for nearly 100 years. Primark has agreed to negotiate with the union, but many still seem dissatisfied.
#Boston is a union town. @primark grant it or shut it down. #fightfor15 pic.twitter.com/QMctfBor8Y

— Just Wes (@WesKnuckle) September 7, 2015
09:35 am
Primark is keen to open their doors to the public:
We can't wait to open the doors! #PrimarkUSA pic.twitter.com/5PKBV9oZAW

— Primark (@Primark) September 10, 2015
09:05 am
The lucky few journalists, bloggers, photographers and more invited into the store for a pre-shopping session ahead of the official opening in 2 hours, make the most of the empty store to gather the items they want.
08:55 am
Primark's security team preparing for queues in Boston. The question remains if it will be as busy as other store openings in European.
08:45 am
More facts you may or may not have known about Primark...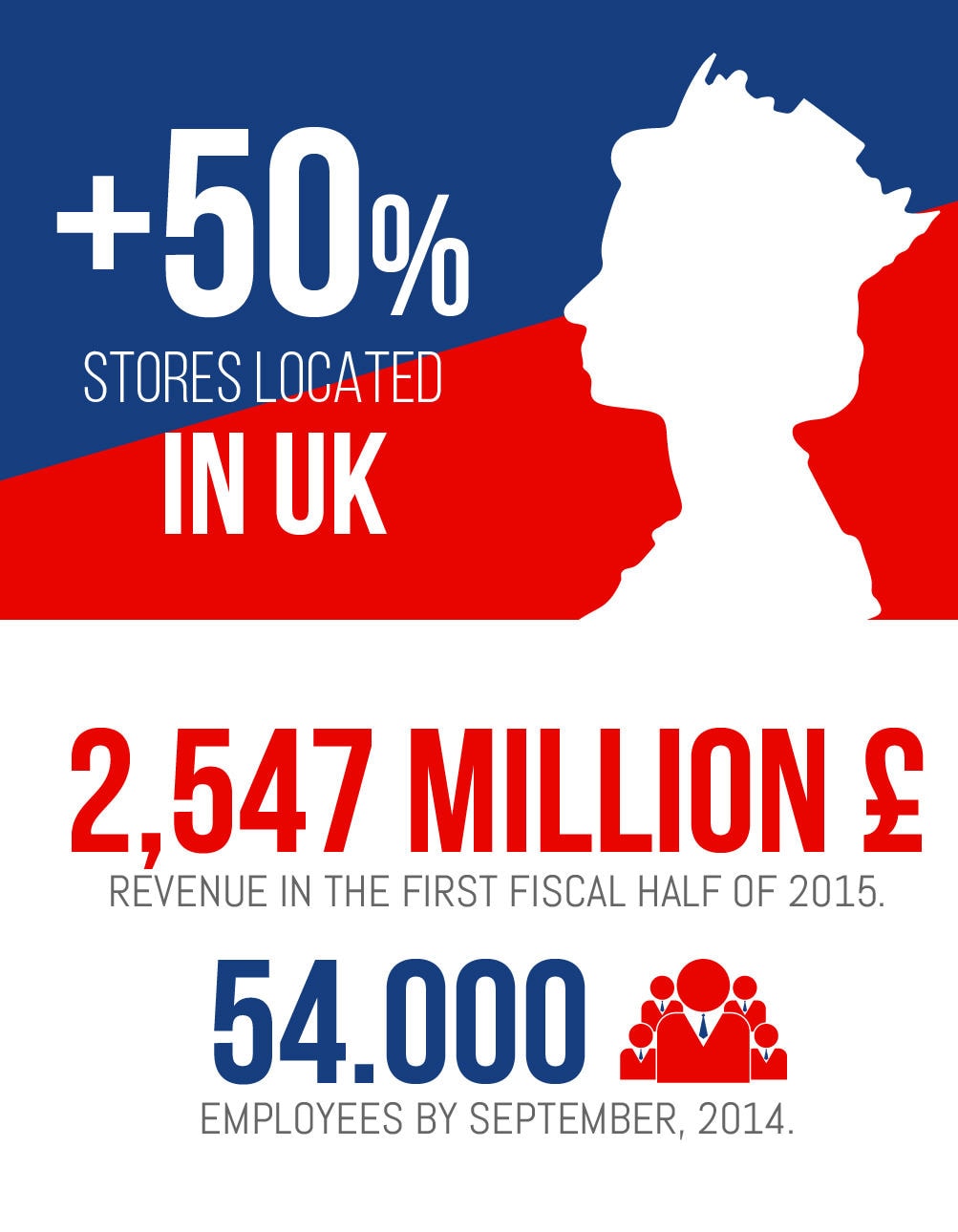 08:15 am
News teams begin to arrive to cover the event, with CNBC's Courtney Reagan sending out warnings to other US fashion retailers. According to CNBC, the closet equivalent to Primark in the US would be JC Penney's, Kohl's and Walmart. However, Primark's CEO, Paul Marchant believes that stores like H&M, Forever 21 and Old Navy will likely pose the most threat to them in the US.
Courtney, from CNBC broadcasting the opening of Primark Boston #PrimarkUSA pic.twitter.com/BKvobYyFAZ

— mark woods (@markw099s) September 10, 2015
07:45 am
Primark begins to prepare things behind the scenes for the store openings.
Boston, are you ready for us?! #countdown #PrimarkUSA pic.twitter.com/XV3Oz0yyJj

— Primark (@Primark) September 10, 2015
07:00 am
As the tense slowly builds up for the store opening, Primark shares a sneak preview film of what lies in store for shoppers who visit the store today.
07:00 am
Here are some insider details on the Boston store…

1. The store measures 77,300 square feet (23,561 square meters) in total, which is less than its British counter part in Oxford street, London and it's neighbour in Boston, Macy's.

2. The store will feature 84 changing rooms - hopefully enough for all the shoppers who are keen to try on their items before purchase.

3. Over 500 mannequins are featured throughout the store.

4. The Boston store features a 1,000 square foot 'trend store' at the front, in order to showcase Primark's popular and trendy items.

5. The debut store will also feature a selection of editor's picks from Refinery 29 - products which will be exclusive to the US.

6. Primark has hired 550 employees for the new store, ranging from part-time to full-time sales associates, upper management team, visual merchandisers and more.

7. The retailer's US head office is located a brief stroll away from its debut store.

8. The Boston store will be open daily until at least 9:00 PM.

06:30 am
Primark also teamed up with Refinery29, a US news site to promote its arrival in the US.
06:00 am
Why Boston? The value-fashion retailer reportedly decided to open it first US store in a smaller city, to avoid the higher risks associated with opening in larger cities, such as New York - although the fact that the store opening coincidence with the launch of New York Fashion Week today cannot be ignored. This is similar to the expansion plan Primark has used throughout the UK and European, establishing itself in second-tier cities such as Marseilles in France and Liege in Belgium.
05:00 am
Primark Set to Strike Gold in the US - Bernadette Kissing, apparel and footwear analyst believes Primark will succeed in the US, in spite of steep competition from local and international fashion retailers. "Although success is far from guaranteed in this competitive environment, Primark's product offering is likely to prove favourable with consumers. Fast fashion brands currently dominate the US market, with the likes of Gap, Kate Spade and J Crew struggling to keep up," says Kissing.
"As consumers continue to demand trend-led products at low prices, the entrance of Primark will place additional pressure on mid-tier brands and intensify competition among the leading players: H&M, Forever 21 and Old Navy. Securing a strong foothold within the US will prove vital in helping Primark develop a global brand presence." Judging by the reactions to Primark in the US so far, Primark seems to be doing well in winning over fashion-fans in Boston.
04:00 am
Primark, which is part of the Associated British Foods PLC, currently accounts for over 40 percent of the group revenue. The value-fashion retailer has seen its sales increase five fold during the last decade, from a modest 1 billion pounds in 2005, following it acquisition of a series of Littlewoods stores to 5 billion pounds. This has driven the retailer's expansion plans into new territories, such as the US. But will Primark manage to crack the US market with its allure of bargain fashion?
03:00 am
Primark hosted a special pre-opening party in it's Boston store Wednesday night, which drew a number of fashion bloggers and 'fashion influencers' a like. Seeing as Primark was not extremely well established in the student town of Boston, the Irish retailer has tapped a number of bloggers, such as ItsMyRayeRaye, to boost their publicity via social media channels like Youtube, Snapchat and Instagram.
02:00 am
Around the world, 'Primania' fans and employees have been preparing for the store opening, sharing their enthusiasm for the brand across social media platforms, like Instagram.
01:00 am
Primark first began under the name Penneys in Dublin in 1969. Here is a brief timeline looking back at the highlights in Primarks history:
1969 - first store opens in Dublin, Ireland. Ireland now has 38 Primark (Penneys branded) stores in total.
1973 - first store opens in Derby, UK. The UK now has 161 Primark stores in total.
May 2006 - first store opens in Madrid, Spain. Spain now has 40 Primark stores in total.
Dec 2008 - first store opens in Rotterdam, The Netherlands. The Netherlands now has 12 Primark stores in total.
May 2009 - first stores open in Lisbon, Portugal and Bremen, Germany. Germany has 10 Primark stores in total.
Dec 2009 - stores Liege, Belgium opens. Belgium has 4 Primark stores in total.
Sep 2012 - first store in Innsbruck, Austria opens.
Dec 2013 - sees the first store open in France, in Marseilles.
Spring 2014 - Two new stores open in Paris, France, bringing the total count to 5 Primark stores.
September 10th 2015 - Opening of the first store in America. The first location will be Downtown Crossing in Boston.
Summer 2016 - Debut opening of Primark's first store in Italy.
00: 30 am
Facts you may or may not know about Primark...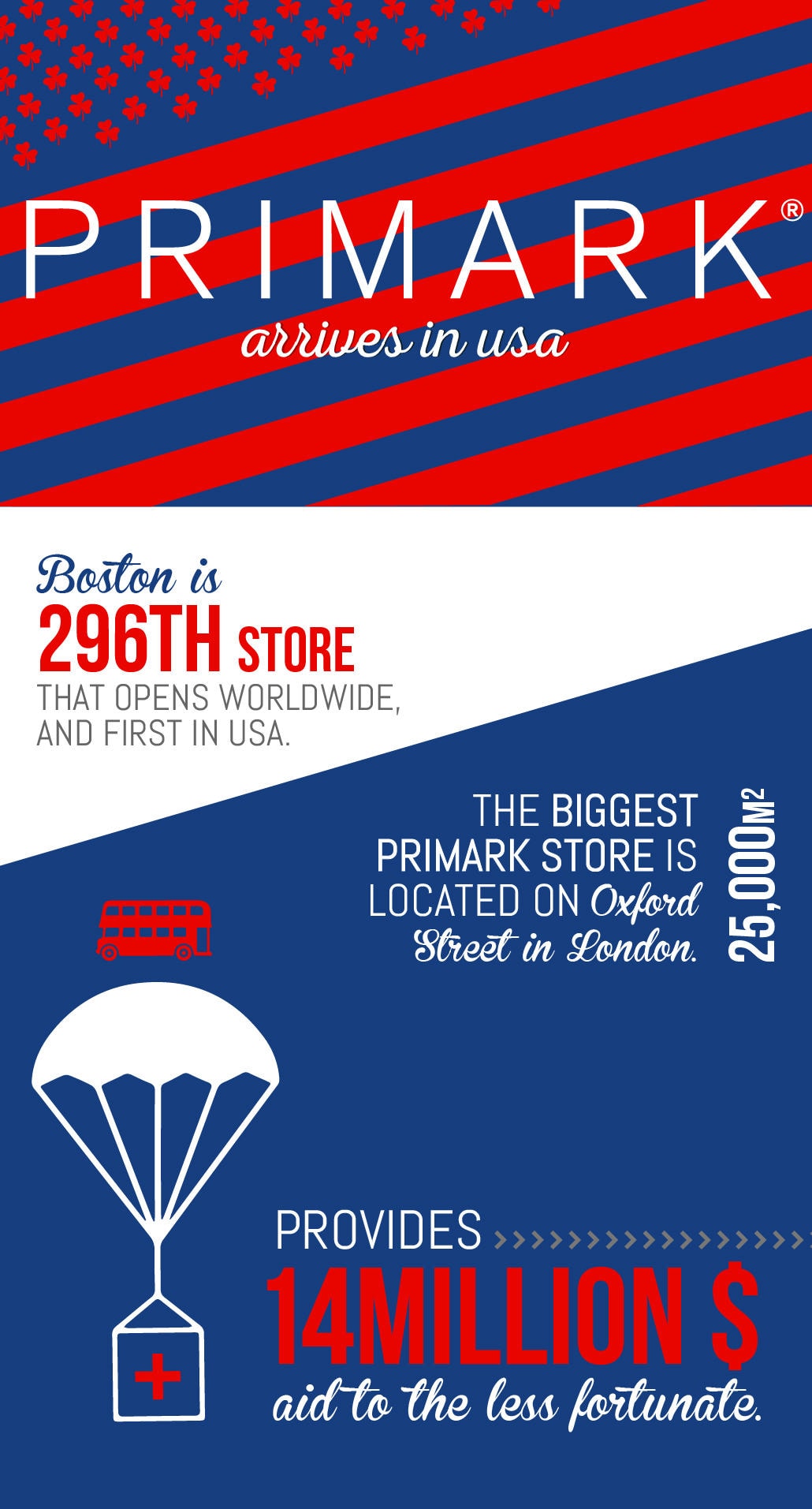 00:00 am
On Thursday, Marty Walsh, the mayor of Boston will welcome Primark to the city and open the debut 77,300 square foot store, it's 292 store. Primark believes it has selected the perfect city for its break-through in the country, as its Style Editor Jodie Jones puts it: "Much like us, Boston has an Irish heritage; so, we're pretty positive we're going to feel right at home."
Located at the former Filene's Basement department store site, Irish value fashion retailer has restored the 1912 historical Burnham building to its former glory for the opening, occupying all four floors. Primark aims to open its second US store in Philadelphia in November, at the King of Prussia shopping centre just ahead of the holiday shopping season and aims to have a total of nine store across the US by 2016, including locations like New York, Pennsylvania, Connecticut and New Jersey.