Danielle Wightman-Stone

|
London - American department store Nordstrom is helping fashion lovers dress like international style icon Olivia Palermo with its latest capsule collection for its in-house brand Chelsea 28.
The 'Olivia Palermo + Chelsea28' collection features 32 styles of separates, which have been inspired by the street-style star's personal style and is rooted in American sportswear staples that have feminine appeal that we've already seen the reality star wear.
The department store isn't a stranger to collaborating with street-style stars, last year Nordstrom launched a collection with Caroline Issa. Unlike that collection, which was priced higher, Palermo's capsule line is aimed at a younger customer who wants to wear sleeveless vests, white blouses, well-cut trousers, and pretty dresses. Prices range from 68 to 448 dollars, however, the majority of the collection is actually priced under 100 dollars.
For the spring collection, key pieces include what Palermo is calling "life pieces," high rise denim culottes, a retro denim skirt, a four-button blazer and a wide leg jumpsuit, basically, the makings of a capsule collection that can be mixed in with other pieces throughout the year.
"We wanted to create great separates that are elevated and could mix and match easily to create outfits women can wear all year," said Palermo. "Versatility was an important goal - being able to wear one item in multiple ways so you always feel polished and put together."
Palermo added: "A well-cut navy pant can be restyled so many ways and will always be chic. The Military Vest or the Sleeveless Suede Trench can be worn as a vest or as a dress and are the perfect layering pieces."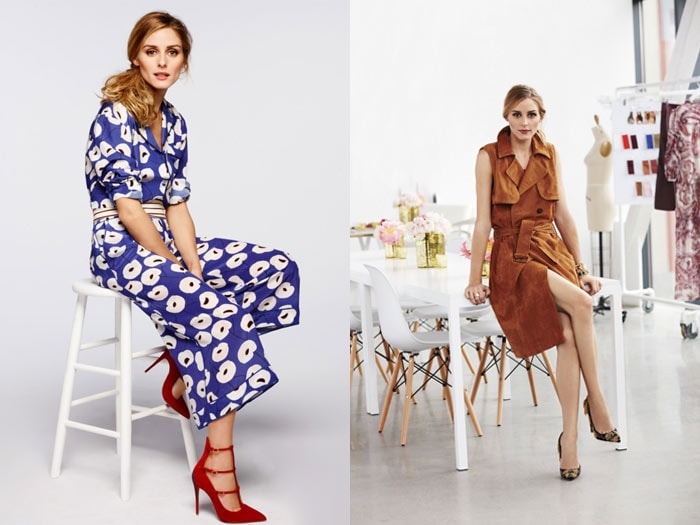 Olivia Palermo launching fashion line with Nordstrom
The one-year partnership will see Palermo designing four collections for Nordstrom's in-house brand Chelsea28, this will include spring, summer, autumn and holiday.
Commenting on the collaboration, Nordstrom Product Group president, Mark Tritton said: "The 'Olivia Palermo + Chelsea28' collection reflects how a stylish young woman is dressing today.
"Olivia Palermo is revered around the globe for her style. We know our customers look to her for fashion inspiration, and we saw her consistently on our inspiration boards as well. We think she embodies the Chelsea28 brand perfectly, so it was a very natural choice."
The Olivia Palermo + Chelsea28 collection will be available in 94 Nordstrom locations in the United States, Canada and Puerto Rico, as well as on Nordstrom's website which ships internationally to more than 200 countries and territories worldwide including the UK.
Even though this marks Palermo's first apparel collection, the reality star has previously collaborated with luxury shoe brand Aquazzura, accessory retailer Bauble Bar, and nail polish brand Ciaté.
Images: Olivia Palermo + Chelsea28