New York - In 2002, Yves Saint Laurent sent his last couture collection down the runway. It was an event for the ages, with invitations valued at 2,000 British pounds on the black market. Over 13 years later, Hedi Slimane, the current Creative Director for the legendary Parisian fashion house, has announced that he will be reviving Yves Saint Laurent's couture line.
The edgy and chic designer has already created the couture pieces for the revival, an endeavor he has long planned on. In 2012 when he took over as Creative Director he began restoring and redecorating a 17th-century mansion named Hôtel de Sénecterre to house his ateliers. The new work and showroom space will be spread across three floors and split into three categories: Salon Couture, Atelier Couture (for dressmaking), and Atelier Tailleur (for tailoring).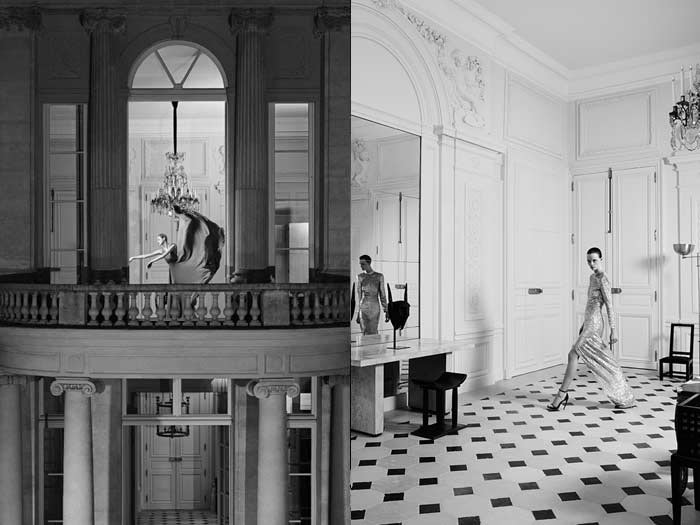 Hedi Slimane revives Yves Saint Laurent's couture offerings
The brand hasn't announced whether or not they will be returning to the couture fashion week schedule or not, or if they will just be making one of a kind pieces for celebrity and high-profile clientele. Either way, the revival of Saint Laurent couture is an incredible moment in fashion history. The couture campaign was released today, along with a detailed announcement from Saint Laurent as to how the return of their couture offerings shall work.
"Hedi began to recompose the traditional Couture Ateliers of the House in 2012. The Ateliers are now at the center of the Saint Laurent project by Hedi Slimane," a representative for the brand explained in a statement. "Hedi determines which of these pieces will carry the ateliers hand-sewn couture label 'Yves Saint Laurent'. These couture pieces may be womenswear or menswear, a tuxedo or an evening dress, daywear or eveningwear. The 'Yves Saint Laurent' private atelier label is made of ivory silk satin and is numbered by piece. The Ateliers keeps a strict record of all the couture pieces in a gold monogram book."​
Saint Laurent posted positive first-half results yesterday July 27, with first-half revenue increased by 38 percent, and sales in directly-operated stores also up more than 25 percent. Slimane is certainly helping the label retain its status as a fashion super power. While he has been critiqued for completely changing the direction and aesthetic of the brand, he must be doing something right given the sales figures, and he also knows how to retain the heart of the brand by reviving their couture offerings.