Trendstop's denim experts bring you a first look at the latest denim innovations, fabrications, colours and surface designs direct from the SS19 Denim by Premiere Vision trade event. Held at the Paris Event Centre, the show focussed on the future of denim, addressing themes of eco-responsibility and consumer lifestyle issues in the digital era across a two-tier space designed to reflect each concept. Our comprehensive fabric show overviews and galleries bring you the key looks essential to your next denim collections, evaluating each trend's commercial value and longevity to give you the best possible basis for your decision making.
This week, FashionUnited readers get an exclusive look at three denim trends from Denim by Premiere Vision that will be impacting into SS19 and beyond. Liquid Luxe brings a new fluidity to previously rugged handles while Modern Geometry updates traditional weaves a fresh, graphic look. Colour Spectrum sees metallic finishes and rainbow hues introduce on-trend colour and surface finish into the denim language.
Liquid Luxe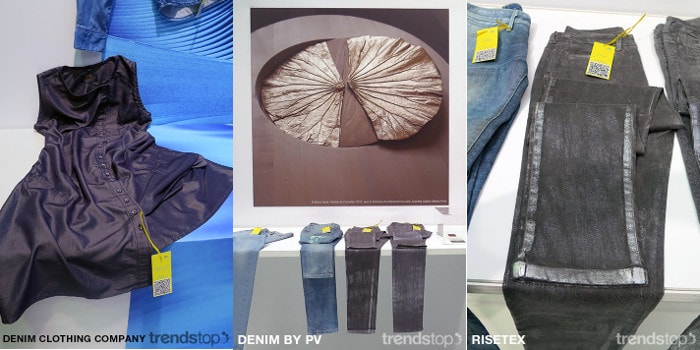 Liquid and lustrous finishes add fluidity to jeanswear. Material blends incorporate Cupro, Lyocell and Modal fibres into classic cotton fabrications to create denim handles with a drapey quality. Pale, pearlescent coatings add a soft metallic element, mirroring new fabric textures.
Modern Geometry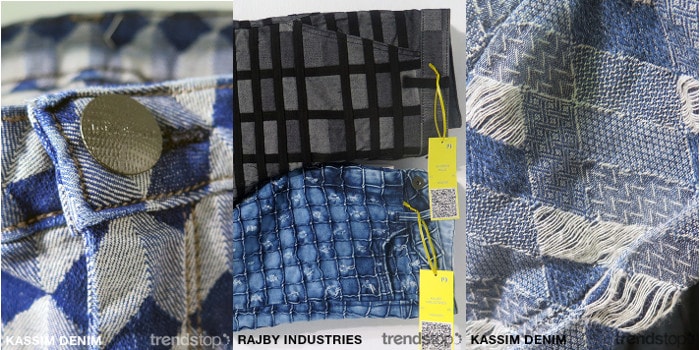 Neat, square weaves and 3D diamond effects give denim a geometric appeal, adapting to both clean, modernist looks and distressed, handcrafted finishes. Square embossed or printed labels, contrasting two-tone colour-ways and boxy silhouettes amplify SS19's graphic aesthetic.
Colour Spectrum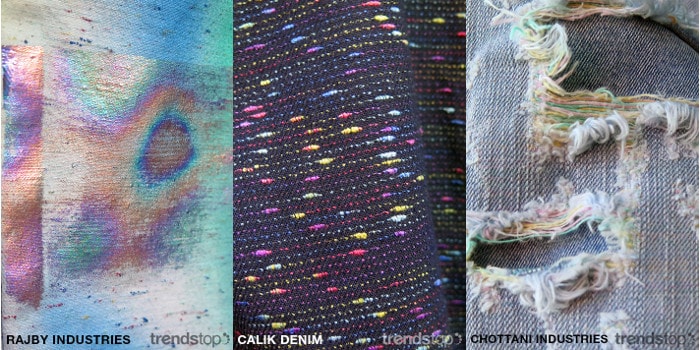 Traditional denim gets a fashion-forward update with colourful rainbow hues enhancing surface finishes and detailing. Multicoloured metallics create a psychedelic oil slick effect painted directly onto cotton blend fabrications while contrast primary and pastel threads add a contrasting colour shot to wefts.
Exclusive Offer
FashionUnited readers can get free access to Trendstop's Spring/Summer 2018 Denim Premiere Vision Report, a complete guide to the essential trends from the leading jeanswear trade event. Simply click here to receive your complimentary report.

Trendstop.com is one of the world's leading trend forecasting agencies for fashion and creative professionals, renowned for its insightful trend analysis and forecasts. Clients include H&M, Primark, Forever 21, Zalando, Geox, Evisu, Hugo Boss, L'Oreal and MTV.
Images courtesy of Trendstop: Denim Clothing Company, Denim by Premiere Vision Trend Area, Risetex, Kassim Denim, Rajby Industries, Kassim Denim, Rajby Industries, Calik Denim, Chottani Industries, all Spring Summer 2019.