New York - There has been a small buzz in the industry of whether or not the "It" bag era is over. The fact that is even a question is virtually ludicrous. Accessories continue to be one of the most imperative categories for fashion brands the likes of Gucci, Celine, Chanel, and Hermes.
Those iconic handbags like the Chanel 2.55 and the Hermes Birkin have waitlists going for them. Gucci's new Dionysus bag has also arrived at the point where there are waiting lists for it. Above all else, a woman is never going to stop needing her handbag, and there will always be a luxury goods market to suit her high end desires.
It's only the first half of 2016, and designers are already vying for who will top the It bat contenders list for the year.
Last month, Versace launched an entire competition called "7 bags for 7 cities" to customize their Palazzo Empire bag. Gucci also chose to honor some of the world's most famous cities with their location specific Dionysus bags.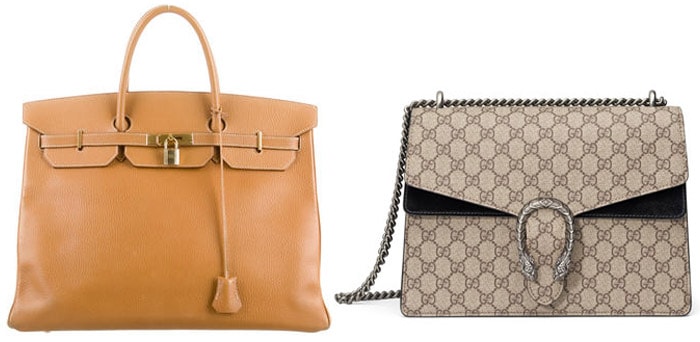 The It bag era continues to live on
At Fashion Month last season, numerous designers were vying for who could come out on top with the most fashionable and desirable handbag on the runways. It was the clash of titans between designers like Alexander Wang, Joseph Altuzarra, and Cedric Charlier for who the It bag lovers would be clamoring to come fall/winter 2016.
It's safe to conclude, the It bag trend is here to stay for now, and potentially forever.
Though, we should pay attention to how the luxury handbag market is slowing down and that might affect things.
According to a January 2016 article from Forbes, the premium handbags and accessories market in the United States is continuing to grow, but that segment only grew 3 percent in 2015. This is a decline compared to 8 percent in 2014, 11 percent in 2013, and 16 percent in 2012.
Competition among the luxury handbags sector is stronger than ever. When Alexander Wang left Balenciaga some even blamed it on his inability to create an It bag for the company. While that assumption might seem ludicrous to some, the ability to create an It bag can really make or break a designer.
Designer's like Phoebe Philo of Celine have joined the pantheon of living legends for their ability to create must-have bags for their respective companies. Let's not forget, Alessandro Michele was Gucci's accessories director before he was the creative director, and now the Gucci Dionysus bag is an It bag under his tenure as creative director.
For those who doubt the future of the It bag, there are a few key facts to point to. The Hermes leather goods and saddlery division grew over 15 percent in sales in the first quarter of 2016. The driving factor behind most of that growth was handbags.
Coach, which has been struggling over the past two years, actually saw an increase of 4 percent in sales. Sales for luxury bags in Europe and North America are increasing, which are some of the biggest markets for luxury bags. Brands like Coach, Michael Kors, and Kate Spade do very well in these regions, and other higher end brands like Louis Vuitton and Fendi also show strong figures here.
Even in the wake of poor economic conditions in China, Hermes is still growing there.
Above all else, classic handbags are still considered collectors items. A vintage Hermes Birkin bag recently went for 298,000 dollars at an auction. Luxury handbags are still seen as an investment piece, even better than gold.
The It bag era could very well span another ten years or even another millennia, but it's a fashion staple here to stay. As Carrie Bradshaw once said "It's just a little bag, but we'd feel naked in public without it."
photo1:ssense.com,
photo2:neimanmarcus.com,
photo3:therealreal.com