London - The 65th edition of London Fashion Week saw designers and brands alike embracing social media as never before, which included the first time debut of Instagram Live video feature.
Instagram has become a rapid game changer for the fashion industry, as it has transformed the way fashion is viewed, shared, consumed as well as created around the world. Although some brands were more cautious in embracing this new form of social media, the majority of the fashion industry were quick to pick up on the increasing influence and impact Instagram had on their consumers lives. With the roll out of Instagram Stories and Instagram Live to the UK this January, which includes video live streaming as a "new way for people to connect and interact with their friends", fashion brands and designers were offered another way to connect with their consumers in real time - an opportunity Burberry, Mulberry and Sophia Webster took up during LFW Autumn/Winter 2017 edition earlier this week.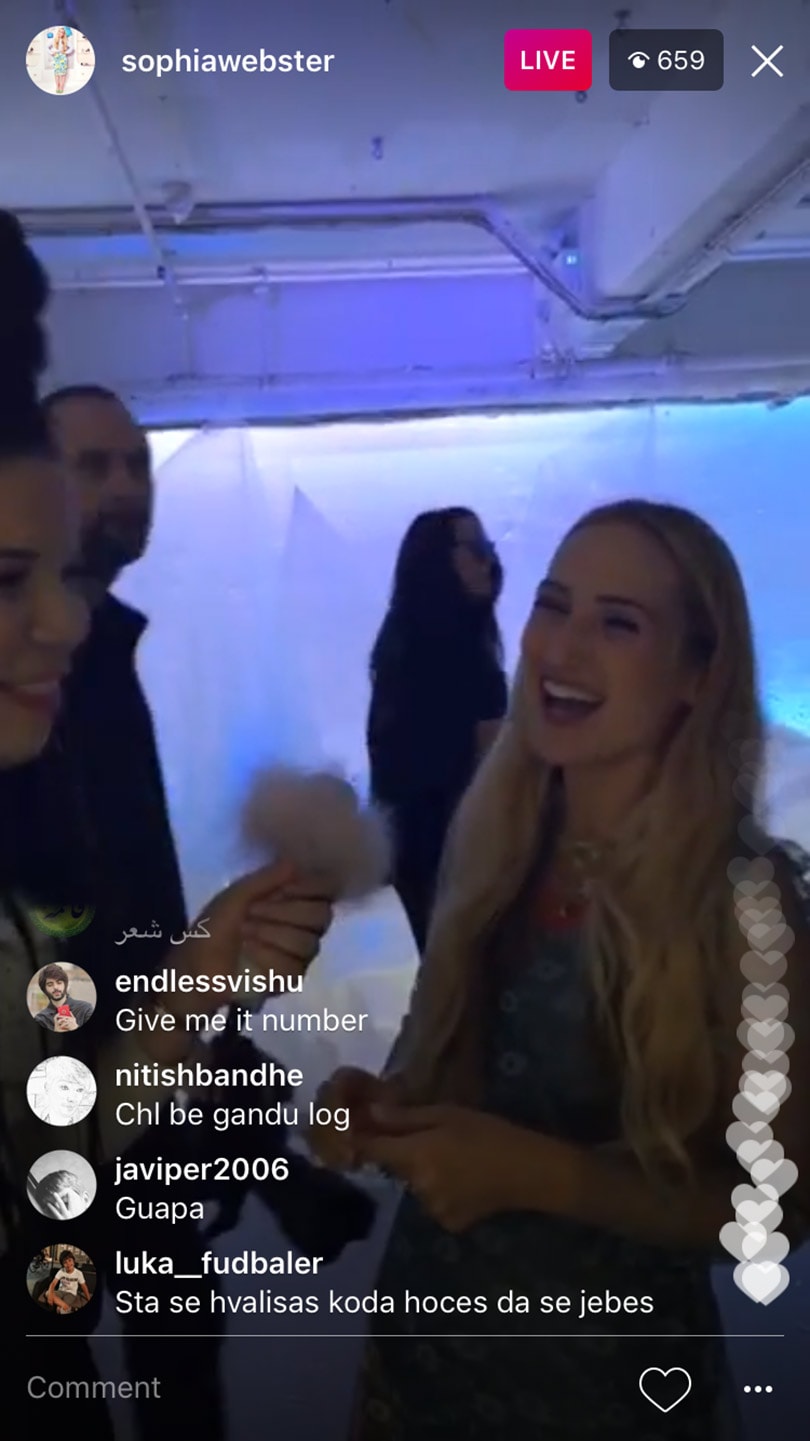 Instagram Live offered viewers a new perspective on fashion week, an event previously closed off to the public. In addition because the video disappears as soon as it has been broadcast, designers and brands are also given the freedom to be more creative and experimental with what they shown. On Sunday, Mulberry was one of the first fashion houses to share its AW17 catwalk show during London Fashion Week, going live just a little after 4 pm. Over 350 people joined in the watch the live stream on Instagram not long after the show opened, with the British leather goods fashion positioning its camera at the end of the runway to offer followers a full view of the catwalk. On Monday afternoon British accessories designer Sophia Webster conducted a live interview via Instagram Live on the inspiration for her AW17 collection during her presentation at Soho Phonica record store, which drew in over 700 viewers.
However when it comes to winning the social media game, it British luxury fashion house Burberry who takes the cake. As one of the first luxury brand to truly embrace the emergence of social media and connect with its consumers on a digital level by streaming its shows live to its global consumer base, it should come as no surprise that Burberry Instagram Live broadcast counted over 2,300 viewers. Burberry cleverly used Instagram Live Monday evening to take its viewers on a journey through the landscapes at the Henry Moore Studios and Gardens, which served as creative director Christopher Bailey's main source of inspiration for the collection, before going behind the scenes at the Makers House, the fashion house's show venue.
Burberry, Mulberry and Sophia Webster follow in the footsteps of Thakoon and Prabal Gurung, who took to Instagram Live to share behind the scenes moments live during New York Fashion Week, as well as Dior, Elie Saab and Giambattista who used Instagram Live to stream their shows in real time during Paris Couture Fashion Week. With Milan Fashion Week a day away from kicking off, it remains to be seen if other fashion houses take up Instagram Live to connect with their wider audience this fashion week season.
Photos: Screenshots of Mulberry, Sophia Webster and Burberry LFW Instagram Live