The late French fashion designer Sonia Rykiel was also known as 'The Queen of Knitwear.' She was best known for her design staples, such as the boxy 'Poor Boy Sweater' as well her playful womenswear designs with strip detailing, bows and applications. "She invented not just a style but an attitude, a way of living and being, and offered a freedom of movement," said French President Francois Hollande of Rykiel in a tribute on Thursday. Throughout her life Rykiel was celebrated for her refreshing approach to fashion, as the designer strived to make it attainable for all.
"You are among the rare people to understand that fashion was not made to satisfy the fantasy of designers, but to speak to women," said Pierre Bergé, partner of the late Yves Saint Laurent and co-founder of the label, in 2012 when he awarded her the Grande Médaille de Vermeil de la Ville de Paris. "And not to speak to idle women, only rich women, but active women, everyday women."
In honour of the designer and her life's work, FashionUnited takes you for a little trip down memory lane to view a few of the highlights from Sonia Rykiels' eponymous label.
Back to 1970
A short French film shows a young Sonia Rykiel giving a salon presentation of her collection in the early 1970s.
Autumn/Winter 1997 collection presentation in Paris
Sonia Rykiel brings a touch of menswear and its masculine touch to her womenswear. She showcases wide trousers, checkered fabrics and long overcoats mixed with a number of flower dresses. Darken eye makeup on the models gives the collection a darker look.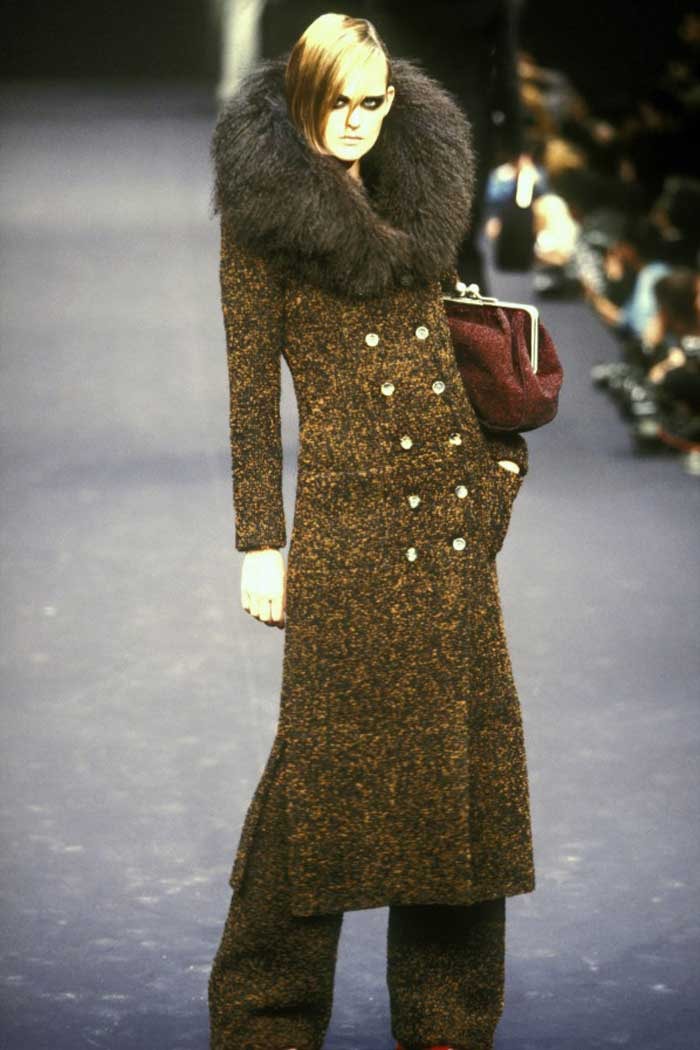 Spring/Summer 2001 fashion show
On the Parisian catwalk Sonia Rykiel showcases over 100 looks, including bathing suits with metal rings, the signature striped and knitted dresses as well as suits with flashy, golden zippers.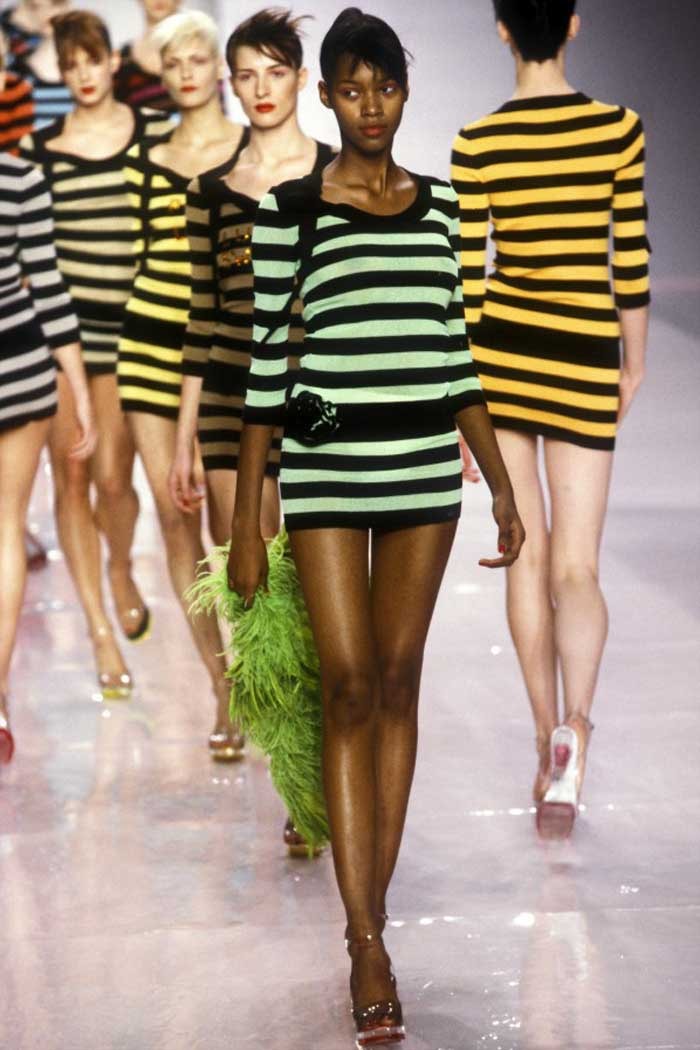 Catwalk presentation Autumn/Winter 2004
The show is full of 1920 references. Models showcase Rykiels signature accessories - the baret, black stockings and fur wraps.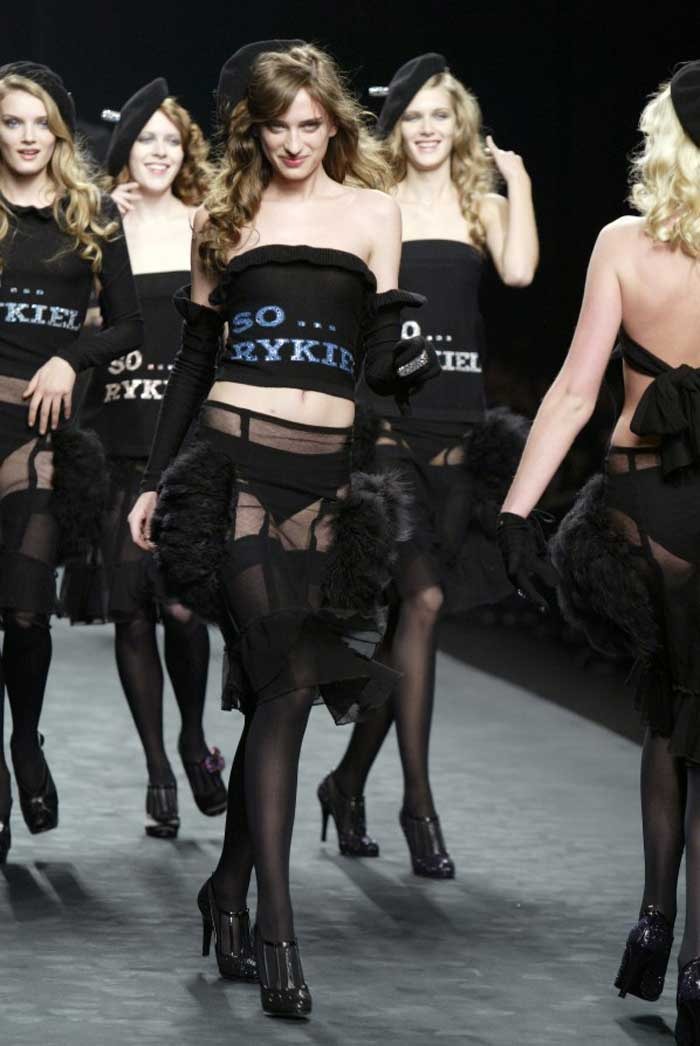 Sonia Rykiel Spring/Summer 2007
In this collection, mini dresses, shirt dresses and off the shoulder dresses in monochrome colour palette take the lead role. It is only during the show's final that colour is shown, when an army of models take to the catwalk donned in strapless dresses in a rainbow of colours, bearing faces with numerous expressions on the front.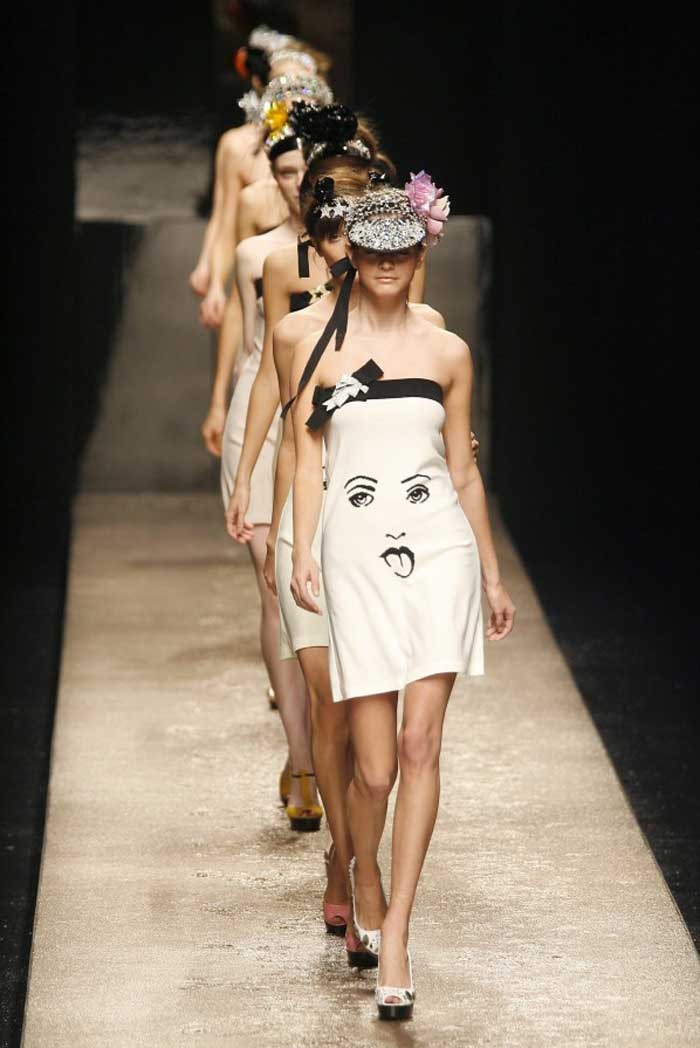 Autumn/Winter 2007 show
For fall 2007 Sonia Rykiel presents rough knits and layered silhouettes with ruffles and knotted fabrics. However, the bulky fur coats in eye-catching colours, complete with contrasting holographic belts are the most impressive.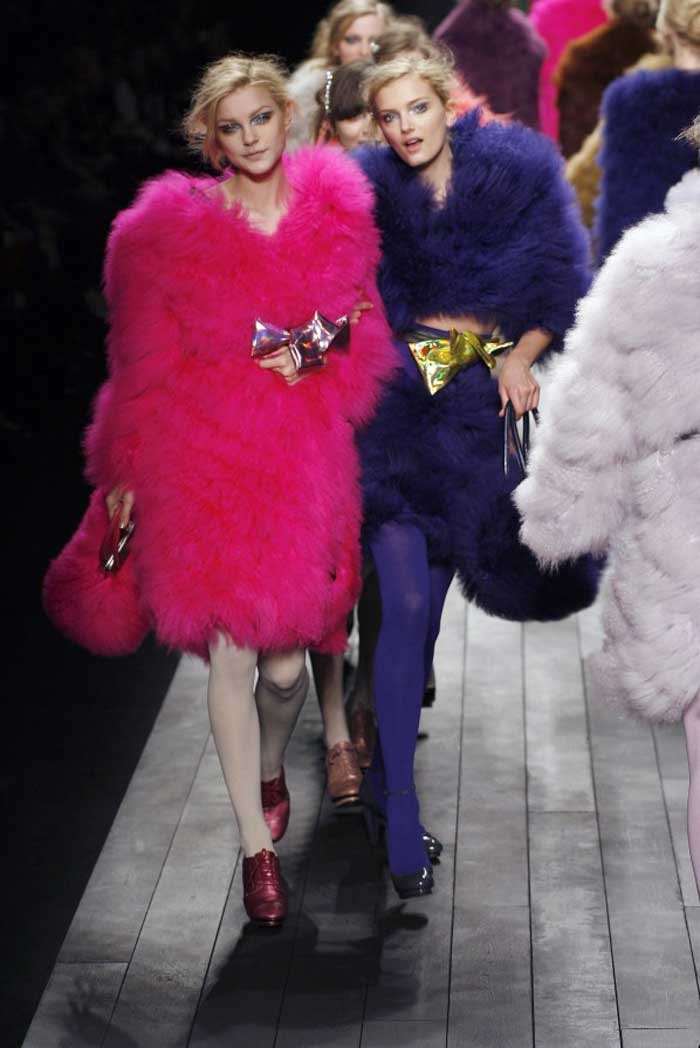 Spring/Summer collection 2008
The show takes place at Espace Ephémère Tuileries, Jardin des Tuileries in Paris. Sonia Rykiel and her daughter Nathalie, who is was names President of the brand in 2007, take to the catwalk for the show's final applause. They stand between models clad in semi-transparent dresses which feature feathers. By know Rykiel has built a reputations for her 'feel-good' finales during the catwalk shows, according to Vogue Runway Fashion Editor Nicole Phelps. To her, the spring/summer 2008 finale is the "icing on the the cake."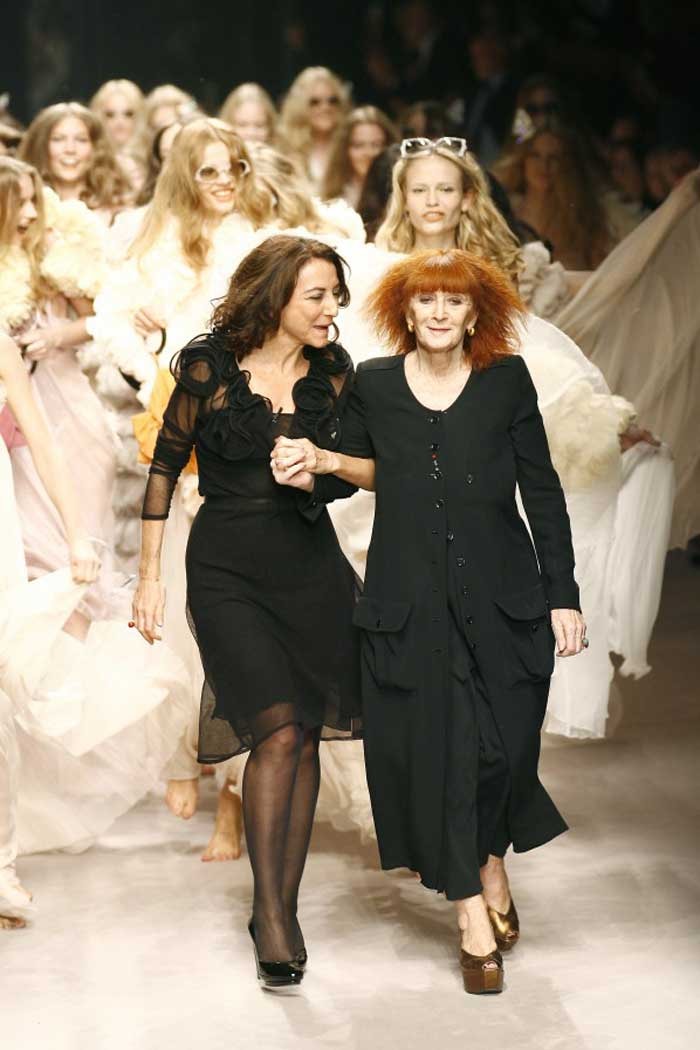 Spring/Summer 2009 and 40th Anniversary
Sonia Rykiel held a special fashion show in honour of the fashion house's 40th anniversary. One of the noticeable details of the show are the models fiery red hair, in honour of the designers own hair. The anniversary is further honoured through an exhibition at the Musée des Arts Décoratifs.
Sonia Rykiel for H&M in 2009
2009 was the year in which Sonia Rykiel teamed up with Swedish fast-fashion company H&M for its annual designer collaboration. Together the two develop a one-off lingerie line as part of the collection.
Creative Advisor Margareta van den Bosch called the collaboration a "magic moment." "Sonia Rykiel is up-and-top Parisienne and the epitome of chic. That is also the spirit of the Sonia Rykiel for H&M collections. It was great to work with a fashion icon like Rykiel. The collections are really 100 percent Sonia Rykiel and we are very happy with them."
Rykiel also designed a range of knitwear and accessories for women and girls for the collection, which was launched through a fashion show shown online.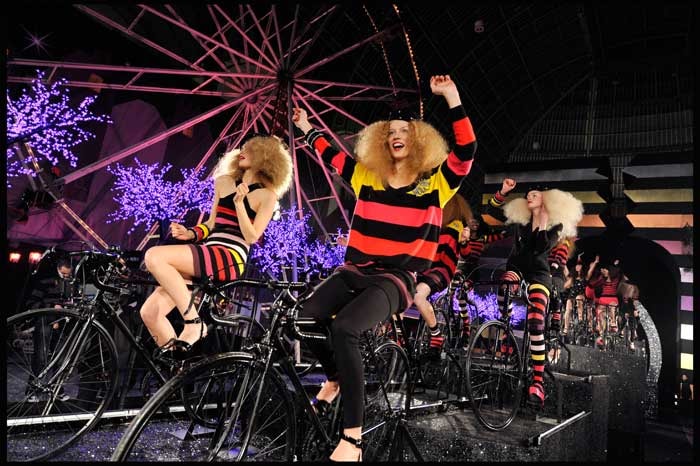 Photo: H&M
Sonia Rykiel founded her eponymous label in 1986. Sonia Rykiel passed earlier this week at the age of 86