Three years following the opening of the world's first Jean School saw the first students graduating from the unique denim programme in the Denim City Hall in Amsterdam. In order to mark the occasion, representatives from denim company Levi's were present during the degree presentation of the school's first
graduates and to judge their final graduation projects to award the top student with a unique prize: a week long trip to Levi's state of the art innovation lab in San Francisco, Eureka.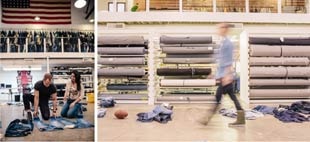 "The jury was very impressed by the work of all students, but we have unanimously chosen Soufyan Benrhziyel," said Patrick Noten, Levi's Merchandise Director, Wholesale Europe, who was part of the jury panel and asked to announce the winner. "Soufyan showed what he has up his sleeve and has a unique passion for craftsmanship, which he combines with innovation and sustainability. He has innovative ideas for men segment and he is a real denim head!"
The jury panel put together to select the winning graduate included Noten, Mariette Hoitink, HTNK Fashion Recruitment and Consultancy, James Veenhoff, head of strategy House of Denim and Mira Copini from ROC Amsterdam. "For Levi's being at the center of culture is key," commented Noten on the prize. "Therefore it is important to participate with Europe's best Fashion Schools - We want to Stimulate talent as well as be top-of-mind as THE aspirational destination."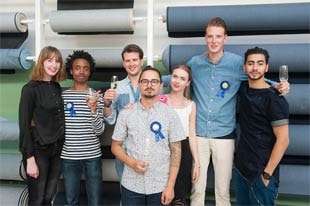 "The Eureka Experience impressed the students, teachers, vice-mayor and all the others present," added Veenhoff. Soufyan is set to travel to San Francisco in August to spend a week with Levi's, where he will be given an Archive Tour and Eureka Tour, meets Levi's Eureka team and together with Bart Sights, Director of Global Development Network at Levi's will be able to get down to work in the Eureka lab.