In a whirlwind of music, splashes of colour, diary essentials such as Dolce & Gabbana's twenty years of menswear, and open fashion shows in city piazzas, the latest menswear creations were paraded in front of buyers and the press in Milan for

the Spring-Summer 2011 collections and the White Homme show, and at Florence's Pitti Uomo fashion fair.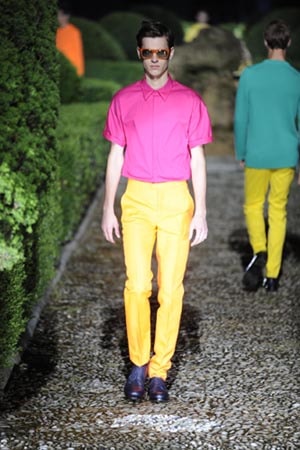 Annie Lennox serenaded visitors to Dolce & Gabbana's Milan show with live performances of "A whiter shade of pale" and "There must be an angel". Flaunting a carefree picnic-in-the-countryside look, models strolled down the green turf runway in shirts, long shorts and espadrilles in a rainbow of colours. The undoubted star of the show? Vichy check. The front-row line-up of smartly dressed VIPs included Morgan Freeman, Matthew McConaughey, Rachel Weisz, Roberto Bolle and Monica Bellucci, who posed for photographers before heading inside the city walls for the house's "20 years of menswear" party.

The atmosphere was more sober but no less glamorous at the Triennale di Milano in celebration of the 100 years of Ermenegildo Zegna, a fashion empire boasting over 500 stores in 80 countries. Models for the Ermenegildo Zegna collection oozed sophistication in pale linen suits and blue blazers, with pleats and shorts a mainstay of the ZZegna line.

In a display of informally layered-up raincoats and cardigans, gilets, T-shirts and regular shirts, plaid fabrics, stripes, multicoloured deck shoes and long shorts featured heavily in the Missoni men's collection, which was showcased in the streets of Milan city centre. Another public runway show came in the form of Dirk Bikkembergs' collection, screened on the big screen in the Piazza Duomo from 15,000 kilometres away in South Africa. Moving his catwalk to Cape Town, the designer's work reflects the colours and sounds of South Africa, host of the 2010 FIFA World Cup.

Colour also features in Giorgio Armani's collection. Fashion editor Suzy Menkes writes on the New York Times website that "an asparagus-green handkerchief or a yellow belt brightened up neutral suits without forcing the color issue". In his collection the Piacenza-born designer has indeed chosen to combine classic looks with nonconformist cues, adding a dab of sunlight to the traditional Armani tones of beige, dark grey, black and white with chartreuse green and yellow, marking a new departure that will no doubt be appreciated by city-slickers and sophisticated Italian men who like to have fun with fashion, in short, the sort of people who end up immortalised by Scott Schuman in his blog The Sartorialist.

At the Pitti Uomo show, Raf Simons, creative director at Jil Sander, brought bright orange trousers to the runway in combination with turquoise sweatshirts and shirts in shocking pink. A total of 19,200 buyers visited the fair, up 6% over June 2009, with foreign buyers numbering 6,900 (up 12% on the previous year). Germany was most heavily represented with 862 buyers, followed by Spain (633 buyers), Japan (617 buyers), the United Kingdom (461 buyers) and the Netherlands (445 buyers).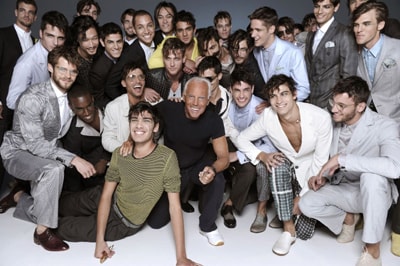 Buyers were also up 44% (at 3,300) compared to June 2009 at Milan's White Homme show, with a 52% increase in Italian buyers and a 25% increase in foreign buyers, with heavy representation from the Asian market. "I think we have reaped the rewards of our show's modern layout and organisation and the special events – including musical events – we have laid on between the White projects", said the fair's president, Massimiliano Bizzi.

In sum, it appears that the financial crisis, which has by no means spared men's fashion (sales in 2009 were down by 11.3% at EUR 8 billion, lower than the 2005-2006 figures), has forced the Italian fashion houses to dig deep into their creativity and their sense of playfulness to win back buyers and return to making business as usual.

From our correspondent in Milan



Photo 1: Jil Sander show at the 78th Pitti Uomo
Photo 2: Giorgio Armani Spring/Summer 2011 menswear