The Dream Project – IFA Paris Bachelor Fashion Design Graduate Sabine Ducasse Shares Insights of Working at Alexander McQueen Sabine Ducasse, an extraordinary graduate of Bachelor Fashion Design & Technology
from IFA Paris, spotted by several magazines for her design, sits down and grabs a coffee with IFA, and shares her most recent exciting news and life: She is offered a job by Alexander McQueen as assistant print and textile designer and has moved to London!

IFA: How does it feel to be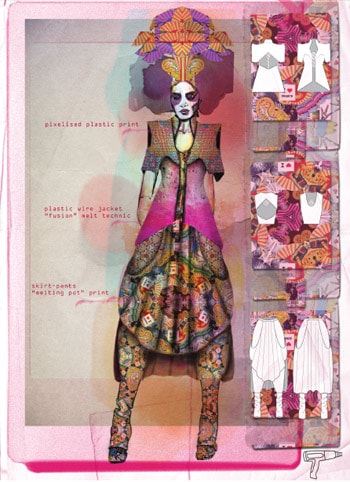 officially graduated and working?
Sabine: It feels good! It wasn't an easy ride to get here and I think if people choose to pursue this kind of career they have to be prepared for what it takes to work in fashion. I don't regret any of the choices I have made and I am more than happy to be finally working today even if I miss student life and personal projects sometime.


IFA: Tell us more about your history and experience with McQueen. How were you chosen to do an internship, how was it and what made them decide to offer you a job. Tell us everything!
Sabine: Exactly 7 months ago now, I applied through a famous fashion job website to an ad offering internship at Alexander McQueen and one week later I was starting as a print/textile intern!
After 6 months of internship I was planning my return back to China when my head of department just got the opportunity to get a paid spot in the team. I was more than flattered that she proposed me that spot and I said yes loud and happy!


IFA: We heard that you were offered some other internship/job opportunities besides McQueen as well. What are they and what made you decide to choose McQueen?
Sabine: When I was looking for internship opportunities more than 7 months ago now, I applied to as many brands as I could, and got quite a few replies. It is true that I could have gone to Balmain in Paris, or Jeremy Scott and Alexander Wang in the US…but First of all, I was a huge fan of Alexander McQueen, and at the beginning of my search for internship I didn't even applied there because I thought McQueen is just way out of my league. When the opportunity came, I just HAD TO go there. Also I didn't know London much and It is such a city full of creativity and freedom that I really wanted to discover.


IFA: What is your major role and responsibilities at McQueen? Can you share with us some insights?
Sabine: Actually my role hasn't evolved dramatically since I first arrived 7 months ago. My role was to be part of the print/ textile team, working on design for print but also for jacquard, laser cut, embossed fabric etc., possibilities are endless and you never get bored (laugh).
Personally I am more in the digital field in the team, so I work mostly on computer but we have amazing illustrators and painters as well from who I learn a lot every day.


IFA: You have been quite an extraordinary student of IFA and IFA is always so proud of you. Followed by all the success and attention, when you look back, which part of your life with IFA is the highlight for you and why?
Sabine: The Last year of course, because it was when I had to work on my final project. One might be able to do only one personal collection in his/her whole life so for me it was a big deal to do something I could be proud of. Also in the last year students get to work very closely with their lecturers so it become more a team relationship rather that a student/lecturer relationship. Even if the last year was really a lot of pressure from learning and the project, I miss those moments and I will miss them for a while!


IFA: How would you describe the brand culture and work environment of McQueen?
Sabine: Before arriving in London I was really stressed because I didn't know what to expect. We have heard so many horrible "The Devil Wears Prada" kinda stories about fashion industry so I was basically preparing myself to be yelled at the whole time. In fact I was soooo surprised! People here are amazing talented, nice, warm and very welcoming!! The style is quite casual- there is no dress code, and the atmosphere between the team is quite chillaxed but the work is really challenging! Working in a house like that means 4 collections a year with pre collection and main collection so the rhythm is really intense, we work really long hours very often and we also work quite often on weekends. For me this is not a big problem as I love what I do! Of course if people don't love it they just cannot do it!!


IFA: You have been designing for a while, and what do you recon as your style of design now?
Sabine: I don't think I have been designing for a while ;) so it is impossible for me to answer that question but hopefully you could ask me that same question again in 10 years?


IFA: From where and whom do you get your inspirations?
Sabine: At work, the creative director gives us the main theme and main direction of the collection, then everybody has to do researches with the team so it can be anything depending on the theme… most of the inspirations come from vintage iconography but I can't talk about what is the inspiration now, it is a secret ;)


IFA: Any prediction of trend around the corner?
Sabine: Ha ha I can't really tell you yet it is a secret as well ;)


IFA: Your major with IFA is Bachelor in Fashion Design & Technology. What do you think is the most practical and useful skills you have learnt at IFA for your work now? Which course did you like the most and why?
Sabine: My favourite course was fashion design because you can express yourself freely and let your imagination go crazy but the course where I have learnt the most from was pattern-making/draping as I didn't know anything about pattern or fabric before coming to IFA, and now I am working as assistant print and textile designer!
Concerning skills, I would say that you have to use a bit of everything, imagination, creativity, technical knowledge of software and pattern cutting etc… Of course you also learn a lot directly in your working place because every company has their own ways so what you learn at school is just a base for you to start the real work and the real life learning at work. A very important base thought.


IFA: What do you think has contributed the most to your success today? We have many students who would love to hear you share your thoughts and suggestions on studying fashion and working in fashion.
Sabine: 3 things for sure: HARD WORK, PERSEVERANCE and LOVING WHAT YOU DO!
What I can tell to the future graduates is to keep sending resume and portfolio until someone finally gets back to you, and when I mean keep sending it means that even if you already send 100 resume and portfolio you have to continue! There are too few positions for all qualified candidates so most of the time your resume doesn't even reach the design studio!
You have to be really hard working, this is what makes the difference, there is a lot of really talented people out there, the only thing to make the difference is to work harder and harder, accept criticism and always question your work or your portfolio thinking how I can improve because there is always room for improvement!And the last thing is of course believing in yourselves and making your goal the company you think is unreachable ;)
Everything is possible, 5 years ago I was a nurse in France and today I work at Alexander McQueen after spending 4 years in China and I would never have imagine that such change could happen!


IFA: How do you like London so far? What do you like the most about the city and what stores, cafes and arty places do you recommend for inspiration?
Sabine: Actually I didn't have much time to visit London because I am always at work ;) but I really recommend east London, where the studio is located and where I live as well, because it is such an artistic area and you will never get bored even if you stay all day in the street just looking at all the people with amazing styles!


IFA: What is your next step (except for that it is already such a great move for you to start working for McQueen)? Any other career plans in the future?
Sabine: For the moment I am concentrating on my work at Alexander McQueen as it is a lot already! But in the future I hope I will be able to have more spare time in hand for some personal projects as well!