Jackie Mallon

|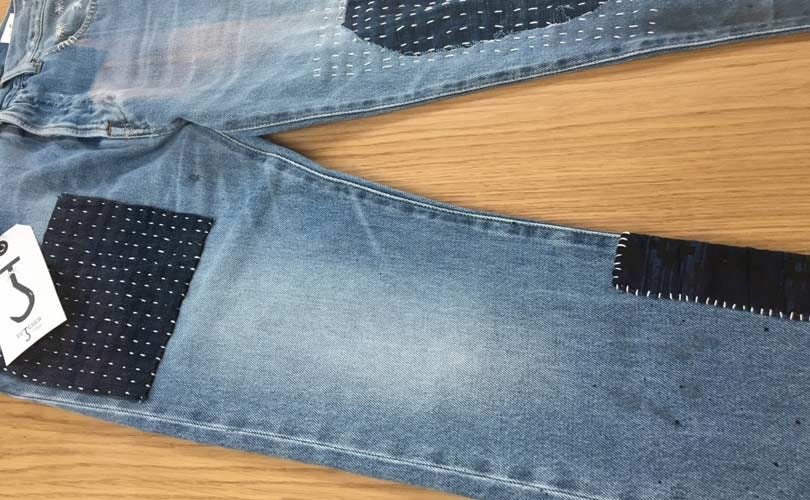 Statistics show that the people of the Netherlands wear the most denim per capital in the world, with Americans coming in second place. It's surprising when one considers denim's importance as a symbol of Americana, from cowboys to rock and roll; from James Dean's rebel image to John Wayne's rugged horseman to Obama's "dad jeans", all encapsulated in Raf Simon's denim-on-denim debut for Calvin Klein. Even outside of its celebrity profile, the fabric has been integral to American workers' uniforms for 200 years, increasing in popularity during the 1800s gold mining boom when a young German immigrant by the name of Strauss patented the riveted hardwearing cloth, and Levi's was born. Still, it is acknowledged that the small central European country with no hills to speak of dominates the denim frontier, with its capital, Amsterdam, home to G-Star RAW, part-owned by Pharrell Williams, Tommy Hilfiger Europe, Levi's Vintage, Kings of indigo, Denham, Tenue de Nîmes, and Kuyichi to name a few.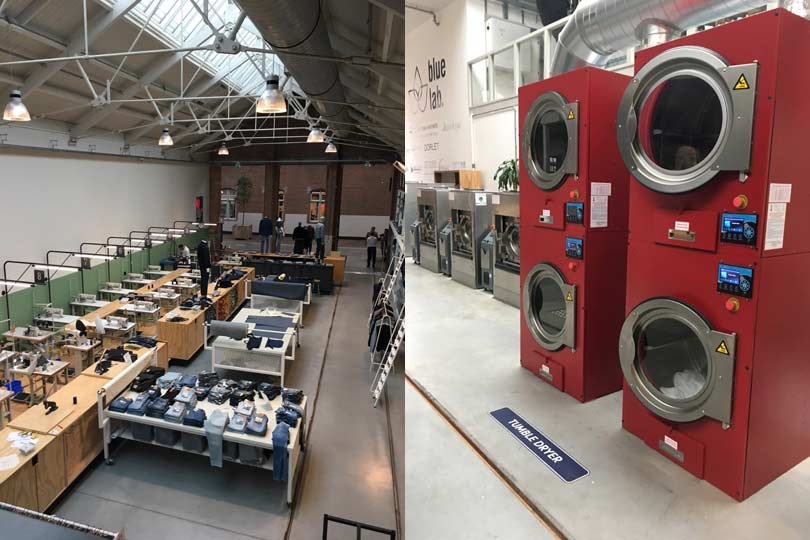 But perhaps what's more surprising is that it's already five years since Amsterdam opened the world's first Jean School, and the U.S. still does not have such a facility. With so many fashion schools in existence and more students graduating into our field than ever before, streaming some of the flow into this popular sector would surely provide career opportunities for young designers with ambitions in denim. I recently visited the campus located in Amsterdam's House of Denim and toured the workroom, the laundries, and the archives containing commissions they've created for different international clients. Inside a glass case a copy of a pair of black denims created for Karl Lagerfeld is emblazoned with the silhouette of the designer's head. The Jeans School is preparing to open its doors next week to this year's incoming group of students, and I learn enrollment is at capacity, with more international students than ever before.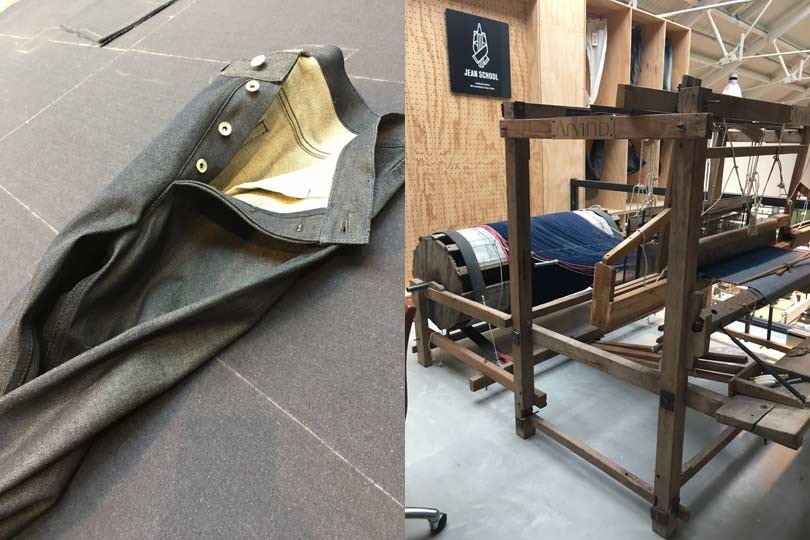 The Netherlands wear the most denim per capital
As a fashion educator here at home I'm aware of the absence of knowledge among students regarding denim, yet their hunger to understand more. As a former designer I'm also aware of the avid interest from companies in candidates with an in-depth knowledge of the washes, processes and innovations that infuse a simple pair of jeans with the power to fuel a global business. Red carpet gowns and runway drama is not necessarily what all fashion students aspire to create, but often under the banner heading of ready-to-wear, those are the avenues they're obliged to pursue in fashion programs. Many young designers want to create for their age group, their peers, their lifestyle, but entry into the specialized world of denim requires more than the ability to design a five-pocket pant or riff on a traditional jean jacket. If the product is to seem authentic, possess the inherent swagger history has attributed to it, and exploit the durable no-nonsense aspect of the twill weave in a competitive marketplace, a profound understanding of the fabric's characteristics and potential is required. How are students expected to achieve this if their exposure to denim in school is so limited?
Some U.S. schools offer industry collaborations with denim companies which allows one or two students the opportunity to enjoy some on the job training. Amsterdam Fashion Institute offers a Bachelors in Fashion with Denim Minor. But the Jean School's one or three-year course leading to a qualification of Denim Developer allows the student to drill deep into the world of mills, sewing rooms, laundries, as well as into the area of design. The students begin portfolio building from the first day and the curriculum places "emphasis on craftsmanship and sustainability across all steps in the production process 'from crop to shop.'" This, combined with guest lectures from external professionals and the expertise of co-founder (and former organizer of Amsterdam Fashion Week, James Veenhoff, who now organizes globally-recognized denim trade fair, Kingpins) results in worldwide interest in graduates and a high employment rate. It helps that the co-founder, Mariette Hoitink, also operates the world's only denim-focused recruitment firm, thereby closing the loop of denim connoisseurship within Amsterdam and ensuring its continued success.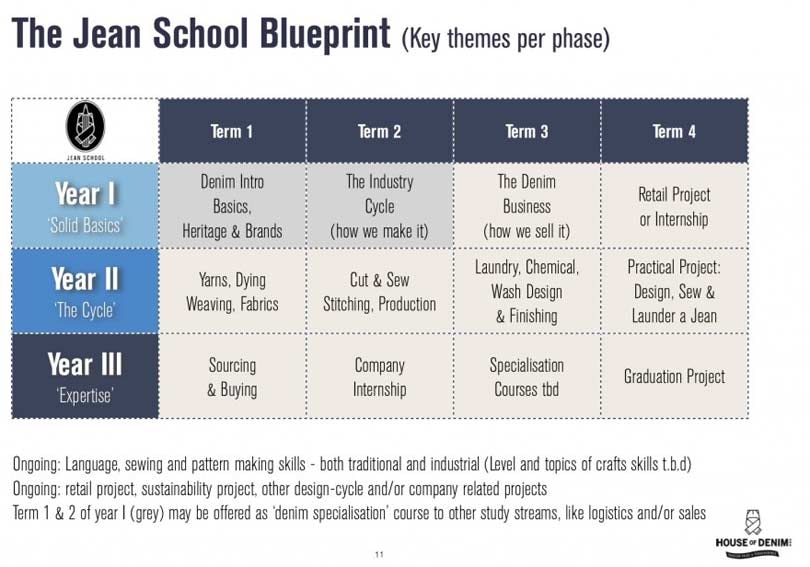 Denim's ubiquity shows no sign of dying, the focus on sustainability setting the scene for a whole new wave of innovation. There's the potential for a new gold rush so why aren't we in the U.S. digging, mining our homegrown talent? There's indigo in them there hills.
By contributing guest editor Jackie Mallon, who is on the teaching faculty of several NYC fashion programmes and is the author of Silk for the Feed Dogs, a novel set in the international fashion industry.
Photos FashionUnited, curriculum image from Houseofdenim.org
Jackie Mallon

|
The age of exploring new paradigms in fashion presentation is upon us. And all arrows point away from the anachronistic machinery and elitism of old, and towards a more democratic open-plan environment. Here are seven significant changes in the pipeline, if not already in process:
Concrete footprint
Rental of any kind, whether showrooms or brick and mortar stores, has soared beyond many price ranges in fashion capitals like New York and London, but luckily now more than ever there are other options to get product seen. Who would buy eyeglasses online? asked doubters when offered the opportunity to invest in 2010 e-commerce start-up, Warby Parker, now estimated to be worth 1.2 billion dollars by The Wall Street Journal. The rise of the pop-up store allows brands to create a spontaneous and temporary, personalized interactive retail environment––choose a cocktail bar to enhance the social experience or a well-appointed townhouse to create intimacy. Richard Lim, head of business information at the British Retail Consortium is quoted in Retail Week as saying, "We're only at the beginning of the pop-up revolution." One can't help imagining that pop-up events featuring a group of like-minded brands launching together might not be too far off. Pop-up fashion weeks?
Trends
"Today, the idea of a bunch people sitting in a room and deciding what the colors are going to be in two years' time or what materials are going to be used in three years' time is a complete nonsense," says Marc Worth, co-founder of trend forecasting site, WGSN. The latest viral sensation can be all-conquering and then die off before traditional trend forecasting firms like Perclers or Trend Union in Paris, which traditionally work six months in advance and produce beautifully bound tomes of poetic inspiration imagery to sell to companies, even have it on their radar. Ideas now happen overnight which, combined with the industry's lingering uncertainty of the bi-annual model of showing collections, makes any kind of long-term predictions redundant. Boho, military, 80s and 90s all appear on runways in the same season and the voices of celebrities, bloggers, consumers, and designers jostle for authority. With the rise of "influencers," brands are now attaching themselves to lifestyles as opposed to trends, resulting in partnerships such as Alexa Chung for Marks & Spencer, Madewell and AG Jeans, or Man Repeller and NARS.
Models
"I don't care about models. I care about faces," says Gucci's Alessandro Michele, "It's a way to show humanity. It's funny I think the era of 'model' is ended." In today's climate of inclusivity, the latest face is most likely to be the designer's friend or someone spotted on the street, perhaps with physical characteristics previously ignored by fashion (Adwoah Aboa's freckles or Winnie Harlow's vitiligo) and with Instagram offering up a steady stream of model cards in the form of selfies, and "plandids," candid and planned unironic head-to-toe posed photos, the need for casting directors and the traditional model go-see is diminished, while the opportunity of securing unique faces to represent your brand is heightened.
Haute exclusivité
Paris's couture fortress was challenged more than ever for Fall 2017 with American sportswear label, Proenza Schouler, and fashion-as-art label, Rodarte, descending on the city to show their Spring 2018 ready-to-wear during the haute couture schedule. "We've been embroidering for, like, a month now," said Proenza's Jack McCullough. "That feather jacket took a month to make. There's such a cottage industry of that here; three-people ateliers. A loom in an apartment…But it's, like, a 400-year-old loom!" Also included in the four-day event were Resort collections from Miu Miu and Hermès. In this era of disruption, the carousel of fashion weeks, which traditionally had editors complaining and overextended designers short-circuiting, could slow down as a result of further mergers.
Stylists
When Rag & Bone engaged Glen Luchford for Fall to create a series of Polaroid portraits of famous faces like Mikhail Baryshnikov, Amber Valleta and Radiohead's Thom Yorke, the celebrities were invited to style themselves in the collection. It was an opportunity for them to connect with the brand in a more authentic way than the industry practice of paying celebrities to wear their clothes as a straightforward business transaction. This process thus eliminates the need for those well-paid stylists, and indeed make-up and hair professionals, who swoop into famous houses each season to take over at the last minute the creative vision from the designer and put a fresh spin on the collection.
Runway shows
Two years ago when Givenchy, with the help of The City of New York, offered up 1,200 tickets to the general public for their NYC show, effectively opening up a previously cordoned-off world to the average person, the seeds of change were shown. Growing from that, Rag & Bone''s creative director, Marcus Wainwright, says, "We'd done something like 25 shows in a row since we started, and I think the times are changing. I woke depressed after the election, as everyone else, and felt that there were no rules anymore." The success of his February Polaroid project clearly got him thinking: "Part of me questions why you have to do it in September. Creating something powerful that represents the brand and engaging with the fashion press is obviously very important, but is Fashion Week the best time to do that?" Vetements designer, Demna Gvasalia, announced in June to widespread gasps, "We are not going to show in the classical system anymore. I got bored. I think it needs to enter a new chapter. Fashion shows are not the best tool."
City-specific fashion weeks
For years, London has been viewed as the creative breeding ground of young designers, Milan the showcase for traditional family-based craftsmanship, Paris, the city of light and couture, and New York, the capital of commerce-driven apparel. But McQueen, Burberry, and Westwood began some years ago to jump ship for Milan and Paris; Moschino, then Armani, showed in London; Givenchy in NYC; then Rodarte and Hood By Air turned their backs on NYC for Paris, followed by Proenza Schouler… Who can keep track and do we really need to anymore? What about a bi-annual world championship of fashion where global brands gather in a different city each time?
No swipe left response
You can't get more analog than a Polaroid camera which provides a single image with no delete or filter option. But the Rag & Bone experiment highlights an important aspect of fashion that we had lost sight of in our race to compete with a sped-up system, Instagram's immediate gratification, and that apparently insatiable Veruca Salt-like consumer. Clothes are analog. They are IRL sensory items in which we wrap our bodies. They are like hugs, the epitome of touchy-feely. No device or online interaction can replicate that. And the more forward-thinking in our industry are beginning to recognize it.
By contributing guest editor Jackie Mallon, who is on the teaching faculty of several NYC fashion programmes and is the author of Silk for the Feed Dogs, a novel set in the international fashion industry.
Images: catwalkpictures, Empty Bleeker Street storefronts author's own; Rag & Bone Facebook; officialwinnieharlow.com; New York Fashion Week Facebook
FashionUnited

|
OPINION What should I wear? This question arises often but with particular urgency when working in the fashion industry where one has to dress to impress. Be it for a job interview or a particularly busy day at the office: FashionUnited knows the no-go criteria and how to make a good impression.
The usual business attire in 'normal' jobs consists of a pantsuit or pencil skirt with blazer in neutral colours, combined with a white blouse.
Fun fact: Apart from one white blouse with frills, I do not own anything of that sort. The last time I wore such a 'uniform' was in college when I worked as a hostess for a well-known bank at a trade fair. The money I earned, I quickly invested in clothes that one needs as a fashion professional: a woolen coat by Max Mara, Acne boots and something by Margiela.
Three rules for a lasting impression
Especially in the fashion business, it is impossible to recommend a particular outfit. Every job is different and everyone's boss is different too. But there are a few rules of thumb.
The first and non-negotiable rule: a well-groomed appearance. Regardless of what you wear, make sure to acquaint it - even fleetingly - with an iron. A lint brush may also be a good idea.
The second golden rule: Always wear one unusual piece and have a good story about it ready. The fashion industry appreciates if you show that you are taking it seriously but at the same time, be fluent in sarcasm. At the moment, everything that Paris Hilton would wear is also good for you.
The third golden rule: Do bring your Supreme brick to work. Other fashion insiders will understand.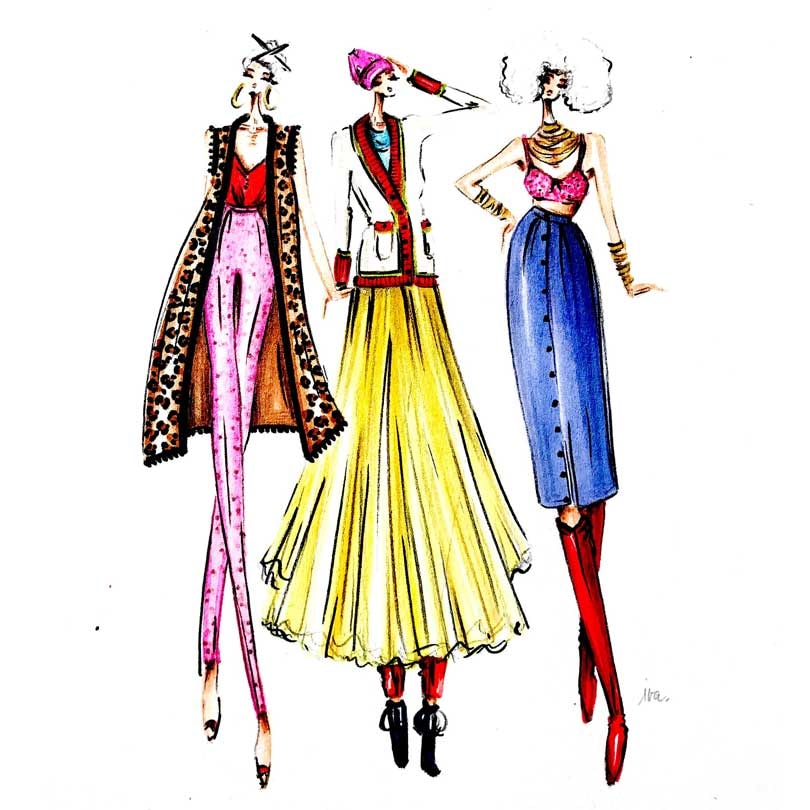 International Dresscode
If in doubt: Black is the uniform of fashion professionals - especially in New York and Berlin. In London, it is important to show one's true colour(s), whereas you can be a bit sexy and more extroverted in Italy. And in Paris - well, if you managed to score a job in Paris, then you will most certainly already know how to dress. If you have been called for a job interview in Paris, then follow one of the numerous 'How to dress like a Parisian/French Woman'-Guides. By now, there should be a separate section for them on Amazon. In any case, you should either wear brand new sneakers (worn out ones are a big no-no) or heels. In Berlin, the opposite is true.
Stay cool in summer
The sun is beating down mercilessly. But 35 degrees Celsius plus are not an excuse for dressing sloppily - not in fashion. For women: The new keyword is body positivity. That means, you may wear what you feel like, when you feel like it. Our tip: Always cover your breasts, as least the nipples. For men: Resign yourself to the fact that you will have to sweat. Short pants and half-sleeved shirts are a no-no. After all, you have to be at a disadvantage somewhere, right? Just see it as one week in the year that you have to pay for your usual priviledges. And thankfully, European summers are short.
Last but not least: Even if you do not have one, pick a favourite designer. You will face that question sooner or later and if you cannot produce an answer, your cover will be blown. The best is if you pick someone from the '90s because then you will prove that you know your history and that you also know what is hip. I would suggest Comme des Garçons, Walter Van Beirendonck or Helmut Lang.

During the month of August FashionUnited will focus on Work in Fashion. For all reads on the theme, click
here
.
This article was previously published on FashionUnited.de Translated and edited by: Simone Preuss
Illustrations: Studio Iva (IGM: studio_iva)