Jackie Mallon

|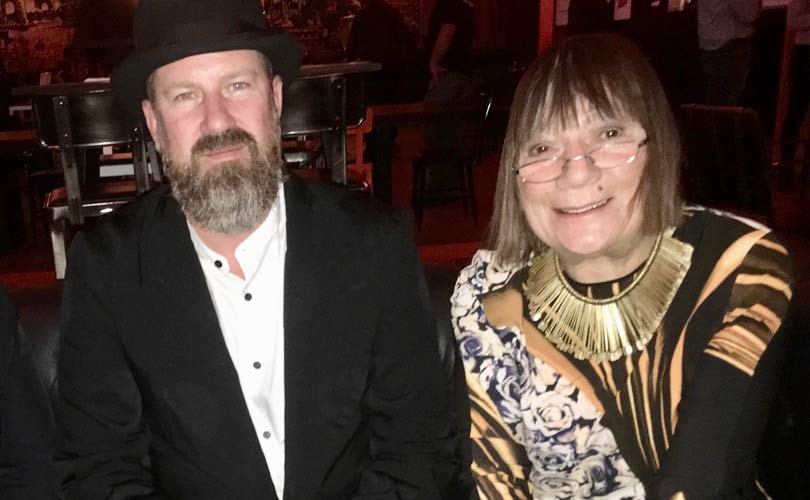 INTERVIEW As Graduate Fashion Week takes New York, I am granted a special audience with its organizers, Martyn Roberts, Managing and Creative Director, and Hilary Alexander OBE, industry trustee, whose schedule this week is packed with meetings with schools, industry, and the press. They have just returned from a breakfast thrown by Ralph Lauren in the penthouse of his Madison Avenue HQ during which executives from Michael Kors, Rag & Bone, Target, and Calvin Klein among others gathered to view the work of the selected 10 graduates, six from UK schools, four from the US.
Can you tell us about the concept behind Graduate Fashion Week?
Martyn: We are a bridge between education and industry. We get educators to understand what brands want and help graduates best prepare for the next step. The end result is to get young designers employment and allow the industry to get talent. It's a sort of dating service; some universities are known for knitwear, some their menswear program, some are known for producing graduates that work well in a team, others for building unique creatives. The British education system is highly regarded, but it's different from, say, the Chinese one, for example. So we have 32 UK universities involved and 36 international ranging from Tokyo to Sri Lanka to New York.
H: We created Graduate Fashion Week so that finding talent could be a much more democratic process. In the past headhunters were coming to the London schools but couldn't afford the time to go all over England or Scotland. Now they can see all the work over three floors under one roof. Each university has a stand. In the 25 years of GFW, we've showcased the work of an estimated 100,000 graduates.
And why did you bring Graduate Fashion Week to NYC, and not, say Milan or Paris, or even one of the emerging market's fashion capitals?
H: Paris and Milan are very close to us; they're just across the water. America is a huge market and there is a long tradition of American brands like Donna Karan, Calvin, Ralph, hiring British graduates.––we counted three at a senior level in Ralph's design team this morning. It's just a way to spread the word. And it made sense for our sponsors, Smartfocus, who are here for a big show of their own.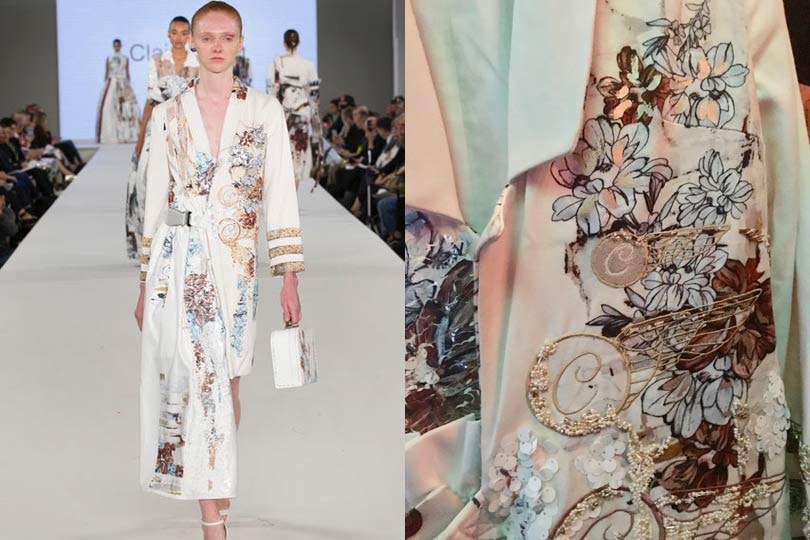 Were there any exciting developments from this morning's event?
M: We have many leads to follow, including professionals who want to mentor, and sponsor the designers. Our partners and sponsors need to get something from it too.
How did you select the ten graduates whose work you wanted to showcase in NYC?
M: We chose students who have a good story to tell and whose vision will be relevant to the US market. For example Claire Tagg, whose work was based on the uniforms of air hostesses––Claire used to be one herself––and you can see the pilot's stripes in the jacket sleeves, and seatbelt fastening, and the intricate sequin embellishments which over time become distorted, as if through the course of a journey. She also has tremendous commercial appeal having designed a pre-Christmas collection for Marks & Spencers which sold out within one week.
Hilary, in the 25 years you have been involved with Graduate Fashion Week, how would you say the collections or the graduates have changed?
One thing that's changed is the quality, the high standard of design, which has to do with the way the education system has developed. The graduate catwalk shows are so much more polished. It's because of digital: students can now see how established designers are doing it and how the accessories and styling can say so much about your approach to design. There are many more awards now which raises the stakes, and not only best womenswear designer or menswear, but best portfolio, best illustration, best photography…We have one award called Catwalk To Store which recognizes a collection that is ready to drop in retail.
Graduate Fashion Week is a charity so do you run fundraising events throughout the year?
M: It's not the same in the UK as the US. There isn't so much philanthropy. Corporate sponsorship is the source of our funding; companies sponsor an award or an event or through digital like our sponsors for this event Smartfocus.
How does the British education system nurture its emerging talent?
H: In the last 2 decades, the UK has given great exposure to its designers, whether through Fashion Scout, Fashion East, NewGen as well as GFW. We have so much talent coming through. By now Alexander McQueen and John Galliano are vintage, then there's the generation of Christopher Kane, Simone Rocha, Roksanda Ilincic, Erdem, and now a whole new crop, as well as the graduates placed in companies all over the world. In the UK we've probably got one of the best systems. It's the envy of many countries; they don't have this in Paris or Milan. It's slightly similar in the US with the CFDA's work with emerging designers. But we provide the means to be together under one roof, access to affordable means to stage a presentation; we have mentoring programs from established designers, print professionals, owners of fabric mills; we give a masterclass in how to make the most of portfolio, present yourself; there are even banks to advise on business and investment.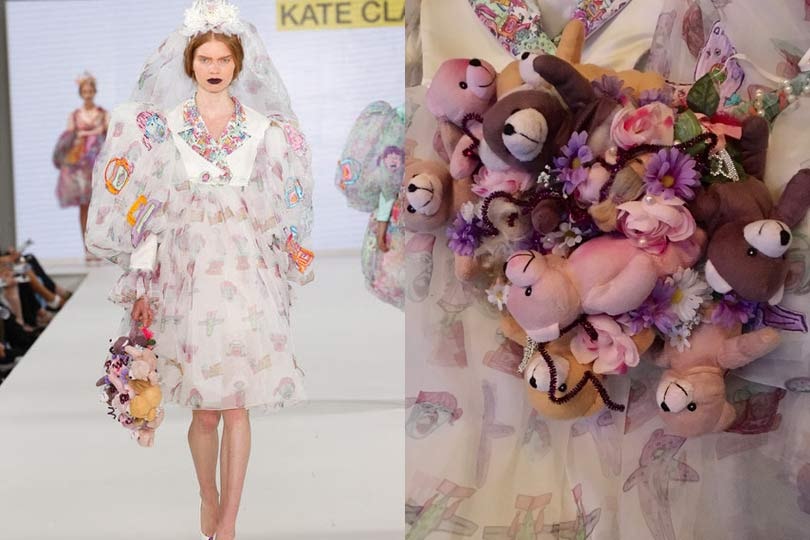 (As the garments are unzipped from their bags, something resembling a wreath of teddy bears falls out, and Hilary smiles and says, "Oh, Karl loved that.")
What are the rewards of your role?
H: I got a phone call from Kate Clark who specialized in textiles and who is working at Chanel, and she has seen Karl several times now, including being squeezed inside that tiny rue Cambon elevator with him, but when they're in big design meetings, she's amazed. "We can do anything," she says, "beading, embellishment, whatever we want, we can dream it and it will happen." Hearing that, the view from the other side of Graduate Fashion Week, is lovely. Christopher Bailey is one of our patrons who just happened to be the first recipient of our Gold Award, then of course to see him go on to work at Donna Karan, then be hired at Burberry and the rest is history.
M: Our reward is making sense of how it all works together for everyone. All my grads are my children.
By contributing guest editor Jackie Mallon, who is on the teaching faculty of several NYC fashion programmes and is the author of Silk for the Feed Dogs, a novel set in the international fashion industry.
All images by Jackie Mallon for FashionUnited and Graduate Fashion Week
Danielle Wightman-Stone

|
International showcase for emerging talent Fashion Scout has named the four winners of its Ones to Watch award for London Fashion Week autumn/winter 2018 - Maddie Williams, I Am Chen, Susan Fang and Kristel Kuslapuu.
For the first time in the history of the award, the autumn/winter 2018 winners are presenting in two different formats with Maddie Williams, I Am Chen and Susan Fang exhibiting in a group showcase in the vestibule catwalk hall, while the final winner Kristel Kuslapuu will be showcasing within the Fashion Scout presentation studio.
Fashion Scout founder and director Martyn Roberts said: "This season's Ones to Watch truly demonstrates what the award was created to showcase and we are excited to have expanded the award across the catwalk and presentation studio to fit with our winner's creative views.
"We have a bold and colourful eclectic mix of designers from diverse cultures, making Ones To Watch the highlight of the A/W 18 schedule."
Maddie Williams
British designer Maddie Williams is a graduate from Edinburgh College of Art, who showed how 'eco' fashion can still be exciting and avant garde with her graduate collection in 2017 at Graduate Fashion Week. Her use of silhouette and texture saw her scoop both the Catwalk Textiles Award and Dame Vivienne Westwood Ethical Internship Prize.
On winning Ones to Watch, Williams said: "Receiving this award was something I was 100 percent not expecting, and took me completely by surprise! It was a very good surprise though and I am really humbled and excited to have been picked, it's a great opportunity to get to generate some new work and show to a wider audience! I want to thank Fashion Scout for being so supportive of me and my progression as an emerging designer!"
I Am Chen
Hong Kong-based designer Zhi Chen, behind knitwear label I Am Chen, is the second winner, Chen completed a Masters at London College of Fashion. Her label, I Am Chen, is now in its third season and focuses exclusively on knitting with the aim of challenging the definition of knitting by creating garments made by advanced machines with new techniques, using unconventional yarns. The playful knitwear is already stocked in concept stores Machine-A, Siku and Art and Zimt.
"It is truly an honour," said Chen upon winning Ones To Watch, "It strengthens my belief in knitwear and I am extremely excited about the runway show, it is going to be the first time I come back to London after I graduated."
Susan Fang
Central Saint Martins graduate Susan Fang has been developing her eponymous label for the past three years whilst working under major design houses. Her 2015 graduate collection was widely applauded by the press for presenting original alternatives to the usual garment, by exploring the interaction of the body with clothing, through the exploration of new colour dimensions and fresh silhouettes. Her autumn/winter 2018 is highly anticipated and will present an entirely new air-weave technique that allows the fabric itself to float between the two and three dimensional.
Fang said: "For an emerging designer and brand, Fashion Scout is a great platform and show to immediately be seen by such an wide audience and the press, as well as generous support from the Fashion Scout team and sponsors. I am extremely excited for this amazing opportunity to showcase my labels debut collection."
Kristel Kuslapuu
The final winner is Estonian-based Kristel Kuslapuu, her eponymous label caught the eye of the judging panel at Talinn Fashion Week for her use of sculptural forms, bold colours, unique patterns, and for sharing provocative messages that transcend traditional gender conformity.
Kuslapuu said: "For me winning was a reassurance that I am at the right place doing the right thing. The excitement of fulfilling one of your dreams is indescribable. I really do feel like I have found something that I am meant to do.
"Whilst years are passing I feel more and more obliged to give back to mother earth and having this opportunity to share my art with the world is as given from above. I feel very grateful."
This isn't the first win for Kuslapuu, her label also scooped 2008 and 2009 SuperNoova in Estonia, Lithuania Fashion Injection and ERKI Fashion Show, alongside being showcased for Estonia at London Fashion Week in the International Fashion Showcase 2014.
Fashion Scout's Ones to Watch was created in 2014, the autumn/winter 2018 collaborative show to promote emerging talent will mark its 10th season. Previous winners that have seen their profile raised from the honour include Eudon Choi, Georgia Harding, Phoebe English, Helen Lawrence, and Edda.
Fashion Scout will present its Ones to Watch catwalk Show during London Fashion Week on February 18, while the presentation will take place on February 19.
Images: courtesy of Fashion Scout
Danielle Wightman-Stone

|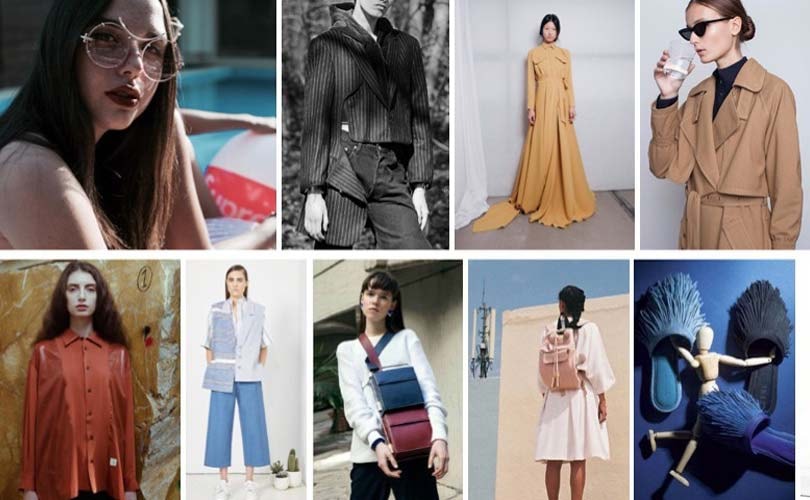 OpenMyMed, a fashion prize from the Maison Méditerranéenne des Métiers de la Mode (Mediterranean House of Fashion Professions, MMMM), has named 13 emerging designers from across nine Mediterranean countries to take part in its programme to help them capitalise on marketing, commerce and communication.
Announced on January 15, the MMMM selected 13 new talents from more than 300 candidates who applied from 19 Mediterranean countries, selected by an International jury that included Simon Porte Jacquemus, Bruno Pavlovsky from Chanel, Dior chief executive Sidney Toledano, Christelle Kocher, and Lucien Pagès.
The winning designers of the eighth OpenMyMed prize are from France, Egypt, Spain, Israel, Lebanon, Morocco, Portugal, Tunisia, and Turkey.
France has the most winners, with four emerging designers selected to take part, including Louis-Gabriel Nouchi, who is set to launch a capsule collection capsule with French glove maker Agnelle this year, Nïuku, a menswear label by duo Lenny Guerrier and Kadiata Dialoo, who will show on-schedule at Men's Paris Fashion Week, Maxime Barthel, a former production manager at Christian Louboutin, and Norah Luttway, a graduate from the ESSEC Business School, and her womenswear label Noliju.
13 emerging designers selected for OpenMyMed 2018
Egypt will be represented by Ama Saad, who has a diploma in jewellery making, while Anissa Meddeb, a graduate from Parsons in New York will represent Tunisia, and Elena Garcia Silva, from Spain will use the opportunity to develop her accessories label Lautem, which is already stocked at Wolf and Badger in London.
From Morocco, Laurence Leenaert who studied fashion at the Royal Academy of Fine Arts in Ghent, Beligum was selected for her accessories brand Lrnce, alongside fellow Moroccan Zineb Britel for her footwear brand Zyne, while representing Israel is womenswear brand Tres, founded by three Shenkar Fashion Design School graduates and friends Noa Gur, Noy Goz and Dafna Rubin, and Luis Carvalho was selected for Portugal for his eponymous brand.
Rounding up the 13 designers taking part is Lebanese brand Second St, founded by a trio of designers, Sarah Hermez, Tracy Moussi and George Rouhana, and Turkish brand T.A.G.G, a ready-to-wear brand from Gokay Gundogdu.
Each designer selected will take part in a five day course at its Fashion Booster Campus in Marseille, where its staff will help support the young fashion designers in their international development by ensuring the coherence of their 360° brand image with the definition of their identity, both in physical and digital terms. The support package for each designer is estimated to be worth around 30,000 euros.
Image: via Maison Méditerranéenne des Métiers de la Mode website