New York Fashion Week

8. - 15.

SEPTEMBER

2016
What is New York Fashion Week?
N ew York Fashion Week is the bi-annual event of runway shows and presentations used to highlight designers' collections for the next fashion season. Although, in some cases a few designers have begun to opt for a "see now, buy now" model, where the collections they show are for the current season. The event is organized by WME/IMG and the CFDA. It is part of the Fashion Month, which also includes the Fashion Week's for London, Milan, and Paris. According to a study last year, New York Fashion Week generates over 900 million dollars for the City's economy. Beginning last year in July, men's wear got its own standalone Fashion Week called New York Fashion Week: Men's. That event is also bi-annual. CFDA is the promoter for this event.
When is New York Fashion Week?
New York Fashion Week takes place twice a year. Once in September for the spring/summer collection and again in February for the fall/winter collections. The first ever New York Fashion Week took place in 1943 and was created by Eleanor Lambert, promotional director of the New York Dress Institute. Spring/summer collections will be shown from September 8 – 15 this year. New York Fashion Week: Men's takes place once in July and again in late January/early February. Spring/summer 2017 will be presented this year from July 11 – 14.
Where is New York Fashion Week?
"Prior to Fall 2015, the venues for New York Fashion Week were Lincoln Center when Mercedes-Benz was the sponsor. Once WME/IMG took over, the two new main venues became Skylight Clarkson Square and Skylight Moynihan Station. Chelsea Piers and Park Avenue Armory have also become popular show venues. For New York Fashion Week: Men's, the primary venue is Skylight Clarkson Square, with a few other shows scattered throughout downtown Manhattan."
Address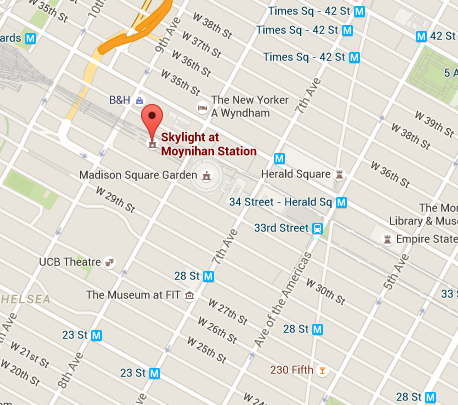 Moynihan Station, at 360 West 33rd Street, New York , NY 10001
United States
Website