Danielle Wightman-Stone

|
De Montfort University fashion graduate Hazel Symons scooped the prestigious Christopher Bailey Gold Award by Oracle at the 2016 Graduate Fashion Week awards gala show, for her monochrome collection of tailored pieces that were bolted rather than sewn.
Symons, beat off a strong line-up of the best 25 graduate fashion collections, which included designs from Northumbria University, Kingston University, Nottingham Trent University, Bath Spa University, Arts University Bournemouth, University of Salford, University for the Creative Arts Epsom, Edinburgh College of Art, as well as collections from her fellow graduates at De Montfort University.
For her impressive womenswear collection, which was praised for its innovation, as well playful style by Burberry's creative director Christopher Bailey who presented her with her award, she wins 10,000 pounds. In addition, Symons also picked up the Creative Catwalk accolade.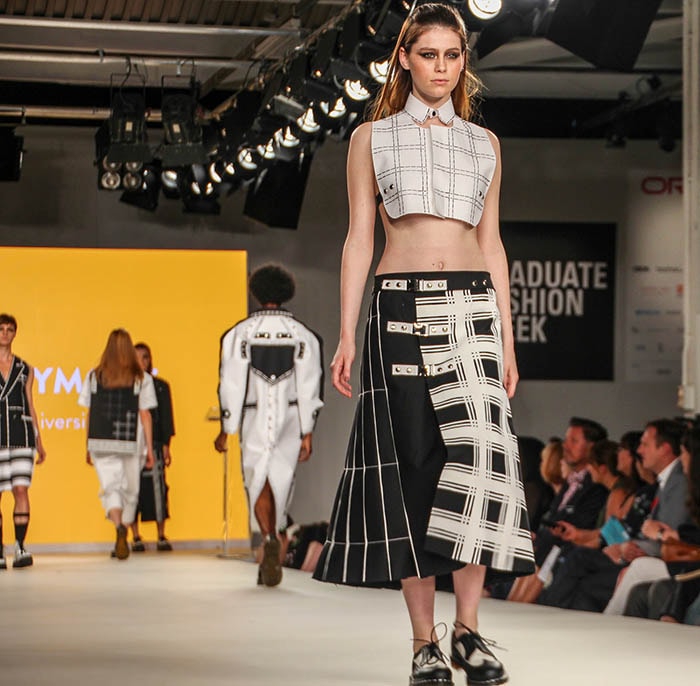 This year's judging panel for the top prize including designers Christopher Raeburn, Gareth Pugh, Giles Deacon, and Sophie Hulme.
The event also celebrated the 25th anniversary of the annual showcase, which has helped launch the careers of designers including Stella McCartney, Giles Deacon, Matthew Williamson and Julien Macdonald, as well as Bailey, who showed his first collection during the 1992 Graduate Fashion Week and was named the first recipient of the Gold Award, which is now named after him.
To celebrate the milestone they honoured the founders of the charity organisation Jeff Banks, Vanessa Denza, and John Walford with Lifetime Achievement Awards, as well as showcasing the four new patrons, Bailey, Dame Vivienne Westwood, who were both in attendance, as well as Victoria Beckham and Nick Knight. In addition, George at Asda were presented with a Special Recognition Award for all their support of the graduate showcase over the years.
Other awards given on the night included the Marks and Spencer's Womenswear Award, which was presented to Quivvei Jiang from the University for the Creative Arts Epsom, for her surreal, illusion collection. She also picked up a cash prize of 5,000 pounds.
The Menswear Award sponsored by Debenhams was given to Caoimhe Savage from Kingston University for her collection that judges felt had "immediate catwalk impact" and "great use of colour" for her bold, oversized fisherman's inspired pieces. Savage also took home a cash prize of 5,000 pounds.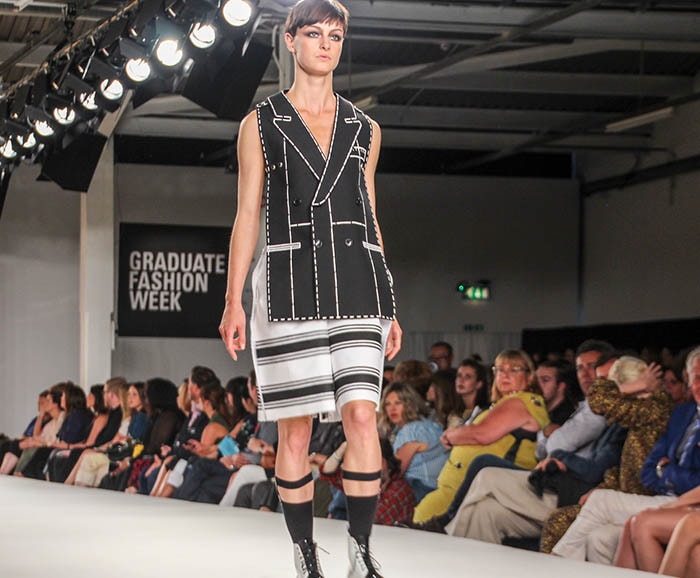 De Montfort, University for the Creative Arts Epsom, and Nottingham Trent among winners at the Graduate Fashion Week gala show
The N Brown Textile Award was presented to Chloe Jackson of Nottingham Trent for her playful and colourful collection, while the Matalan Visionary Knitwear Award went to Kendall Baker from Nottingham Trent University for her "outstanding, technical" collection that combined crochet machine knitting and embroidery.
The first Tu at Sainsbury's Scholarship Award went to Northumbria University's Genevieve Devine, who wins a year-long scholarship working with the supermarket clothing brand, as well as a year-long mentorship from designer Holly Fulton and the Sainsbury's design team who will work with her on creating a spring 2017 collection.
The George Catwalk to Store Award, which recognises collections that could easily be sold straight away, was presented to George Hollins from Arts University Bournemouth, who impressed judges with his "creativity and commercialised" approach to his designs, as well as his understanding of the menswear market.
The Childrenswear Award, sponsored by Mothercare, returned to the gala show after a few years absence with Salford University's Sinead Blagbrough taking home the accolade for her "attention to colour, designer and innovation," while the International Catwalk Competition was won by Amesh Wijesekera of the Academy of Design in Sri Lanka.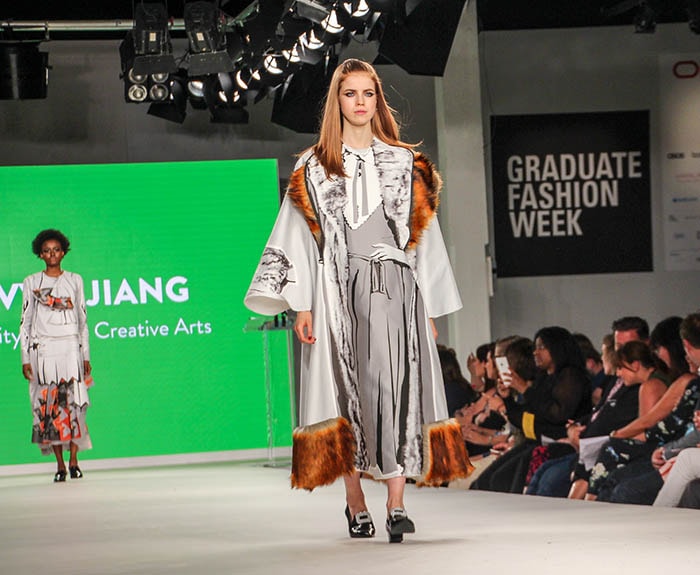 There were a number of exhibition awards given, including the Vivienne Westwood Ethical Award won by Fiona Cartmel from Edinburgh College of Art, the ICG Accessories Award was given to Lorn Jean of Edinburgh College of Art, who also scooped the Boohoo Fashion Innovation accolade for his "mathematical approach to design," and the Lipsy Red Carpet went to Antonia Nae of the University of East London.
Graduate Fashion Week ends 25th anniversary with gala showcase
Other winners included Alice Potts from Norwich University of the Arts who won the David Band Textiles Award, while Emily Bunch from the University of Leeds received the Karen Millen Portfolio Award, and Betsan Evans from De MontfortUniversity won the Boux Avenue Lingerie and Swimwear Award.
The Oracle Fashion Technology Award was given to Alex Hughes of Northbrook College Sussex, while the Fashion Marketing Award went to Nuala Convery from Northumbria University, and the Barclays New Business Award to Danielle Reynolds of the University of Brighton.
The Little Black Dress Fashion Photography Award went to Erika Bowes from Northumbria University, while the stand award was given to Sheffield Hallam University, and Mia Edie Roberts from the University of Central Lancashire won the Very Fashion Styling and Creative Direction Award, and Vanessa Cuffy from the University for the Creative Arts Epsom took home the New Media Award.
The Sophie Hallette University Design Challenge also joined Graduate Fashion Week proceedings for the first time, naming Salford University's Anum Rasul's collection as the best to include lace and tulle.
Images: Danielle Wightman-Stone of Hazel Symons and Quivvei Jiang's collections