Danielle Wightman-Stone

|
Edinburgh College of Art fashion graduates took five of the prestigious awards at this year's Graduate Fashion Week in London including the Christopher Bailey Gold Award, Marks and Spencer Womenswear Award, and Catwalk Textiles Award.
The Scottish university had five of its fashion graduates represented in the best 25 collections of Graduate Fashion Week, including Halina North who was presented with the Gold Award for her collection of sculptural dresses made from recycled paper and supermarket plastic bags, as well as the new Swarovski Hilary Alexander Trailblazer Award, which is awarded to a "memorable collection that reflects the UK enthusiasm for the new, the fresh, the untried, an example of a great new unpublished fashion direction".
Commenting on her win, Halina North, said: "I was absolutely astonished to be announced as the winner. There were so many strong collections on show, so to be selected for the Gold Award is incredible. My designs mix sustainable textiles with high fashion, which is something I am keen to explore further. This award will be a huge boost towards helping me pursue this exciting area of fashion."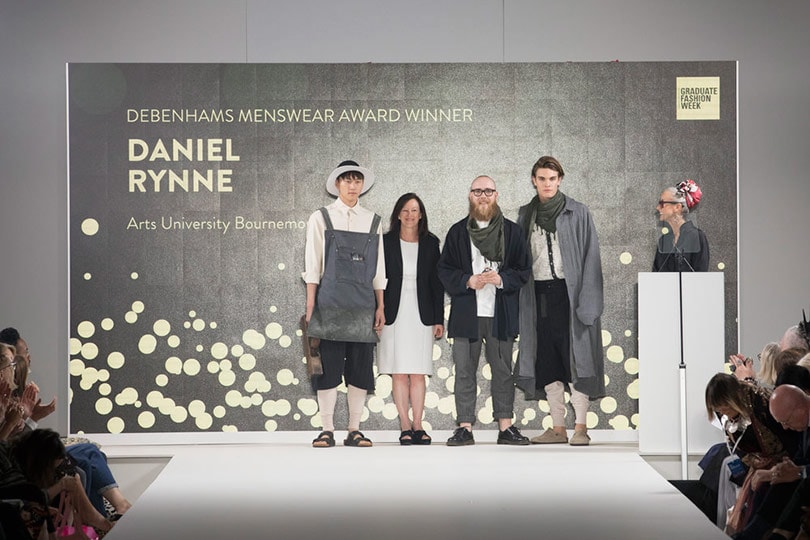 North was chosen her "great body of work" that the judges explained had a "great sense of creative development" and was "experimental and had immediate impact during the show". As the Gold Award winner she takes home 10,000 pounds, while Edinburgh College of Art takes home 2,000 pounds. The runner-up was Abigail Coop from Nottingham Trent University.
There was also success for promising Edinburgh College of Art fashion designer Irene D'Antonio, who took home the Marks and Spencer's Womenswear Award for her Japanese inspired collection. D'Antonio wins 5,000 pounds, while the university was awarded 1,000 pounds. Runner-up was Claire Tagg from UCA Rochester.
There was further success for the Scottish university as Ruth Williams won the Visionary Knitwear Award, which comes with a 1,000 pounds prize, while Maddie Williams was named the Catwalk Textiles Award winner, ahead of fellow Edinburgh College of Art graduate Frankie Dean who was runner-up, to win the 1,000 pounds cash prize for her collection of dresses designed for six urban goddesses.
Mal Burkinshaw, fashion programme director at Edinburgh College of Art, said: "We are delighted to have had such unprecedented success at Graduate Fashion Week. It will offer students a step into the industry and we have seen a lot of interest in their work already.
"At Edinburgh College of Art, we are passionate about encouraging students to express their individuality through their collections. I feel very privileged to work with such a creative group of aspiring designers, and am thrilled that they have been recognised in this way."
This isn't the first year that Edinburgh College of Art has stolen the show during Graduate Fashion Week in 2015 Melissa Villevieille won the womenswear, catwalk textiles and David Band textile awards, and in 2013, Lauren Smith scooped the Gold Award, while Shauni Douglas and Olivia Creber were awarded the menswear award, and in 2012, Riona Horrox was also won the menswear award.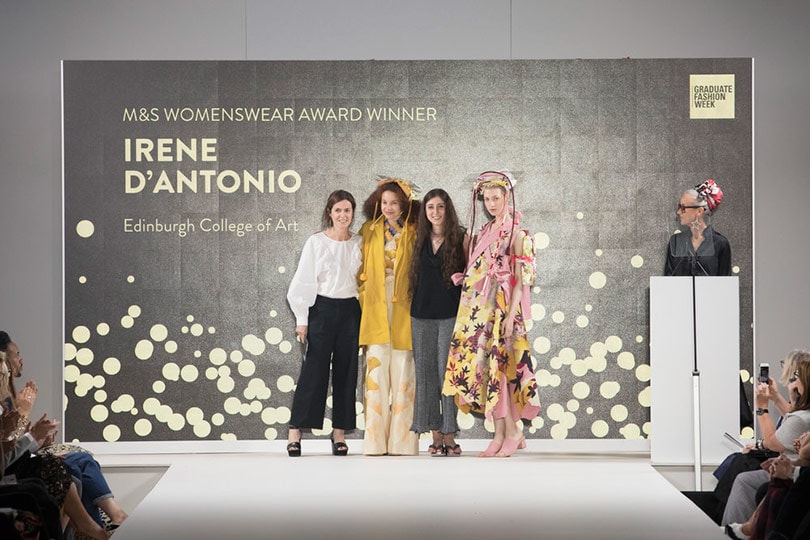 Graduate Fashion Week names award winners for 2017
The big menswear award sponsored by Debenhams was won by Daniel Rynne from Arts University Bournemouth. He takes home 5,000 pounds, while his university is awarded 1,000 pounds.
The George Catwalk to Store award, which awards a graduate collection that showcases "strong commercial potential" was awarded to womenswear designer Laura Capello from Bath Spa University for her creative, yet wearable collection. The first runner up was Daniel Rynne from Arts University Bournemouth and the second runner-up was Zsofia Juhasz from Manchester School of Art.
Tu at Sainsbury's also awarded two scholarships this year. The womenswear year-long scholarship was awarded to Laura Gillings from Bath Spa University, who will receive mentorship from Henry Holland, while the menswear scholarship that includes mentorship from Oliver Spencer was won by Amy Venderwel from Nottingham Trent University.
Other awards given on the night included the Bonmarche Fashion For All Award, which was presented to Caroline Bowden from University of Central Lancashire, while the Mothercare Childrenswear Award was won by Catherine Watts from University of Salford, and the Clarks Footwear Award went to Megan Davies from the University of South Wales.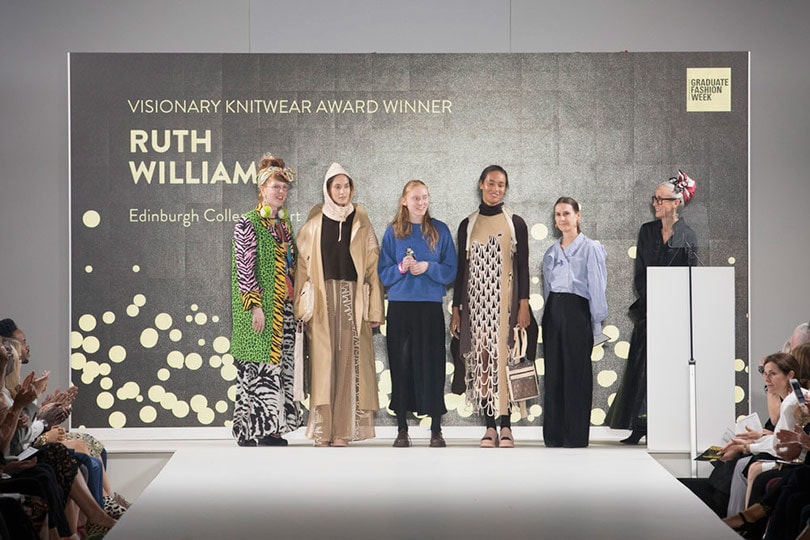 Other universities featured in the top 25 collections of Graduate Fashion Week were Brighton University, Kingston University, Liverpool John Moores University, Sheffield Hallam University, Ravensbourne, and UCA Rochester.
There were a number of awards that were presented throughout Graduate Fashion Week including the Vivienne Westwood Ethical Award that was presented to Catherine Watts from The University of Salford, while the YKK Accessories Award was won by Megan Evans from the University of South Wales, and the Boux Avenue Swimwear and Lingerie Awards were presented to Lucy Watkins from De Montfort University for swimwear and Charley Chiddle also from De Montfort University for lingerie.
Judges for this year's Graduate Fashion Week awards included Angela Missoni, Holly Fulton, Palmer Harding, Sadie Frost, John Rocha, Aitor Throp, Katie Roberts-Wood, Myleene Klass, Henry Holland, and Oliver Spencer.
Images: via Graduate Fashion Week website