Danielle Wightman-Stone

|
The room is lined with white curtains, with painted plinths, strategically placed mirrors and baby's breath flowers scattered across the presentation space, with digital influencers, press, buyers and one proud mum waiting patiently to see the debut of recent graduate Ngoni Chikwenengere's new label, We Are Kin.
More than 1,000 graduates present during Graduate Fashion Week, most go on to work for high street brands, some might get picked up for internships at major fashion houses, very few go out on their own to showcase their vision of what fashion is missing. University of Northampton graduate Chikwenengere, who was part of FashionUnited's Graduate Ones to Watch' last June, is looking to bridge a gap in the market between high street and the mid-market designer brands with her fresh, modern and "seasonless" pieces, and she's done it all in less than a year.
Following in the footsteps of other fashion designers including Christopher Kane, Alexander Wang, and JW Anderson, all of whom launched their labels straight from graduating, Chikwenengere is hoping that her label, We Are Kin, which seeks to create garments that are "considered, contemporary and conceptual" will make her one of the success stories.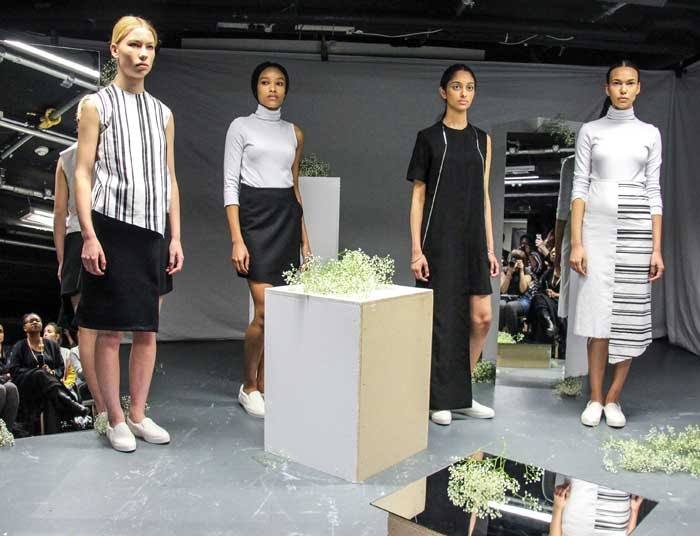 "I'm surrounded by so many people that inspire me, Kin, such as bloggers, press, photographers, stylists, and graphic designers," explains Chikwenengere. "I'm just surrounded by so much creativity and I just think that [consumers] are looking for a brand that has a good price point but still has that edgy, conceptual feel that is somewhere between high street and hyper-luxury. The idea was to produce a line that would work for my Kin."
"Hence the name, We Are Kin."
Chikwenengere added: "For my debut collection I just wanted to show people my brand, what it is about, that's why there are so many architectural pieces as I'm inspired by architecture and art and I love strong lines.
"I wanted garments that are wearable but, I wanted a skirt that also had a gorgeously cut asymmetric panel, which just elevates the pieces. You can wear it to work, going out, wherever you want, but it's just a little bit special - not obvious."
Recent graduate Ngoni Chikwenengere launches We Are Kin
At the heart of the brand is the concept of making timeless statement pieces with an emphasis on "seasonless" and trend-averse design, while also being heavily inspired by ideas of strength and vulnerability, targeting women aged 19-28 years old who are in a creative field.
"We live in England, it's raining, it's cold, it's hot, it's wet, we don't generally have set seasons. For me, it is all about creating pieces that are trend adverse and seasonless," expresses Chikwenengere. "So you could wear one of my dresses and put a polo neck underneath and you are ready for autumn/winter or you could wear it on its own and it's spring/summer. It's about adding things to your closet that you can wear all year round."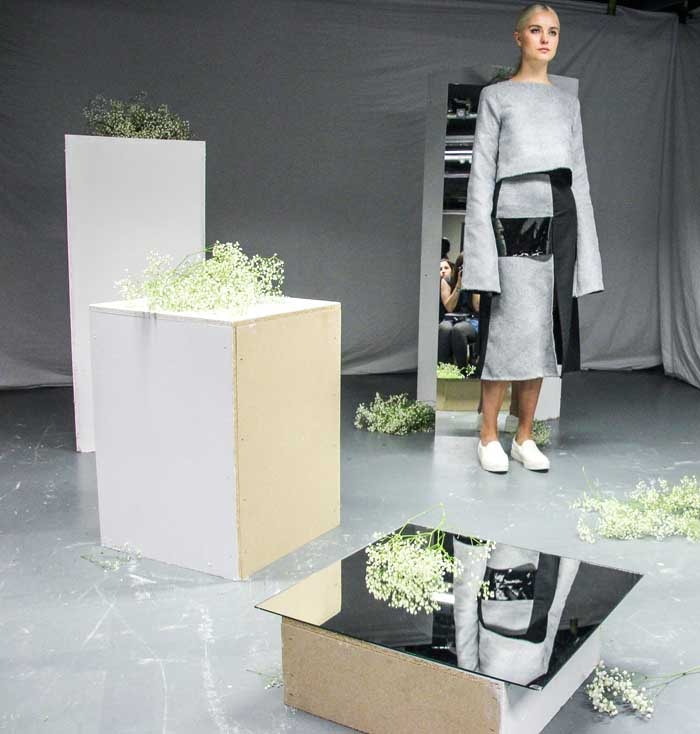 The debut collection, inspired by images of Bauhaus architecture, East London and the works of Franz Kline and Jeppe Hein, was well received by digital influencers and key buyers from Asos and Dover Street Market, with the maxi dress with high slit being a standout piece, which founder Chikwenengere expressed could be worn "with flats to go to work, but then in the evenings she is going to pop on some heels and look sassy".
Another key feature of the collection was the tailoring, in particular, the textured boiled wool navy co-ord skirt and jacket.
"I find tailoring very strengthening," states Chikwenengere. "You'll often find me in a suit because it makes me feel very strong."
As well as timeless, seasonless pieces, We Are Kin has this idea of a 'collective', with Chikwenengere stating that she plans to bring on bloggers, print designers, and other fashion designers to work with the brand and she would also consider collaborating with a high street label, adding: "It would depend on whether it was the right brand, it isn't about just being out there, it's about working with the right people, who get the brand, and that their own ethos echoes ours, that's the whole point. Who ever I work with has to have elements of We Are Kin in their brand already."
When asked where she sees the brand going, Chikwenengere, said: "Going forward I see this as a lifestyle brand, we are still young and we are growing, but we have big plans.
"I would love to be a full service brand, we would have footwear and accessories, it is just about getting the right people on board, it is great having ideas as a designer, but I want these ideas to be well executed and that does mean giving it a little more time and working with the right people to achieve it."
We Are Kin is launching its own e-commerce platform this summer, with collections to start quarterly. Price point is expected to range from 40 to 260 pounds, "to make it affordable and meaning that there is something for everyone".
Going from Graduate Fashion Week to London Fashion Week in less than a year is a bold step but Chikwenengere who is also a lifestyle blogger is looking to her digital influencer friends to give this new label a push in the right direction. If Instagram can make stars of bloggers, can bloggers make stars of a fashion label? Only time will tell.
Images: Danielle Wightman-Stone