What is a good portfolio? How relevant are my ideas? Who makes the decisions about the job? What do companies expect from an applicant? Fashion designers gave truthful insights into their working world at the SDBI (German Fashion Industry Foundation)'s second Mentoring Day.
In fashion, plenty of flexibility and a high level of commitment are expected, especially in your first job. "I have never been as pale as I was in Sardinia when I designed the Kenzo Homme collection for Antonio Marras," said SDBI prizewinner Adrian Sommerauer at the SDBI's second Mentoring Day when giving a warts-and-all description of his work. This event took place in collaboration with the German Academic Exchange Service (DAAD) in the Wissenschaftsforum ("Science Forum") at the iconic Gendarmenmarkt in Berlin.
Say yes when asked
The 20 participants from nine cities – prizewinners and attendees of the European Fashion Award FASH 2016 as well as DAAD scholarship recipients – tried to guess how many compromises they would have to make at the start of their careers to reap the rewards later on. It's a case of struggles that pay off in the long term. Adrian Sommerauer now designs outerwear for Dorothee Schumacher; his appointment as Senior Designer is merely a formality. Sommerauer also emphasized how important it is to establish your own network in the fashion industry. "Always say yes to a job offer in first instance – you can still say no later on, for sure there will be someone waiting in line." Color ups, merch pages and tech packs Julia Kleeblatt was barely recognizable anymore. She was awarded an internship at Puma when she won first prize at the European Fashion Award FASH 2015. This placement turned a shy student into a self-assured designer. She spoke about color ups, merch pages and tech packs with such confidence. She discussed her new polo shirts for Puma's Classic line, handing over her designs to manufacturers and working in a team and with the graphic designers. In short, how much responsibility was on her shoulders as a mere intern.
New perspectives and signatures
Ayako Furness, who moved from Japan to London for her studies, spoke about the significance of graduating from renowned fashion school Central Saint Martin. The contacts that she made at the school led her to jobs at Burberry, Louis Vuitton, Alexander McQueen and Givenchy.
Kirsten Habbich, Head of Division at the DAAD, informed her audience of the benefits of studying or working at an international university and the selection process for a DAAD scholarship.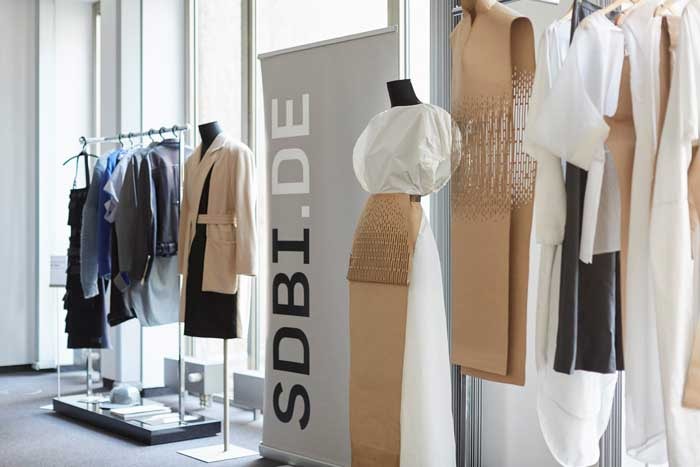 How relevant are your ideas?
Creative Director Thomas Steinbrück (Liebeskind, Porsche Design, Elie Saab) adopted the motto coined by Klaus Steilmann, who founded the SDBI in 1978: "Fashion for millions, not for millionaires." The customer is the star in today's digital age: "It is vital that your ideas are relevant to your customer," said Steinbrück. He also pondered the genre in which designers start out: "It doesn't always have to be haute couture; fast fashion brands also make good-quality items these days. Position yourself in the price segment that appeals to you – but start at the top there." He added that information is vital in the constantly changing fashion industry: "Always be curious. Take an interest in fashion sourcing, visual merchandising, store design, marketing, public relations, e-commerce. Know the business components and the industry's key players and maintain contacts in the industry."
There is more than one way
While design skills will lead to an interview, that is just one of many aspects you'll need to get the job. Big companies care how communicative a person is. Chemistry is important especially in small teams. Every company works differently. There is no one right way to get into the industry.
How is creativity translated into products?
After the break, four fashion designers and four creative experts gave feedback on the participants' portfolios in a set of two-hour workshops. What is the intended focal point: Photography, working process, technical drawings, illustrations? How many independent projects? How elaborate and extensive should it be? Paper or digital?
No simple balance
To finish, SDBI Director Joachim Schirrmacher encouraged students to constantly give themselves constructive self-criticism. On the one hand, students need to be able to easily adapt without losing their design quality and ambition when working in the industry. He cited Arnold Gevers (FASH 2007), who now teaches as a Professor in Munich: "It is important that you retain your love for design, but that you also know that we make clothing for people who want to wear it."
On the other hand, one needs a good amount of self-confidence and a high tolerance for frustration to not lose your self-belief. After all, companies do not always handle new blood well. Rejections often have nothing to do with your skills. "Most often it's a question of timing. Is there a vacancy at the moment or are they searching for a knitwear specialist?" In addition, companies are often unorganized. Even global concerns sometimes look for a senior designer to do a six-month internship with them. Whereas HR departments of big companies often have a marketing budget for business studies graduates, this is less often the case for design.
Let it go
Nevertheless, the SDBI advises students to put dreams of your own label on hold and to gain practical experience first. This way you can find out how you want to work and what your strengths are. How you work efficiently.
Text by Joel S. Horwitz
Photos: © Bernhard Ludewig / SDBI