Danielle Wightman-Stone

|
Student jewellery designers from the Glasgow School of Art and Ulster University have been recognised in the New Designers Goldsmiths' Company Awards at the UK's showcase of creative and innovative work from design graduates.
Rachel Hardie of Glasgow School of Art was awarded with the New Designers Goldsmiths' Company Silversmithing Award for her unique and colourful Chimney Pot Series, a range of mixed metal vessels characterised by their distinctive shapes and finishes.
The judges noted that they "appreciated the explanatory nature of this series, specifically the construction of Hardie's forms which include a pleasing 'sketch-like' quality and unique approach to creating the vessels".
While Egle Bantyne of Ulster University won the New Designers Goldsmiths' Company Award for Jewellery for her 'Curious Constructions' collection of silver hinged and curvilinear jewellery.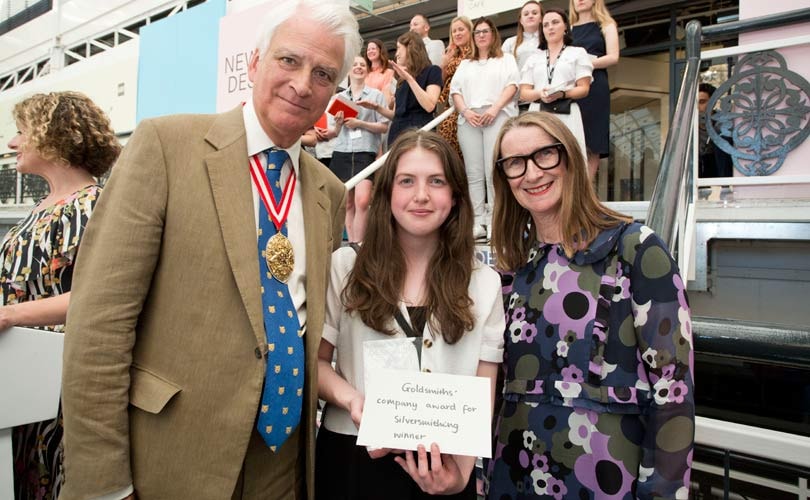 The judges commented that the collection showed "a multi-dimensional playfulness", which was "executed with precision and thought".
Both winners will receive a week's work experience in a professional workshop at the Goldsmiths' Centre where they will be able to focus on commercialising their own work, as well as a bursary of up to 500 pounds towards living expenses. In addition, they will receive a special student hallmarking package including 10 year registration at the Goldsmiths' Company Assay Office, laser software set-up for laser hallmarking, a complimentary behind the scenes tour of the Assay Office and free access to the Goldsmiths' Company Library.
Michael Prideaux, prime warden of the Goldsmiths' Company, said in a statement: "The Goldsmiths' Company is thrilled to once again partner with New Designers to recognise the best work from graduate designers. We are proud to back the next generation of designers working in metal as part of our overall support for the trade at every level. Rachel Hardie and Egle Bantyne are deserving winners and we're pleased to support them as they develop on their creative journey."
Images: courtesy of The Goldsmiths' Company by Mark Cocksedge