Danielle Wightman-Stone

|
Vanessa Schindler was named the winner of the Hyères Première Vision Grand Prize for her sci-fi collection 'Urethane Pool, Chapitre 2'.
The Hyères prize is a great launchpad into fashion, previous winners have included Saint Laurent creative director Anthony Vaccarello, Viktor and Rolf, Lacoste's Felipe Olivera Baptista and Julien Dossena.
The 29-year-old Swiss designer, who recently completed a master's degree in fashion at the Geneva University of Art and Design, scooped not only the festival's Première Vision Grand Prize but also the Public and City of Hyères Award for her use of a chemical resin on her designs that she describes as "frozen liquidity" and synthetic fabrics. Her hero piece was a brown urethane gown featuring 3D moulded shell embellishments.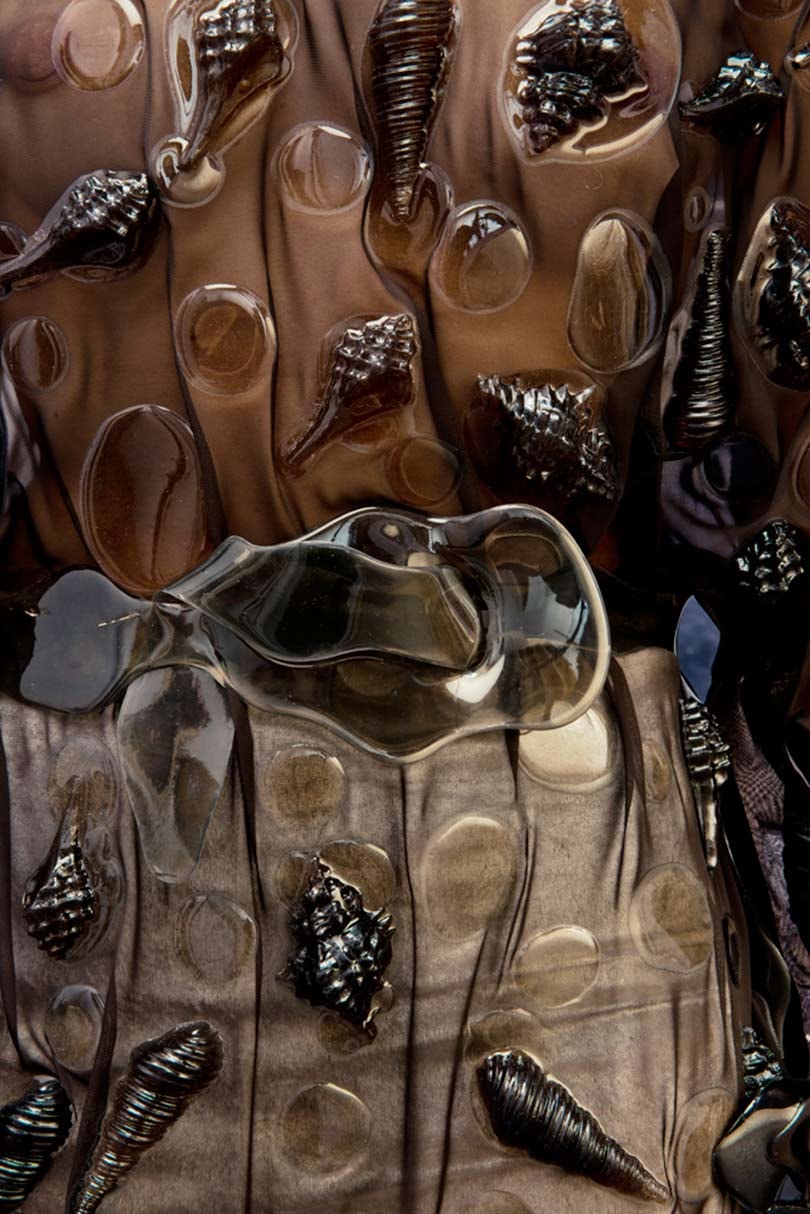 "The overall level was really high, so there was a lively discussion all around," said jury president Bertrand Guyon, design director of Schiaparelli to Vogue. "It was fascinating, enriching, and joyful. Personally, I think I can speak for all of us when I say I'm really happy for Vanessa."
The emerging designer wins a 15,000 euros grant, the opportunity to exhibit at trade fair Premiere Vision's New York event in July, as well as the chance to work with Chanel's Métiers d'Art division in Paris on an upcoming collection of an equivalent amount, and she will also receive a Petit Bateau grant of 10,000 euros plus royalties for the creation of a capsule collection of pieces that the brand will produce and sell in its store for spring 2018.
Hyères Première Vision names fashion winners
Other finalists at this year's Hyères included New Zealand designer Hermione Flynn, Holland-based designer Danial Aitouganov, Dutch designers Lotte Van Dijk and Marianna Ladreytor, Hyunwoo Kim from South Korea, Berlin-based Gesine Försterling, Finish designer Maria Korkeila, and French designers Marianna Ladreyt and Marine Serre.
German designer Försterling was awarded the 15,000 euros Chloé Prize for her menswear collection, while Finnish designer Korkeila won an honourable mention from the jury for her 'Under Wraps' menswear collection, with a 10,000 euros grant from Schiaparelli. While Serre, who is currently a finalist for the LVMH Prize, will be invited by Galeries Lafayette to create a special capsule collection and Chinese label Exception de Mixmind has also offered to showcase her work in China.
There was another win for Switzerland as accessories designer Marina Chedel won the festival's first Swarovski Prize for accessories winning 15,000 euros with her 'Over the Peak' shoe collection. The Public and City of Hyères Award for the fashion accessories category went to handbag designer Wendy Andreu for her collection of hats and bags.
The festival's fashion and accessories winners will also be exhibited at the Paris sur Mode and Première Classe Tuileries trade shows in September.
For photography, the Grand Prize went to Irish photographer Daragh Soden, who will receive 15,000 euros from Chanel and 5,000 euros worth of lab services from Janvier. While French photographer Nolwenn Brod won the 6,000 euros Elie Saab Prize, which comes with a three-week residency in Beirut to produce a series on that city.
Images: via Vanessa Schindler's website photographed by Myriam Ziehli