The nine students that showed their collections tonight from Art Institutes across the country seemed to have united into two camps. One side put a sharp focus on casualwear while the other provided attendees of a most exclusive soirée with the perfect formal gowns. In Skylight Moynihan the sassy tomboys of the skatepark dropped and rolled in patched denim and fun fur right next to the languid swans who preferred to sparkle gently under a chandelier.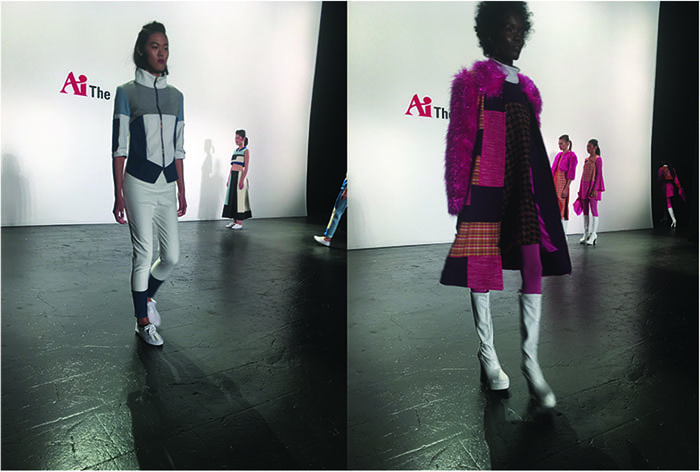 Kicking things off in breezy fashion was Art Institute of New York City student Adrian Escoto whose patched denim in marine shades worn with fresh-from-the-box white plimsolls should help us transition from summer fridays and Hamptons weekends to tailgating and jumping in leaves. Bianca Zidik from the Illinois Institute of Art - Chicago replaced the plimsolls with white Foxxy Cleopatra platform boots but ran with the patchwork headlong into fall trimming it in tinsel-tastic fuchsia faux fur.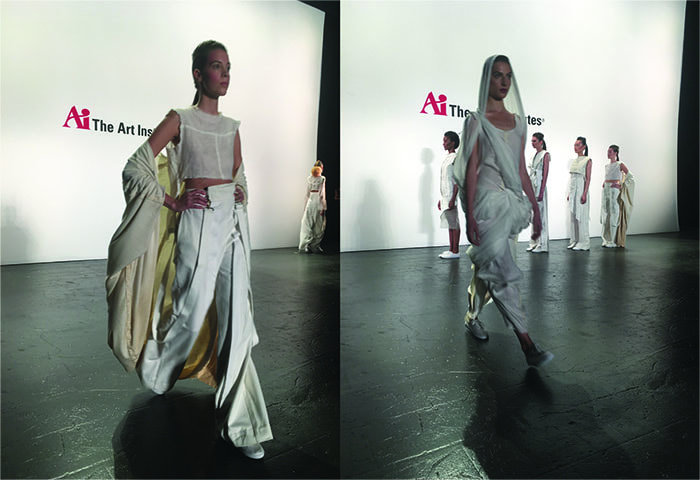 The students' collections announced an overwhelming return to white perhaps cleansing our palette for a move away from the cacophony of color and pattern the runways have provided in recent seasons, or perhaps introducing a simplicity to a fashion system currently clogged with complications.
Julissa Arrington from the Art Institute of California - San Francisco played with wrapped ecru linens and gauzes, whose only hint at color is that of the wearer's skin showing through the diaphanous layers, to create a statuesque sportswear silhouette that would not look out of place for evening.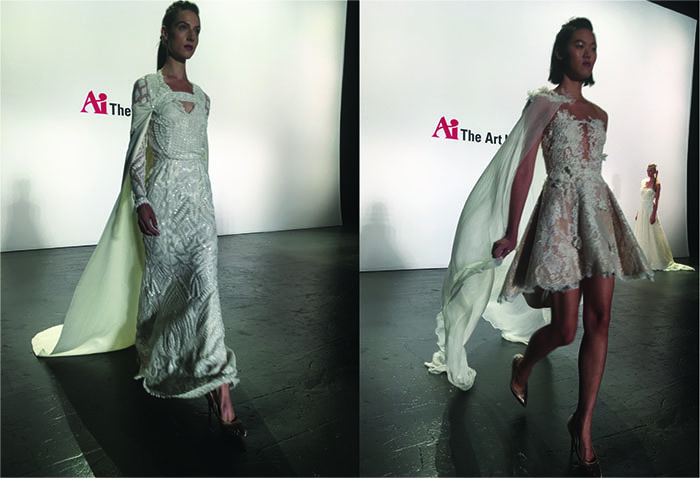 Thus suitably segued into occasionwear proper, Esther Ashiru from the Art Institute of Vancouver worked beading onto mesh, embroidered appliques onto satin in shades of white, black and grey. Her closing look of a slim-line beaded floor-length gown and perfectly-proportioned satin cape had the unfussy refinement of Jacqueline Kennedy.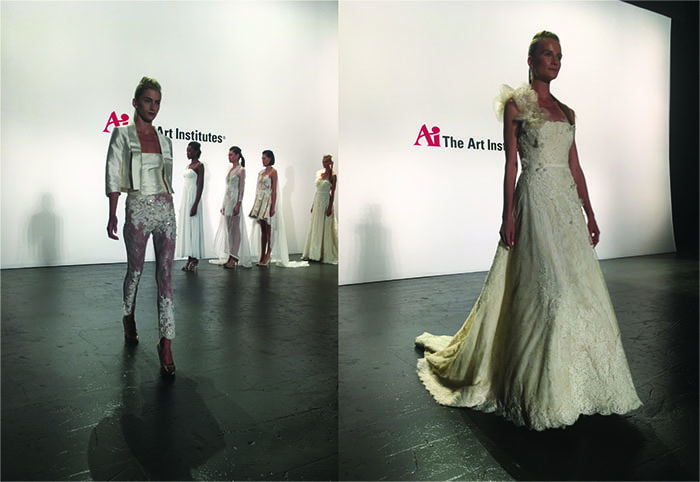 The show closed the way many memorable evenings do: with a nod towards the boudoir. Maria D'Ocon from Miami International University of Art and Design knows how to handle lace. A standout were lace cigarette pants with appliques climbing across the legs and belly. Champagne illusion tulle, layers of lace, and crinkled chiffon that wafts for days provide the dramatic exit that ensures all eyes follow.
By contributing guest editor Jackie Mallon, who is on the teaching faculty of several NYC fashion programmes and is the author of Silk for the Feed Dogs, a novel set in the international fashion industry.
All photos by Jackie Mallon