Georgie Lillington

|
US founded streetwear brand Stüssy will launch a retrospective exhibition at Dover Street Market from August 28.
Exhibiting eight t-shirts with graphics from the brand's archive, the retrospective will explore the significance of the t-shirt as a means of communication.
"The t-shirt is such an important past of Stüssy's past and present and it felt like a nice time to dig into the archives and bring back some of the brand's well-known and lesser-seen graphics," says creative director Ryan Willms in an interview with Business of Fashion.
A collection of limited edition t-shirts, featuring the archive graphics will go on sale alongside the exhibition, as well as worldwide in DSM stores.
A limited edition 240 page book in partnership with IDEA Books, featuring unseen Stüssy imagery will also accompany the retrospective.
Founded by Shawn Stüssy in 1984, the streetwear brand was the first to "start building [an] international 'tribe' through the use of its logo on t-shirts and hats," continued Willms. The pioneer of style amongst the surf and skate movement, Stüssy continues to remain relevant in today's growing streetwear scene.
Screenshot courtesy of Stüssy website
Kristopher Fraser

|
Savannah College of Art and Design (SCAD) has announced they will be presenting the first solo exhibit of couturier Guo Pei's designs opening September 7 and continuing until March 4, 2018 at SCAD FASH Museum of Fashion + Film.
The exhibition will feature more than 30 of Guo Pei's gowns, along with footwear and accessories. The most notable piece in the exhibit will be the design that put Pei on the map, her now iconic imperial yellow cape that Rihanna wore to the Met Gala in 2015. While Pei had enjoyed years of admiration in China, this was the dress that made her a household name among America's fashion elite.
Guo Pei to get solo exhibit at SCAD
In conjunction with the exhibition, SCAD is also producing a monograph celebrating Guo Pei's storied designs. The book, the first to focus solely on Guo Pei, will feature captivating new and archival images of the designer's work and offer insight into her remarkable career and global significance as an artist. The volume will be published by Skira Rizzoli and is slated for release in December 2017.
"International superstar fashion artist Guo Pei is in a league of her own, as is SCAD, the preeminent source of knowledge in the disciplines we teach," said SCAD president and founder Paula Wallace. "It is our honor to partner with Guo Pei and with our friends at Rizzoli to publish the first grand compilation of her work as part of the SCAD Museum Book Collection. Readers will become immersed in the ethereal, magical world of Guo Pei and the wonders she creates."
SCAD commissioned HOWL, a creative collective including three SCAD photography alumni — Jim Lind (B.F.A., photography, 2010), Patrick O'Brien (B.F.A., photography, 2010) and Elliot Ross (B.F.A., photography, 2011) — to capture Guo Pei's designs, which the team photographed in styled vignettes at locations throughout the Lowcountry. Supplemental studio images provide a closer examination of each garment's ornate artistry and opulent details. A short film chronicling the alumni collaboration and the production of the book is scheduled for release in conjunction with the exhibition's opening.
A concise, complementary exhibition of Guo Pei's work will open in October 2017, at Pei Ling Chan Gallery in Savannah, Georgia.
photo:via PR Newswire
AFP

|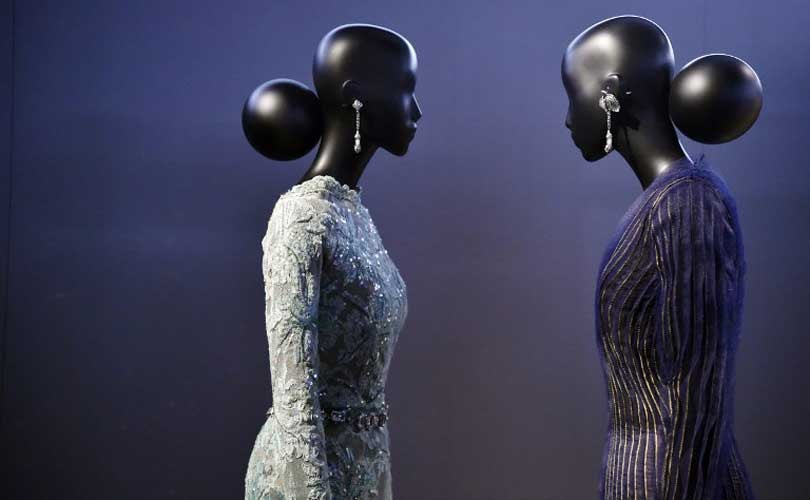 A huge show about the fabled French fashion house Christian Dior which opens Wednesday has had a galaxy of stars making the pilgrimage to Paris.
With Hollywood actresses Jennifer Lawrence, Kirsten Dunst and Kristen Stewart already in town for the label's haute couture show, Stewart's "Twilight" co-star Robert Pattinson queued with models Bella Hadid, Karlie Kloss and Cara Delevingne to get a sneak peak of the retrospective at the city's decorative arts museum.
While Dior -- celebrating its 70th anniversary -- has become synonymous with classy highly feminine glamour, fashion was not its founder's first love. Christian Dior came to clothes through art after setting up a Paris gallery to "champion the most avant garde of artists", said the exhibition's curator Olivier Gabet.
"It was he who gave Salvador Dali and Alberto Giacometti their first shows" in the French capital, he added. And it was his friendships with artists Jean Cocteau, Max Jacob and Pablo Picasso that helped sustain him through a difficult decade after his gallery closed in the Depression.
Dior, a talented artist, began designing theatre costumes and from there took his first steps into couture.
Superstitious
Hugely superstitious, he only made the final leap after a tarot reader told him he would head his own fashion house. Two years later in 1947 his "New Look" revolutionised fashion, throwing wartime austerity out the window, trailblazing a new femininity.
Tarot and astrological motifs would later become one of Dior's trademarks. Historian Florence Muller, who co-curated the show, said the "New Look" became "emblematic", with the show tracing how the six designers who came after Dior subtly adapted it -- and how rival houses still "reference" it to this day.
The spectacular exhibition -- which includes more than 300 haute couture gowns and dresses -- documents how Dior became the go-to brand for stars from Lauren Bacall to Marilyn Monroe, Elizabeth Taylor and Sophia Loren. It also reveals that Dior named his famous Bar suit after the bar of the Plaza Athenee hotel next to his headquarters on Avenue Montaigne between the Champs Elysee and the River Seine.
Ever the artist, Dior spent much of his time in the country drawing, leaving the nitty gritty to Marguerite Carre, who headed his studio. "I think of my work as ephemeral architecture dedicated to the beauty of the female body," he said.
It was, however, to prove far from ephemeral. When Dior died suddenly at the age of 52 from a heart attack in 1957 his mantle fell on his timid young assistant Yves Saint Laurent, who was only 21 at the time.
Yet in his very first collection Saint Laurent invented the "trapeze dress" which became a runaway success, and he was quickly dubbed the "little prince of fashion". However, the leather jackets of his "beatnik" show were just too much for some of the brand's conservative clientele and he was bundled out the door in 1960.
'Forgotten man'
He was replaced by Marc Bohan, who despite running the house for a record 29 years, became the "forgotten man" of Dior, according to Muller. "The extravagance of his successors Gianfranco Ferre and John Galliano overshadowed a lot of what he did," said Muller even though his "Slim Look" exemplified by models such as Twiggy was highly successful.
Ferre brought an exuberance back to the label in the 1980s with flowers, feathers and rich embroidery while Gibraltar-born Galliano -- then fashion's punk rebel -- brought a strong dose of British eccentricity and theatricality, she added.
"Even so Galliano had a strong connection linking him with Dior in his vision of strong femininity, with tight waists and ample hips," she told AFP. The Belgian Raf Simons stepped up to the mark in 2012 after Galliano was sacked following a drunken rant in a Paris cafe.
Muller said the show demonstrates that Simons' work was less minimalist than his reputation might suggest. "You can get the impression it's quite simple but close up you can see the complexity," she said citing organza cut by laser and a dress make entirely of tiny feathers.
The exhibition ends with the Italian Maria Grazia Chiuri, Dior's first female artistic director who took the reins last year. "This exhibition is not just about Dior. It is about women in every era which is fascinating for me," she said. "Christian Dior, Maker of Dreams" runs until January 7. (AFP)
Georgie Lillington

|
IN PICTURE
In the midst of Paris Couture week, the Musée Les Arts Décoratifs will open the doors to their largest retrospective dedicated to fashion, marking the 70th anniversary of the House of Dior.
'Christian Dior, Dream Couturier' is spread over 32,000 square feet and was designed by interior architect, Nathalie Crinière. Featuring 300 haute couture gowns, along with documents such as photographs, sketches, illustrations, letters and advertising - the exhibition follows the Haute Couture house from opening in 1947 to Maria Grazia Chiuri's artistic direction in 2017. The exhibition was inaugurated by the French fashion house at the end of Chiuri's autumn/winter 17/18 Paris show yesterday afternoon and will be opened for the public on Wednesday.
The exhibition explores how the six artistic directors that succeeded Christian Dior have continued to shape the couture house - with six galleries in succession dedicated to Yves Saint Laurent, Marc Bohan, Gianfranco Ferre, John Galliano, Raf Simons and today Maria Grazia Chiuri.
Oliver Gabet, Director at Les Arts Décoratifs curated the exhibition with Florence Müller, who worked on 'Espirit Dior' in Beijing, 2012. Gabet told WWD that "the idea was to show that the universe of the Christian Dior house is extremely sophisticated and cultivated, drawing inspiration from many different sources".
The extensive exhibition borrows many unseen artefacts from the Dior Héritage archive as well as from museums and galleries including The Costume Institute at the Metropolitan Museum of Art in New York, London's Victoria and Albert Museum and the Fondation Pierre Bergé-Yves Saint Laurent.
"One of the purposes of this exhibition is for people to really understand the level of detail that goes into these haute couture creations, because they go by too fast in a catwalk show, which very few people attend, and it doesn't come across in photographs," Müller noted.
The exhibition begins with a classic gown from 1947 - representing Dior's 'New Look' - the silhouette that created the post-war ideal of an hourglass figure. Continuing through the six successors designs, with stand out pieces including Galliano's full-length python dress with accompanying Egyptian death mask.
The retrospective comes to end with Maria Grazia Chiuri's defining pieces. Which she added to in her haute couture show on Monday in the garden of Paris's Hôtel des Invalides - paying homage to female explorers such as the aviator Amy Johnson with a one piece shearling flying suit.
Photos: Alain Jocard, AFP
Sara Ehlers

|
Calvin Klein's chief creative officer Raf Simons just released a passion project. Collaborating with musicians The XX, Simons also worked with filmmaker Alasdair McLellan on the creative concept for the video.
As Simons is known for his creativity, he has helped lead the Calvin Klein brand. His motivation for working with The XX came from his admiration of the band's work with past music videos such as "On Hold" and "Say Something Loving." In order to create the third piece of the trilogy, Simons worked to add atmospheric elements and also incorporating a cast of Calvin Klein collaborators.
With his work on sophisticated silhouettes, Simons heads towards the music industry for this collaboration. "For Simons, L.A. is a place of high art, everyday unreality, as well as the stage set for all of our favorite high school melodramas," according to the Calvin Klein website. The "I Dare You" music video Simons collaborated on was filmed in Los Angeles and is currently featured in the men's Spring 2017 Calvin Klein Underwaer advertising campaign. The video debuted today on June 29 and is available now on Youtube.
AFP

|
Leggy dancers in tight shorts, bottles of Moet champagne and flashy cars feature in Nigerian pop icon Wizkid's bling-bling music videos. But the singer himself has now swapped the Versace T-shirts and low-slung jeans that show his underwear for traditional African dress -- a new youth trend in fashion hub Lagos.
Last year, Vogue voted Wizkid "Nigeria's best-dressed pop singer", a particularly coveted and prestigious title in a country where appearance is all important and competition is fierce.
Clothing that used to be considered only for the old or for people out in the provinces is setting the trend in fashion, from the Yoruba agbada, a large, triple-layered robe worn in the southwest, to the Igbo "Niger Delta" embroidered collarless shirt from the south, and the northern Hausa babariga, a long tunic worn with an embroidered asymmetrical hat.
In recent years, this traditional clothing -- or "trad" as it's dubbed -- can be seen in offices as well as nightclubs, and at weddings and business meetings. "It's the in-thing now," Wizkid told Vogue magazine. "When I'm back home, all I wear is African fabrics. I get material from different parts of Nigeria -- north, west, south -- and I mix it up," said the 26-year-old superstar.
Lack of space in Lagos, a sprawling megacity of 20 million inhabitants, has meant there are few shopping centres and ready-to-wear clothing stores are hard to find. Economic recession and the free fall of the naira currency has put paid to wealthy Nigerians' shopping sprees in Dubai, Paris and Milan. Instead, they've had to make do with what's on offer locally, sending the popularity of roadside tailors soaring.
'Trad is swag'
In 2012, Omobolaji Ademosu, known as B.J., left his job in a bank to set up his own line of men's clothing, Pro7ven. In two tiny workshops in Ojodu, on the outskirts of Lagos, his dozen employees cut, sew and iron a series of orders to the sound of a diesel generator.
B.J. calls his style "African contemporary". His work includes magnificent made-to-measure agbadas with embroidered collars, which can sell for up to 150,000 naira ($475, 420 euros) each. "Trad is swag," smiled B.J.
"Any day, I can switch from Yoruba to Igbo to Fulani, I'm rocking it! It's the Lagos spirit, there is no barrier, we are one." When attending professional meetings in business and politics, dressing in the ethnic outfit of your host is a sign of respect that can really pay off -- or at least win big contracts.
Nigerian President Muhammadu Buhari's election campaign in 2015, for example, featured him in a variety of traditional outfits from across the country. With more than 500 ethnic groups, Nigeria is able to draw from a huge catalogue of fabrics, styles and jewellery. The beauty of each ethnic look is a source of pride, which has begun to extend beyond Nigeria's borders.
In early May, Mbuyiseni Ndlozi, a spokesman for South Africa's Economic Freedom Fighters party, posted a picture of himself on Instagram, dressed in a dark "Niger Delta" outfit, complete with wide-brimmed hat and gemstone necklace. His numerous and enthusiastic female fans were quick to comment with emoji hearts, affectionately calling him "Igwe" -- an Igbo prince.
Retained 'African pride'
"Even in Paris, young people from the diaspora want to present themselves as African princes now," said Nelly Wandji, owner of MoonLook, an African fashion boutique in the upmarket Rue du Faubourg St-Honore.
"Nigeria is clearly the leader in fashion in terms of style, creativity and number of recognised designers," she said on a recent visit to Lagos. "Lagos Fashion Week has dethroned Johannesburg. Nigerians have remained much more authentic, they have retained 'African pride', whereas South Africa is very Europeanised."
Wandji, who is French of Cameroonian heritage, said the fashion trend was due to the African diaspora, of which Nigerians were the main ambassadors by sheer weight of numbers.
"Young people from the diaspora are the drivers of African fashion, they have reappropriated their culture and made it trendy because it's seen in Europe or the United States," she said.
Gloria Odiaka, a petite woman in her 50s, is the successful owner of a luxury traditional fabric shop in Lekki, a well-heeled Lagos neighbourhood. "The young generation are into native wear and they look gorgeous," she said.
"My sons study in Canada and when I go visit them they say, 'Please, Mommy, buy us some trads, I'm done with Canadian T-shirts'," she said with a laugh. (AFP)
Photo Credit: Pius Utomi Ekpei / AFP
Danielle Wightman-Stone

|
The Zac Posen documentary, House of Z, which made its world premiere in April at Tribeca, has been acquired by Conde Nast Entertainment and will be distributed to rent on Vogue.com.
Directed by Sandy Chronopoulos, the fashion feature-length film chronicles the fashion career of Zac Posen, starting from his meteoric rise at the age of 21 to the glamour behind one of New York's most distinguished brands.
According to the Hollywood Reporter, Conde Nast Entertainment will distribute House of Z exclusively for rent on Vogue.com in September to coincide with New York Fashion Week.
"We see [Vogue.com] as the perfect fit for our audience while also giving us a chance to attract new viewers," Dawn Ostroff, president of Condé Nast Entertainment told the Hollywood Reporter. "House of Z is a wonderful film and being able to exclusively provide it to our audience is a great opportunity for Condé Nast and we are very pleased to be working with Zac, Sandy and the iDeal team."
The documentary showcases the ups and downs of his fashion label through archival material and interviews with Posen's past and present team, as well as critics, journalists, fashion insiders and celebrities, such as André Leon Talley, Paz de la Huerta, Naomi Campbell, Claire Danes, and Sean "Diddy" Combs.
Danielle Wightman-Stone

|
Christie's in London will auction off pieces from Audrey Hepburn's "extensive personal wardrobe" including fashion that exemplifies her signature look include a Burberry trench coat, ballet flats, and a dress designed by Hubert de Givenchy.
The collection currently under ownership of the Hepburn family will go on auction at Christie's in London on September 27, alongside an online sale which will be open for bidding from September 19 until October 3.
"We are thrilled to have been entrusted with the sale of items from Audrey Hepburn's personal collection," said Adrian Hume-Sayer, director, private collections at Christie's. "Her name is one that instantly resonates; her appeal and relevance remain as strong today as they ever were."
Hume-Sayer added: "The sales will offer fans and collectors alike the opportunity to acquire unique personal objects which have never before been seen on the market and which will undoubtedly offer new insights into the remarkable life of a remarkable woman."
The highlighted fashion piece to be featured in the auction is a blue satin Givenchy cocktail dress worn by the actress and fashion icon, which was featured in a photo shoot photographed by William Klein for a fashion editorial promoting Two for the Road in 1966. The dress has a starting estimate of between 10,000-15,000 pounds.
Audrey Hepburn fashion including a Givenchy dress to be auctioned
In December 2006 a black satin evening gown, designed by Hubert de Givenchy for Hepburn as Holly Golightly in Breakfast at Tiffany's, was sold at Christie's South Kensington for 456,200 pounds. The dress, which had a pre-sale estimate of 50,000-70,000 pounds, set a new world record for an item associated with the star.
Other pieces in the auction includes photography from the actress' personal archive including portraits by Bud Fraker, who was a stills photographer for Breakfast at Tiffany's, and wardrobe photographs for My Fair Lady together with personal portraits by Cecil Beaton, and dedicated prints of Hepburn for Vanity Fair by fashion photographer Steven Meisel.
The auction also features film memorabilia including Hepburn's working scripts from Breakfast at Tiffany's and Charade.
Estimates for the auction starts at 100 pounds and range up to 80,000 pounds. The collection will also be on view to the public in an exhibition at Christie's King Street, London from September 23.
Image: courtesy of Christie's - Bud Fraker (1916-2002), Audrey Hepburn, circa 1957
Sara Ehlers

|
Los Angeles - Over the weekend, the Los Angeles Design Festival launched in downtown Los Angeles to bring together both creatives and designers in one space. The festival celebrates and honors talent through offering a schedule of events for four days including on-site tours, creative jams, showroom previews and more.
From June 8-11, the festival included events such as A+R's new showroom preview, de LaB Making LA Together, New California Craft, Clever LA's pop-up, Atmosphere's pop-up, Unique LA's Watercolor Workshop and more. The events allowed for locals to sign up for all of these events either through tickets or free entry to experience a behind-the-scenes action of design elements of L.A.'s brands.
"And that's a wrap on the 7th Annual #ladesignfestival 2017.✨ This has been our favorite year yet (lucky number 7) all thanks to YOU, our creative, design-loving community! Thanks for joining us for a weekend full of design events, pop-ups, shows, talks, tours, workshops, and so much more. We [love] you, Los Angeles!" the event's official Facebook page stated. As an annual event, the LA Design Festival can be expected to return once again next summer.
Photos: LA Design Festival / Instagram
Don-Alvin Adegeest

|
A new documentary has exposed the harsh reality and often cruel suffering of factory workers who make the garments of some of the world's best-known high street brands.
The film, called Machines, highlights the life of Jain, a factory worker in India. In the first 13 minutes of the film, there is no dialogue, with the camera captures the contrast between the giant machines, which guzzle up fabrics like robots, and then the workers who are no less mechanical in their working as they mix dyes, stoke furnaces and handle the fabrics.
Days are filled with dehumanising physical labour and hardship
Director Rahul Jain takes the viewers into the reality of the factory worker's world, capturing the exhaustive monotony of their tasks. The film examines the dehumanizing physical labor and hardship in the factory, exposes the pre-industrial working conditions and the huge divide between first world and developing countries. Though "Machines" only portrays one of these factories, it also represents the thousands of laborers as well.
When there is dialogue, we hear from the workers themselves – and at one point from their fat-cat boss, who matter-of-factly tells the camera that he shouldn't pay them so well as they're much more dedicated to the business when their bellies are empty. By "so well" he means three US dollars per 12-hour shift and most of the workers take just one hour's break between shifts, such are the financial pressures of providing for their families, states Dazed & Confused. The men discuss the need for unionisation and strike action, as well as the dead-end any attempt at this inevitably leads to – "the bosses just ask who the leader is, and then kills them," the viewer is told.
Delhi-born, U.S.-educated director Rahul Jain captured the footage in Gujarat, India's westernmost state. According to Variety, the results are surprising; while the visuals are hypnotic and frequently beautiful, the stories jar with our concepts of poverty in the modern age, as it is revealed that many of these workers are already in debt, having taken out travel loans to work 12-hour shifts and earn wages of just 7,000 rupees (approximately 100 Us dollars) per month.
Photo credit: Film still from Machines