AFP

|
Dismissed as "fiction" by the Versace family and met with mixed reviews, a controversial new drama depicting the 1997 murder of Gianni Versace makes its US television debut Wednesday.
"The Assassination of Gianni Versace: American Crime Story" is the second edition of a crime story franchise whose first iteration won rave reviews and a bevy of awards for revisiting the 1995 O.J. Simpson murder trial.
The latest nine-episode series begins airing on television network FX late Wednesday, before being released on demand in Europe later this week. Like "The People vs. O.J. Simpson," which won two Golden Globes and nine Emmy Awards, "The Assassination of Gianni Versace" is a 1990s celebrity crime story, uniting fame and wealth with the darker underbelly of human nature.
Like "The People," which spun a larger narrative of racial tension between black and white Americans, "The Assassination" paints a wider portrait of gay life in America in the 1990s, prejudice, hostility and bigotry.
Versace is played by Venezuelan heartthrob Edgar Ramirez, Oscar-winner Penelope Cruz is Donatella -- the hard-headed sister who took over the label after her brother's death -- and singer Ricky Martin is Versace's long-term boyfriend, Antonio D'Amico.
But publicity in the run-up to its release has been dominated by the Versace family, who released an angry statement from their global fashion emporium in Milan on January 10.
They slammed the series as a "work of fiction," saying they had "neither authorized nor had any involvement whatsoever in the forthcoming TV series" and reacted with particular fury to claims that Versace was HIV-positive. "After so many years we still lack respect for the dead, we want to create a scandal around someone who can no longer defend themselves," said Donatella.
D'Amico, who found Versace on the steps of his beachfront Miami mansion just moments after the July 15, 1997 killing, has complained that images he had seen online of his reaction in the series are incorrect.
"The picture of Ricky Martin holding the body in his arms is ridiculous," he told the Observer newspaper last July. "Maybe it's the director's poetic license, but that is not how I reacted."
'Love and respect'
"Its responsibility may be to just be true enough. But there's something tragic and unfair about becoming a spectacle in death, especially in a spectacle that's more about a murderer than any of his victims," griped a New York Times review.
The series is based on the book "Vulgar Favors: Andrew Cunanan, Gianni Versace and the Largest Failed Manhunt in US History," by Maureen Orth, which was published two years after the killing and retraces Cunanan's three-month murder spree.
As such, the drama is centered less on the Italian fashion genius and more on spree killer, social climber and compulsive liar Andrew Cunanan, who murdered four other gay men before killing Versace. His motives remain shrouded in mystery.
Murdering men from San Diego to Miami, Cunanan was on America's list of top 10 most wanted criminals for more than a month before the Versace murder. Cunanan -- portrayed by actor Darren Criss -- comes across as an enigma, at times brilliant and charming but also narcissistic and violent. He committed suicide, aged 27, a few days after assassinating 50-year-old Versace.
The 1990s were a time when living openly as a gay man was still met with prejudice and bigotry in the United States, 18 years before the US Supreme Court ruled that same-sex marriage is a legal right.
Orth suggests in her book that the lackluster investigation into Cunanan's murders stemmed at least in part from the fact that the victims were gay. At least some filming took place in Versace's Miami home, which is today a boutique hotel where rooms can cost in excess of 1,000 dollars a night.
Cruz, whose performance has excited critics -- and who has worn Versace on the red carpet -- said she won Donatella's tacit blessing before accepting the role. "If somebody was going to do it, she was really happy that it was me, because I think she knows what I feel for her," she told US chat show host Ellen DeGeneres.
"They're the most generous, kind people. It's important for me that when she sees what I've done, she can feel the love and respect that I have put there," she said. (AFP)
Photo: FX Promotional poster The Assassination of Gianni Versace: American Crime Story
Vivian Hendriksz

|
London - A new exhibition exploring the innovative designs and use of print by London-based designer Mary Katrantzou has opened in the Dallas Contemporary. Entitled Mary, Queen of Prints the solo exhibition marks the first time the designer's previous collections are displayed under one roof and coincides with the 10 year anniversary of Katrantzou's namesake brand.
The exhibition, curated by Museum Director Peter Doroshenko and Director of Exhibitions Justine Ludwig, consists of 200 designs from Katrantzou, as well as accessories, textiles, and sketches from the designer. The items on display showcase Katrantzou's numerous sources of inspiration, ranging from the pages of Architectural Digest to Fantasia. The garments shown also offer visitors a closer look at the designer's inventive tailoring and techniques, while celebrating her unique take on fashion.
Dallas Contemporary hosts debut solo exhibition on Mary Katrantzou
"Print can be as definitive as a cut or a drape and allows a woman to filter beauty found in design, in a subversive way," said Mart Katrantzou on her work. "All my prints are constructed through digital technology. Digital print allows me to experiment with print in a way that fine art and other methods could not. It opens up a huge spectrum for possibility; I can create possibility out of impossibility, surrealism out of realism and both vice versa."
The solo exhibition is organised through colour groupings instead of chronologically, as the designer's use of colour has remained central to her aesthetic since the launch of her brand. Together, the garments shown in Mary, Queen of Prints create a prismatic field of colour within the Dallas Contemporary space. The exhibition runs from January 14 to March 4, 2018.
Born in Athens, Greece, Katrantzou studied architecture at Rhode Island School of Design and graduated with a BA in Textile design and an MA in Fashion from Central Saint Martins. Her famous graduation show in 2008, which featured trompe l'oeil prints of oversized jewellery on jersey-bonded dresses, took the industry by storm. Following her graduation show, Katrantzou established her namesake brand, which was immediately secured by a number of stockists such as Browns, Colette and Joyce.
She now boasts more than 100 premium stockists, ranging from Selfridges, Matchesfashion.com, Saks and Harrods.
Photos: Courtesy of Dallas Contemporary
Vivian Hendriksz

|
The Kunsthal museum in Rotterdam, the Netherlands, is set to open a new fashion exhibition this summer in honor of the 25th anniversary of Dutch designer duo Viktor Horsting and Rolf Snoeren, also known as Viktor & Rolf. Entitled 'Viktor & Rolf: Fashion Artists 25 Years' the new exhibition, put together by the Amsterdam-based designers themselves and Canadian curator Thierry-Maxime Loriot, aims to explore the different areas of inspiration in the designers' world.
The exhibition will present the luxury fashion house's radical conception of 'wearable art' while looking at the numerous areas that make their designs unique in the contemporary fashion world. "With exquisite craftsmanship and dreamy silhouettes, sometimes made from tinkling bells or red carpet, the fashion artists Viktor & Rolf – a real Dutch national treasure – have been creating wearable art for the past twenty-five years in the most unique and singular style," said Thierry-Maxime Loriot, curator of the exhibition.
Set to run from May 27 to September 30, 2018, the exhibition will display a number of the most spectacular and avant-garde creations from the designers haute couture work. Over 45 pieces from the designers' collections, ranging from stage costumes created for ballet and opera to designs from Viktor & Rolf's archive and international museum collections will be shown.
"After the success of our retrospective exhibition in Melbourne, we are proud that it will now be traveling to the Kunsthal Rotterdam," said Viktor Horsting and Rolf Snoeren in a joint statement. "Apart from showing our work on the catwalk, we also enjoy presenting it as an exhibition. In this way, everyone can see it, not just that handful of people attending the shows in Paris."
In addition, the 'Viktor & Rolf: Fashion Artists 25 Years' exhibition will include a selection of Viktor & Rolf's work-in-progress "Dolls": replicas of antique dolls dressed in the designers' most iconic looks as well as special pieces from their newest collections 'Boulevard of Broken Dreams' and 'Action Dolls', which have never been displayed before.
"The Kunsthal and Viktor & Rolf are exactly the same age. It is therefore not surprising that the two coinciding 25th anniversaries have led to this unique collaboration that perfectly matches our programming," said Emily Ansenk, Director Kunsthal. "This retrospective of the first 25 years of Viktor&Rolf stems from a great admiration for their experimental designs that are continuously exploring the boundaries between art and fashion. It offers us an extraordinary opportunity to experience the unconventional creativity of this innovative fashion duo."
The 'Viktor & Rolf: Fashion Artists 25 Years' exhibition is based on the National Gallery of Victoria, Melbourne exhibition.
Photo credit: Viktor& Rolf by Inez & Vinoodh, 2015 ​
Jackie Mallon

|
Downton Abbey, The Exhibition, has extended its limited engagement until April 2018 due to popular demand. The extensive exhibit honoring the hugely successful PBS Masterpiece show that ended its 6-season run last year, transports you right into the post-Edwardian heart of the house, escorting you through the servants' quarters "belowstairs," to Cook's busy kitchen, and Carson's neat pantry, up to the Grantham's dining room and into Lady Mary's bedroom.
Throughout the journey, along with memorabilia, objects, furniture and music, costumes which were an integral component of the show's success are prominently displayed. The show culminates in an upper floor entirely devoted to clothing and accessories worn by the show's most beloved male and female characters at key points in their story: from Lady Mary and Lady Edith's wedding dresses, to Anna's lady's maid uniform to Rose's royal presentation dress.
The exhibition is located at 218 West 57th Street with more US locations to be added at a later date.
Photos author's own.
Jackie Mallon

|
Sunday marked the launch of the second season of Victoria on PBS; many of us have just finished binge watching series 2 of The Crown; and Downton Abbey; The Exhibition in New York City has just extended its run until April due to popular demand. It's no coincidence that the exhibit devotes an entire floor to the costumes from the successful show's 6 seasons, including unlucky-in-love Lady Edith's wedding gown in which she barely got as far as the altar before her groom legged it, Lady Mary's hunting plaids and riding boots, and suffragette Lady Sibyl's daring Paul Poiret-inspired harem pants.
History's red carpet
Oscar season's red carpet is about to be unfurled but our demand for seed beads and pearls, silk shoes and cloches, floral brooches and tiaras flourishes year round. The Crown's budget, widely reported as the highest ever for a television series, must have seen a large chunk dedicated to the estimated 20,000 costumes. The character and their clothes become one, and plot points are punctuated by fabric, color, print and silhouette. Queen Elizabeth is steady and conservative, therefore wears cardigans and pleats; Princess Margaret is risqué and disenchanted, so wears lamé cocktail dresses and peg-legged pants.
A who's who of past designers
Although fictional, these big-budget dramatic productions provide worthy glimpses into the styles of the era while entertaining us with their soap opera twists. It's almost as if we are in exclusive attendance at a fashion show from the glamorous past, but we are watching from our couch clutching our mug of tea. Hardy Amies was the official dressmaker of Queen Elizabeth for many decades; Schiaparelli dressed Wallis Simpson and Princess Margaret wore Christian Dior. The essence of these designers' work is visible in the choices made by The Crown's costume designers, Michele Clapton for Season 1 (who also has won awards for her costumes on Game of Thrones) and Jane Petrie for Season 2. Although a majority of the costumes are custom-made, original pieces were also sourced from costume companies, vintage suppliers and Ebay. The Queen's coronation dress, originally made by Norman Hartnell, had been recreated independently by Swarovski for an exhibition and they agreed to loan it. However the Queen's pearl-encrusted ivory silk wedding dress, also by Hartnell, had to be meticulously remade from scratch at a reported cost of 30,000 dollars to render such an iconic, widely-recognized piece authentic-looking.
Bringing couture processes to costume
Michele Clapton told Bazaar, "For the train, there were six people working across six or seven weeks just embroidering and making the train. We had another girl who just embroidered the bodice, which took three weeks. Then we had another team embroidering the dress." The costume designer pored over her collection of old Vogues, photographs, vintage patterns, and film footage to ensure every detail was perfect, including obsessively researching underwear so that the shape of the women she was responsible for depicting was accurate for the time.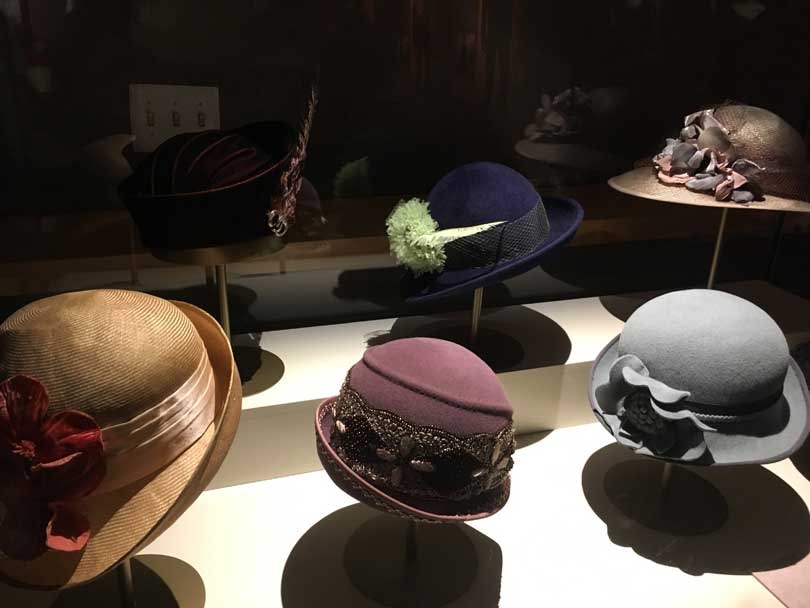 Pioneers and heroines
These shows pluck us out of our messy, disappointing society, divided on its politics but united in its love of denim, and drop us into one which is equally fraught with social injustices but better dressed. And more importantly one in which politics is forbidden conversation at the dinner table. The heightened aesthetics of the era make for rosy visions and ratings bonanzas, but the female-heavy cast also happens to reflect our #Metoo climate and appeal to our urgent need for heroines. At any given time in history women were more oppressed and silenced than they are today so there is perhaps something uplifting about watching our historical sisters smash Victorian glass ceilings or break from their Edwardian chains, or even take the throne at age 25. Watching the elderly Dowager Countess befuddled over swivel chairs, weekends, and electricity while the younger generation cast off their corsets and bob their hair to take up running newspapers and managing estates, reminds us of our powers of adaptability. Deliciously out of reach, these characters quickly grow on us until they become relatable and inspiring.
Stay tuned
Since Scarlet O'Hara's appearance in the highest grossing costume drama of all time, Gone With The Wind almost 80 years ago, our desire for the genre cannot be sated. 2018 will deliver screen adaptations of Ophelia, Colette, Mary Shelley, Mary Queen of Scots, Queen Charlotte, and the return of Mary Poppins. Rumors of a Downton Abbey movie are still rife, and this year we will also get to revisit Howards End and Little Women on television, and Wuthering Heights on the big screen. And according to the trend, the costumes look set to overshadow the stars.
By contributing guest editor Jackie Mallon, who is on the teaching faculty of several NYC fashion programmes and is the author of Silk for the Feed Dogs, a novel set in the international fashion industry.
All photos from Downton Abbey; The Exhibition, author's own.
AFP

|
The Versace family on Wednesday slammed a new television series on the murder of fashion giant Gianni Versace, saying it was based on nothing more than "work of fiction".
The show, filmed largely at Versace's Miami waterfront mansion where the stylist to the stars was gunned down in July 1997, is set to be released next week in the United States and Europe. "The Versace family has neither authorized nor had any involvement whatsoever in the forthcoming TV series... which should only be considered as a work of fiction", it said in a statement. "The company producing the series claims it is relying on a book by Maureen Orth, but the Orth book itself is full of gossip and speculation," it said in reference to "The Assassination of Gianni Versace: American Crime Story".
"She has no basis to make claims about the intimate personal life of Gianni Versace or other family members. Instead, in her effort to create a sensational story, she presents second-hand hearsay that is full of contradictions," it said. The family challenges in particular Orth's claim that Versace was HIV-positive. "Not because it would be something shameful, given that Gianni was one of the first to deal with this problem, to organize charity events and to make personal donations" to this cause, his sister Donatella told Italy's La Repubblica daily.
But because "in making her lurid claims, she ignores contrary information provided by members of Versace's family, who lived and worked closely with him and were in the best position to know the facts of his life," the family said. Donatella, who took over the brand on her brother's death, said she was "amazed that after so many years we still lack respect for the dead, we want to create a scandal around someone who can no longer defend themselves".
The series stars Venezuelan heartthrob Edgar Ramirez as Versace, as well as Penelope Cruz and singer Ricky Martin. Versace's international fashion empire included clothes, fragrances and home furnishings. He was 50 when he was killed by Andrew Cunanan, whose motives remain a mystery. Cunanan -- portrayed by actor Darren Criss -- had killed at least four other people on a bloody journey before reaching Miami Beach. He committed suicide a few days after slaying Versace.
Although most filming took place in Versace's Florida mansion, part of it is being shot at the Fox Studio in Los Angeles, where the luxurious home was recreated to the last detail, including its Greco-Roman paintings. The first season of the "American Crime Story" mini-series, which focused on fallen American football star O.J. Simpson, got rave reviews and won several awards. (AFP)
AFP

|
More than 700,000 people flocked to a record-breaking Paris exhibition dedicated to the Christian Dior French fashion house, its organisers said Monday.
The six-month-long show which ended on Sunday was the most popular ever held at the city's Museum of Decorative Arts, with visitors queuing for an average of four hours to see some of the luxury brand's most iconic designs.
"Christian Dior, couturier du reve" (roughly translated as "Christian Dior, Designer of Dreams") was organised to mark the label's 70th anniversary, and told the story of the brand through some 300 of its haute couture dresses worn by stars from Marlene Dietrich to Rihanna.
The museum's director David Cameo told AFP that the turn-out was "an absolute record", the highest for a single show in its 112-year history. It also attracted a string of Hollywood stars and top models -- who were spared the queues -- including Jennifer Lawrence, Robert Pattinson and Bella Hadid, some of whom are ambassadors for the brand.
But not everyone was happy with the show. The French magazine Marianne lambasted the venerable institution, which is next to the Louvre museum, for selling out.
Museum as 'shop window'
Writer Agnes Poirier accused the museum of becoming a "shop window for commercial brands... under the cover of art", and also criticised its earlier link-up with toymaker Mattel for another hugely popular show on the Barbie doll.
However, Cameo told AFP that the huge attendance had been a financial boon for the museum, helping it to notch up a large surplus that would "help us re-equip and pay for an overhaul of our restoration studios".
An retrospective of American fashion designer Marc Jacobs' work attracted more than 200,000 visitors to the museum in 2012, which was then a record for the publicly-funded institution.
It is hoping to follow up its success with Dior with another fashion-themed show in March, tracing the enigmatic and mysterious Belgian-born designer Martin Margiela's years at Hermes.
It will be one of two spring exhibitions in the French capital dedicated to the creator, with a retrospective of his work due to open at the Palais Galliera fashion museum also in March.
Despite breaking records, the Dior show was far from being the most popular Paris art show of 2017. That title is held by the "Icons of Modern Art" exhibition at the Louis Vuitton Foundation, which drew 1.2 million people.
It featured the cream of the staggering collection of 250 paintings put together by collector Sergei Shchukin before the Bolshevik Revolution, which had never before been seen outside Russia. (AFP)
Photos: Alain Jocard, AFP
Vivian Hendriksz

|
London - The Groninger Museum, an art museum located in the city of Groningen in the Netherlands, is set to open a new exhibition dedicated to the work of renowned US photographer and director David LaChapelle.
Entitled 'Good News for Modern Man', the exhibition opening marks the photographer's first major solo exhibition in the Netherlands. Running from April 21 to October 28, the exhibition is set to feature more than 70 pieces of work from the artist, ranging from still lines and landscapes to portraits and fashion editorials.
David LaChapelle, who made a name for himself in the industry in the 90s and early 00s by photographing celebrities in controversial light, first began his career taking photos for Andy Warhol's Interview magazine. His innovative approach to photography, which sees the artist play with light, colour and symbolism, have helped established his reputation as one of the world's most influential photographers.
'Good News for Modern Man' will also introduce photographs from LaChapelle's latest series, New World, in which he aims to photograph the unphotographable in his search for paradise.
Photo: David LaChapelle / LaChapelle Studio
Simone Preuss

|
To document, archive and represent Mumbai's textile legacy, the Indian megalopolis by the Arabian Sea, home to 20 million people, give or take a few, is all set to get its first textile museum. More than eight years after the initial proposal, the BMC (Brihanmumbai Municipal Corporation), Mumbai's governing civic body, will start with construction in February of this year.
Apart from a museum celebrating the city's mill legacy, the proposed structure includes a live, functioning mini-textile mill and a representation of the past chawl life - the city's former housing units for the working class, designed to provide cheap accommodation for the stream of migrants coming to the city since the early 1900s, many of them to work in the city's textile mills. In addition, landscaping is planned around a lake inside the compound as well as an amphitheatre and a musical fountain.
The whole complex will be spread over 16.3 acres (61,000 square metres) of land at the defunct United Mill compound in the Kalachowki neighborhood in the city's eastern suburbs, of which 14 acres will be used for construction and the rest for beautification."My note to the planning committee is to make the museum interactive for the public, accessible which is enjoyed by all the citizens of the city," said municipal commissioner Ajoy Mehta as quoted by Hindustan Times.
Part of the United Mills compound are three ring and spinning structures, a chimney, a semi-automatic loom and a pond, all of which are protected by varying heritage status levels. Restoration work on some of the structures has already begun. "All the heritage structures will be restored to its past glory. I have asked the committee to restore the mills, the water body in the compound,"added Mehta. The BMC has appointed JJ School of Arts, Mumbai's premier art institute established in 1857, to prepare a vision document for the museum and to design its architecture.
The new museum will include fashion galleries that display traditional Indian textiles as well as the life and culture of the mill worker communities over the ages and education about India's and specifically Mumbai's once thriving textile industry.
Rather than catering to a small elite, Mumbai's new textile museum is meant for everyone - the descendants of the former mill workers and the average citizen. "The JJ School of Architecture, along with Fine Arts and Applied Arts, is working to give this museum to the citizens of Mumbai. Most museums tend to be elitist and are frequented only by the rich. We want this museum to be accessible to the public at large," said Rajiv Mishra, principal of Sir JJ College of Architecture, director at the State Directorate of Art, Maharashtra and member of the Mumbai Heritage Conservation Committee (MHCC), according to the Indian Express. Mishra is currently leading a team of 15 experts from the school in planning the project.
New graduate students will get a chance to showcase their art works as the new museum will also have a dedicated exhibition space for them. "The space will be allocated to new graduates, from painters to sculptors, who will be able to rent the space for six months to one year, showcase their art and also sell it. After a year, their place will be taken by new graduates. The space will not be given to boutique stores," said Mehta. A separate exhibition area is also planned.
Given the heritage structure of the mill site, the project had to clear hurdles when getting the necessary clearances, initially facing non-approval of the plan by the MHCC and lack of funding. However, on 19th December 2017, the BMC held a pre-bid meeting for the first phase of the museum and the begin of construction is slated for February. The musical water fountain, as a technical project, is not included in the current tenders but an expression of interest will be invited during this month itself.
The first cotton mill was set up in Mumbai by The Bombay Spinning and Weaving Company in the Tardeo neighbourhood in 1856. Ten more mills followed until 1865, employing over 6,500 workers. By 1900, the city already boasted 136 mills and was soon known as the "Manchester of the East", employing hundreds of thousands of workers at its peak. However, the recession of the 1920s did not leave Mumbai's textile mills unaffected and led to stagnation. In 1925, there were only 81 active mills in the city and the number further declined after World War II, leading to permanent closure after the Great Bombay Textile Strike of 1982.
In recent years, some of the mills have been redeveloped; the most popular being Phoenix Mills in Lower Parel, which is now a shopping mall. Under conservation efforts, more are planned to be turned into museums with one successful project completed, which is United Mills in Lalbaug.
Photos: United India Mills No. 1 by Rohidas Gaonkar; abandoned Madhusudhan Mill by Kunal Ghevaria; Phoenix Mills by Rakesh Krishna Kumar; all mills located in Lower Parel, all images via Wikipedia.
Vivian Hendriksz

|
London - The fashion industry has produced its own pearls of beauty and wonder within the field of cinematography over the years. Considering the fact that the two sectors are both visually driven, it seems only natural that film in fashion go hand in hand. Whether they be in the form of a documentary, a short movie or a fashion-focused comedy (The Devil Wears Prada ring any bells?) there is something about a film celebrating the best or worst of fashion that captures viewers hearts and minds like no other. 2018 is set to become the year of the Fashion Film, which is why FashionUnited has listed its top 6 fashion movies, documentaries and series set to launch next year.
'Mc Queen'
The turbulent life and the tragic death of legendary designer Alexander McQueen remains a source of inspiration for film and documentary makers to this day. Which is why the rise and fall of the British designer, couturier and multiple winner of the British Designer of The Year Awards is set to be the focus of not one but two productions next year (and potentially a third). The first is a feature length film, directed by Andre Haigh which aims to explore the late designer's creative process in the month leading up to his 2009 retrospective show. Still untitled, the film will stat Jack O'Connell as McQueen. The second is a full-length documentary entitled "McQueen" and directed by Ian Bonhote. The documentary will focus on the life of McQueen, looking at how he "rose from Savile Tailor's apprentice to become one of the most celebrated and controversial fashion designers in the world." Lastly, a another film entitled "The Ripper" is said to be works which aims to study the relationship between the late designer and the late Isabella Blow, a leading fashion editor and patron of McQueen. An exact release date for all three productions has yet to be confirmed.
'The Assassination of Gianni Versace: American Crime Story'
The sudden murder of Gianni Versace, founder of Italian fashion house Versace, outside of his beach house in Miami in 1997 shook the entire fashion industry. The mystery and violence surrounding his tragic death has captured the attention of millions, which makes it a logical story for producers and writers to use as a source of inspiration. Following the success of the ten-part series "The People vs. O.J Simpson: American Crime Story" from FX comes the next part in the tv series "The Assassination of Gianni Versace: American Crime Story." This nine-part series aims to follow the series of events which led up to the murder of Gianni Versace as well as the aftermath, while trying to remain as close to the real life event as possible. However, as the true motive behind Andrew Cunanan reasons to murder Versace remain unknown, it is likely that American Crime Story creator Ryan Murphy is likely to take some artistic liberities when filling the blanks and creating more backstory. The series is set to star Édgar Ramírez as Gianni Versace, Ricky Martin as his partner Antonio D'Amico and Penelope Cruz as his sister and business partner Donatella Versace. The first episode of the series is set to air January 17, 2018.
'The Gospel According to André'
"I do not live for fashion. I live for beauty and style," is one of the first things André Leon Talley says in the opening of the documentary focusing on his life, inspiration, and career. Former editor-at-larger for American Vogue, his unique view on fashion and appreciation of beauty has ensured his front row seat at all the major fashion shows for the past 25 years. In the new documentary, which follows Talley's remarkable rise in the fashion industry, as well as his mission to help diversify the industy, veteran fashion insiders such as Anna Wintour, Tom Ford, Marc Jacobs and Valentino take turns discussing their relationship with Talley. The documentaty has already been screened at a number of international film festivals around the world but is set to be widely released to the public next year.
'Phantom Thread'
Unlike the previous fashion films which are based on true stories, the film 'Phantom Thread' follows the fictional story of Reynolds Woodcock, a renowned British designer living in post-war London during the 1950s. Woodstock is part of the creme-de-la-crème of the British fashion industry: his creations are eagerly anticipated and worn by the upper classes of the population, such as members of the royal family and actresses. In addition to fashion, Woodcock has a taste for beautiful women, who tend to come and go in his life. Until he meets one lady, Alma, who turns his whole world upside down when she become both his muse and his lover. Starring Daniel Day Lewis and Vicky Krieps, the film has already been nominated for 2 Golden Globes and is slated for public wide release March 1, 2018.
'Westwood: Punk, Icon, Activist'
The first feature-length documentary covering the life and career of iconic British designer and activist Vivienne Westwood is set to launch next spring. Entitled "Westwood: Punk, Icon, Activist" and shot by Lorna Tucker, the feature-length documentary aims to celebrate the designer's achievements in the fashion industry as well as her cultural influence. Also known as the 'Queen of Punk', Westwood is seen as one of the leading founders of the punk sub-culture in the UK in the 1970s. The documentary also aims to highlight the turbulent life of the British designer and her relationship with Malcolm McLaren, designer and former manager of the popular band Sex Pistols. The upcoming documentary is set to be screen at the Sundance Film Festival on January 20, 2018 under the 'World Cinema Documentary Competition' before the UK wide release on March 23, 2018.
'The Times of Bill'
'The Times of Bill' is a new feature-length documentary examining the life and career of legendary NYTimes street photographer Bill Cunningham. The new documentary aims to follow the rise of his street-style photography as well as his private life. A humble man, Cunningham carved out a name for himself in the fashion industry after cycling through New York in his instantly recognizable blue sweaters and jackets, in search of one of a kind outfits, paving the way for street-photography. The documentary includes interviews with the iconic man himself, as well as never before seen photographs and images of the late photographer, who passed away in 2016. Written and directed by Mark Bozek and narrated by actress Sarah Jessica Parker, it also includes animations by Ruben Toledo and song by supermodel Pat Cleveland, underlining the ongoing influence Cunningham has within the fashion industry. The documentary is set to launch sometime in 2018.
Photo: Courtesy of Dogwoof