The diverse styles found throughout the Muslim world are set to be highlighted in a new landmark exhibit. The Fine Arts Museums of San Francisco will host Contemporary Muslim Fashions, showcasing the way in which Muslim women have been trendsetters while also displaying current modest dress codes.
A wide range of pieces, from high-end items to less formal street attire will be featured - each representing a different region of the Muslim world.
"There are those who believe that there is no fashion at all among Muslim women, but the opposite is true, with modern, vibrant, and extraordinary fashion scenes, particularly in many Muslim-majority countries," Max Hollein, Director and CEO of the Fine Arts Museums of San Francisco said in a press release. "Contemporary Muslim Fashions is an overdue, much-needed exploration of a multifaceted topic as yet largely unexplored by museums. This exhibition stands out in our long history of outstanding fashion exhibitions and will shed light onto larger political, social, and cultural understandings and misunderstandings."
The exhibit comes at a time when the social consciousness surrounding Muslim consumers is growing.
In 2013, Forbes released a report showing Muslims spend roughly 266 billion dollars on clothing and predicted the number could rise to 484 billion dollars by 2019.
In recent years, a number of designers and brands have released garments that align with the modest dress conventions prevalent in the community.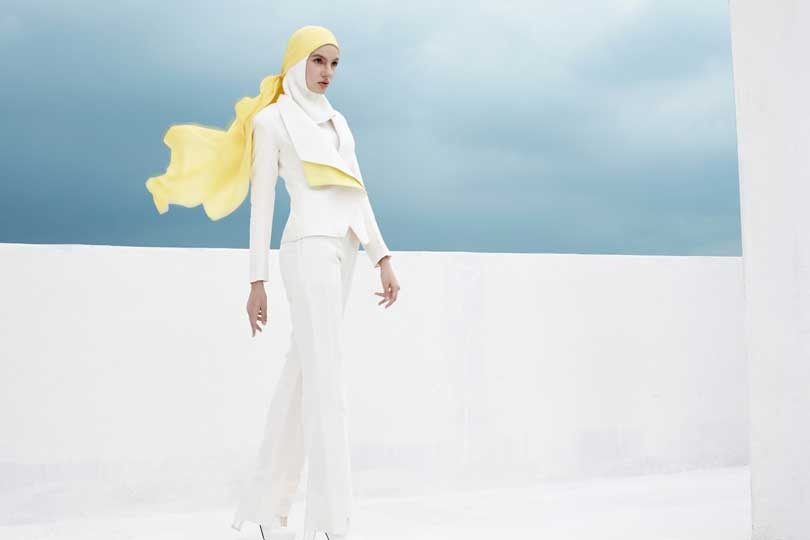 Collection Aims to Highlight Muslim Women's Impact on Style
During New York Fashion Week in September 2016, Anniesa Hasibuan made history as the first designer to use hijabs with every look presented on the runway. The following year, Nike began selling its first-ever performance hijab for Muslim female athletes. Other clothing outlets soon followed suit, with American Eagle launching a line of denim hijabs and Macy's presenting the Verona Collection, featuring modest items like ankle-length cardigans.
"Fashion is at its best when it both adapts to the needs of society and reflects its social and political undercurrents," Jill D'Alessandro, Curator in Charge of Costume and Textile Arts, said in a statement. "It is in this transformative moment where we now find modest fashion."
The main portion of the exhibit will survey dominant forms of dress in Muslim-majority countries including Dubai and Saudi Arabia while also shedding light on the way Islamic culture shapes style preferences. The section will feature creations by designers like Faiza Bouguessa, Mashael Alrajhi, and Wadha Al Hajri and explore the textile traditions in Southeast Asia furthered by Blancheur, Itang Yunasz, Dian Pelangi, and Bernard Chandran.
"The transnational reach of modest Muslim fashion is astounding", consultant curator, Professor Reina Lewis of London College of Fashion shared. "In Muslim majority countries and in diaspora minority contexts, Muslim modest fashionistas draw on a mood board of global Muslim fashion inspiration from past and present to create new forms of fusion fashion that travel the world through social media and community and family connections."
Another part of the exhibit will explore the way prominent Western fashion houses have incorporated modest pieces into their lines. For instance, collections developed by Monique Lhuillier and Oscar de la Renta expressly for Ramadan and year-round items offered by Dolce and Gabbana.
Contemporary Muslim Fashions is curated by Jill D'Alessandro, Curator in Charge of Costume and Textile Arts at the Fine Arts Museums of San Francisco, and Laura L. Camerlengo, Associate Curator of Costume and Textiles at the Fine Arts Museums of San Francisco. Reina Lewis, Professor of Cultural Studies at the London College of Fashion, University of the Arts London, serves as the consulting curator.
The exhibit will run from September 22, 2018 to January 6, 2019.
Photos: Fine Arts Museums of San Francisco