Hudson's Bay Company, which operates department store chains Lord & Taylor in the United States and Hudson Bay in Canada, has entered into a 'definitive merger agreement' to acquire luxury retailer Saks for 2.9 billion US dollars in cash, including debt.



The Canadian company confirmed in a statement on Monday that the transaction has been confirmed by each company's board of directors and is expected to close before the end of the calendar year, subject to approval by Saks shareholders, regulatory approvals and other customary closing conditions.

There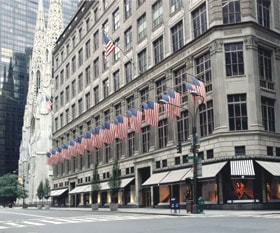 is a 40-day "go-shop" period under the terms of the agreement, which means that Saks can seek alternative bids, but the company does not anticipate getting any, as HBC is offering 16 US dollars per share, which represents an approximate 30 percent premium to the May 20, 2013 closing price, the day before media speculation began.

HBC has said that it will continue to build upon Saks' market-leading position as a luxury retailer, and that the brand famous for its iconic Fifth Avenue flagship in Manhattan, New York will continue to operate separately within HBC and have its own merchandising, marketing and store operations teams, and will keep its New York headquarters. It is also expected that Saks will continue to be led by key members of its existing management team.


Hudson's Bay to acquire luxury retailer Saks
Currently Saks operates across America, in the statement HBC said it planned to bring Saks into Canada through "full-line, outlet and online formats", building upon Canada's position as saks.com's largest international ship-to market.

Commenting on the acquisition, HBC's chairman and CEO, Richard Baker said: "This exciting portfolio of three iconic brands creates one of North America's premier fashion retailers. I've had a long connection with Saks over the years, and am thrilled to bring one of the world's most recognized luxury retailers into the HBC family.

"With the addition of Saks, HBC will offer consumers an unprecedented range of retailing categories and shopping experiences. This acquisition will increase our growth potential both in the U.S. and Canada, generate significant efficiencies of scale, add to our powerful real estate portfolio and deliver substantial value to our shareholders."

Steve Sadove, chairman and CEO of Saks, added: "We believe this transaction delivers compelling value to our shareholders and that Saks Fifth Avenue is an excellent fit within the HBC organization. We also believe that HBC recognizes the tremendous value of our people, our real estate, our customer and vendor relationships, and most importantly the power and potential of our iconic brand.

"We have made significant progress over the past few years to position Saks for future growth and to evolve into an omni-channel retailer. We are excited about what this opportunity and being part of a much larger enterprise can mean for the future of the Saks Fifth Avenue brand."

The acquisition will combine three of the retail industry's most iconic brands in North America - Hudson's Bay, Lord & Taylor and Saks Fifth Avenue, which offers "a broad consumer spectrum across the luxury, mid-tier and outlet retail sectors" and will mean that HBC will have marquee flagship stores in cities such as New York, Beverly Hills, Vancouver, Montreal and Toronto. HBC also said that it expects to save 100 million Canadian dollars in annual synergies within three years of the merger, through a combination of operational efficiencies, implementing best practices across banners and back-office consolidation.

The acquisition is expected to complete before the end of the year. Image: Saks Fifth Avenue