Kévin Germanier, UK finalist and Central Saint Martins student, has been named the winner of The EcoChic Design Award 2014/15 during the grand final, which took place during Hong Kong Fashion Week.
Ten talented emerging and student designers from nations throughout Asia and Europe were hand selected to showcase their sustainable designs during The EcoChic Design Award 2014/15 at the HKTDC Work Boutique Hong Kong on January 21, to a crowd of 500 key industry players. The sustainable, educational competition, developed and organised by NGO Redress, targets designers who uses sustainable techniques to influence 80-90 percent of the environmental and economic costs of a product.
Central Saint Martins student wins The EcoChic Design Award 2014/15
The EcoChic Design Award asks applicants to focus on three sustainable design techniques: Zero-Waste, a design technique which eliminates waste at the design stage, Up-cycling, the recycling old materials to create a new product of higher quality and Reconstruction, the remaking new garments from old.
Germanier was awarded 1st Prize for his collection and was given the chance to design the first up-cycled collection for one of China's leading luxury brands, Shanghai Tan, for their global retail sale. "Making it to the final of The EcoChic Design Award has been an exceptional experience," said the Central Saint Martins student. "Winning this prize is an unprecedented opportunity for me as an emerging designer to create a collection that represents the future of fashion design, production and consumption."
Raphael le Masne, executive Chairman at Shanghai Tang added: "We are delighted to welcome Kévin Germanier to our design team in Hong Kong to create their up-cycled collection for Shanghai Tang's global customers and in doing so providing a reflection that mirrors the sustainable innovation occurring in China's fashion industry."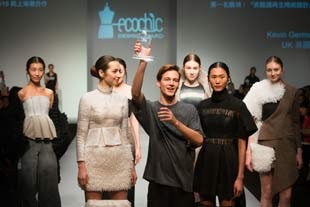 Victor Chu from Hong Kong was awarded 2nd Prize at The EcoChic Design Awards 2014/15 and will now design textile waste-reducing uniforms for Hong Kong's five star hotel, The Langham, Hong Kong's T'ang Court restaurant and Laurensia Salim from Singapore was awarded the Special Prize with John Hardy and will visit their design and production workshop in Bali, Indonesia to learn more about sustainability.
"Sustainable design can't survive without a holistic sustainable business philosophy and this award helps emerging designers to integrate sustainability in business into the heart of their careers," said Damien Dernoncourt, non-executive chairman at John Hardy. Following the grand final of the EcoChic Design Award 2014/15, a selection of the finalist' minimal waste collections is currently being featured in a touring exhibition which will travel back to the UK, and the finalist other home regions to showcase sustainable fashion.
"The fashion industry's catastrophic contribution to today's environmental crisis is continuing unabated. Change, which requires multi-stakeholder collaboration, is urgently needed. Hong Kong is a hub for Asia's fashion industry in terms of production and now, owing to Asia's economic growth, consumption. We are powerfully positioned to drive the industry into accepting that we can't carry on with business as usual," said Christina Dean, Founder and CEO, Redress.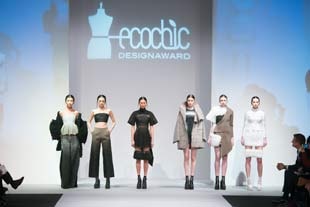 The EcoChic Design Award was developed to encourage sustainable fashion design among designers with less than three year's experience in the industry, whilst opening a dialogue concerning sourcing, retail, marketing and education to highlight the industry's need for a change. The 2015/2016 cycle of the award will open to applicants in April, 2015.