Mr Porter, the male counterpart to online fashion luxury website Net-a-Porter, has teamed up with movie director Matthew Vaughn to create a fashion label based on the costumes worn in the upcoming movie 'Kingsman: The Secret Service.' The movie, which is up for release this fall, is based on the comic

book series by Mark Millar and Dave Gibbons, features Colin Firth as seasoned secret agent recruiting Taron Egerton into the 'Kingsman' secret intelligence agency.



"It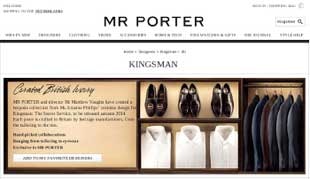 was a very organic process that began when I started writing the screenplay," said Vaughn to WWD. "To be honest, I was so sick of watching films that did not bear any resemblance to the wardrobe of a 21st-century gentleman. I wanted it to be totally modern, yet highly reflective of the elegance of the past."
Mr Porter to debut first Kingsman collection
The label's first collection was created around Arianna Phillips' costumes designs for the movie, which comprised of original Savile Row suits that has been tailored made for each of the movie's characters. Consisting of 60 pieces, items in the collection range from shoes, ties, shirts and trousers to furnishings as well as accessories such as umbrellas and a custom-made watch from Bremont.

Each piece in the collection is said to have been "crafted in Britain by heritage manufacturers, from the tailoring to the ties." After translating the movie's costumes for the general public, Vaugh approached his old friend and founder of the Net-a-Porter business, Natalie Massenet, to help produce and sale the label, which resulted in the Kingsman first collection that set to launch exclusively on Mr Porter this September.

"We wanted to do something really different and do movie merchandising in a literal way, in a costumed collection way, rather than something that has something vaguely to do with the film, or just one single jacket that appears in a random scene," added Toby Bateman, Mr Porter's buying director. Unlike other collaborations with movie companies, such as Net-a-Porter's 'Capital Couture by Trish Summerville' a collection which was inspired by 'The Hunger Games: Catching Fire,' Mr Porter and Vaughn wanted to create something more lasting.

"We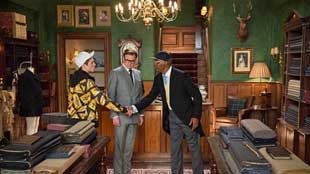 were faced with the challenge of justifying the creation of an entirely new brand of clothing in lieu of the film and constantly asking ourselves why someone would buy this rather than suits from the likes of Gucci or Canali. In the end, we were confident with the product that's every bit British with its tailoring and cloth. You can't get that anywhere else," concluded Bateman.
The Kingsman collection features a number of original Savile Row silhouettes, in traditional British fabrics, such as pinstripes, heavy checks and bird's eye cloth. The label will also offer footwear from George Cleverly, eyewear from Cutler and Gross and Mackintosh outerwear which are also featured in the movie. Prices are set to range from 1,120 dollars for a jacket or 669 pounds according to current exchange rates to 1,625 for outerwear (970 pounds) and 1,790 dollars for suiting (1069 pounds).
The label will continue to launch new collections after the movie has wrapped up, as Phillips is currently planning a spring 2015 collection for 'Kingsman.' "I'm hopeful this will resonate on a global scale - this is the first project and collection of its kind," said Phillips to THR. "A lot of time movie merchandising doesn't involve the costume designer - but this is so much more than movie merchandising."
Photos: Mr Porter preview of the Kingsman collection, Kingsman movie poster and still frame.