There sure is a bright side to the economic slowdown at least for the Asian textiles and apparels industry. For manufacturers in India, China, Korea, Taiwan, Japan et al, the slowdown has not really meant slowing down of business completely.

Indeed sales have been sluggish and demand not up to the mark at least from their traditional markets of the U.S. and Europe, but manufacturers in this region are not complaining at least not yet. In fact, most stakeholders say they continued selling and what keeps them going is newer markets within the region. Most say the situation forced them to look beyond Europe and the U.S. and within the region and yes, they have not been too disappointed.

This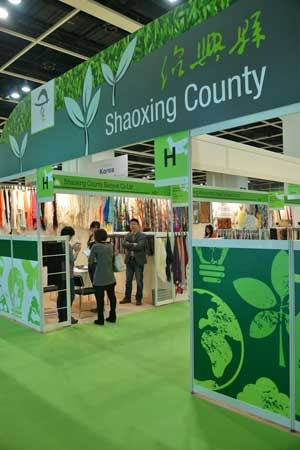 optimism was clearly visible among exhibitors at the Interstoff Asia Essential Spring 2013 meet held in Hong Kong from March 13 to 15. The fair had 229 exhibitors from 10 countries including China, Korea, Taiwan, Hong Kong, Japan, Thailand among others showcasing their latest offerings. Besides suppliers and buyers from Europe a large number of visitors were from within the Asian region. On display were innovative fabrics and new collections setting the trend for Spring 2014.

Attract buyers within the region
And even though most exhibitors rued the slowdown in business and low demand from western markets, they were happy with the kind of sales they were doing within the Asian region. As Jin Wei Liang, Deputy Director, Shaoxing County Bureau of Commerce explained, "Earlier, the U.S. accounted for nearly 20 percent of our exports, but now it has come down to one percent. The market has shifted to Southeast Asia and our focus is on newer markets here. That is why we are at this exhibition, to attract new buyers from within the region." The Shaoxing County Bureau of Commerce participated with 32 exhibitors this time, the largest ever representation at the fair. What's more the Shaoxing county is one of China's biggest textile producing state and 90 percent of its produce is exported. They are now tapping countries in Southeast Asia, ASEAN and even Brazil to tide over the slowdown. Agreed Kevin Tsang Fin Fung of Harbin Linen Mill (HK), who says "With the Chinese currency having appreciated in the past year, margins are low and prices cannot be increased too much. To tide over difficult times, we have been looking at markets in ASEAN and Southeast Asia. That has helped us also we have developed newer fabrics to fit client's requirements."

Korean organic cotton specialist fabric maker Kayjune Company was at present at the fair backed by Korea Trade Investment Promotion Agency. Their niche products are sold to manufacturers in Japan, Hong Kong, Russia among others and as SeongMoon. Kang, President of Kayjune Company explained, "Ours is a niche product and we have a lot of domestic customers. However, we are now tapping newer markets in Asia to grow our business." Similarly Shingpung Textile makers of specialized nylon, spendex fabrics for outdoor wear and supplier to brands like Columbia, Puma, John Wolfskin among others has faced a slowdown since their biggest market is in Europe. But as Hong-Cheul, Shing says "Indeed, the economic slowdown has affected business but we are developing newer customers in the region and also in Europe."

The Apparel Export Promotion Council (AEPC) has been encouraging Indian industry to increase apparel exports from India to non-traditional markets from the current 24 percent to 35 per cent within next few years. In fact, in the past one year Indian exporters entered newer destinations such as Latin America, southern and western Africa, Japan, Russia, Israel and Australia during. With government's support through focus market schemes and market linked focus product schemes and various FTAs have given Indian businesses market access especially in Japan. Newer markets brought in 10 percent business for the industry. According to AEPC data, Japanese demand seemed to help Indian garment exporters. Exports to Japan rose to 4.4 percent last year after a 2.1 percent drop the previous year. The industry is also strongly working on moving from cotton to synthetic fibre, as it will help diversify into new products like sportswear, swim suits. This is expected to help double exports in the next five years.