The creative director of fashion house Céline, Phoebe Philo and the founder of luxury e-tailer Net-a-Porter, Natalie Massenet are among the top 100 most influential people in the world, according to Time magazine's annual ranking. The two fashion leaders were each voted for separate categories of Time's
magazine list, which consists of a number of sections such as leaders, builders, titans, pioneers, artists, scientists, thinkers, entertainers, icons and heroes.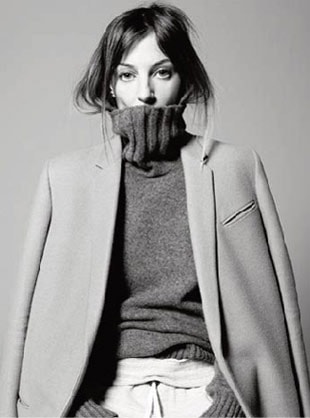 After working as Stella McCartney's first assistant at fashion house Chloé for number of years, Philo was offered a 'clean state' by holding company LVMH; the opportunity to help rebuild French label Céline as creative director. In 2010 she won the Designer of the Year Award at the British Fashion Awards and since leading the helm at Céline, revenues have grown with double-digit increases.
Phoebe Philo "champions the quality and reality of a woman's wardrobe"
"One of the few female designers, she celebrates the simple and champions the quality and reality of a woman's wardrobe. When people invest in her work, they have it for life. One of the things we share is the reality that the clothes we design are actually worn," wrote designer McCartney in her tribute to her "inseparable friend", which accompanied Philo's entry on the list.

"She is a mother too, and holds her family close; she has a protective shield that the women who wear her clothes feel. Phoebe has so much more to offer, and I think everyone is just waiting for her next move. She has been my friend for 20 years and knew my mum, which means a lot to me. She makes me proud, and I know she will always deliver on the expectations because she has it and ain't gonna lose it."

American entrepreneur Massenet first began her career working at Women's Wear Daily in Los Angeles, before she came up with the idea to launch a luxury fashion retail site whilst working as Isabella Blow assistant at the Tatler. Net-a-Porter celebrated its 10 year anniversary in June 2010 and in September 2012, Massenet was named chairman of the British Fashion Council.
Natalie Massenet "saw a world where you can buy what you covet"
"She saw a world where people would pay 2,000 dollars for a pair of jeans, a world where you can buy what you covet, where the magazine pages meet the FedEx man. You want it? You can have it," wrote Jenna Lyons, creative director at J.Crew, who was asked to write the tribute for Massenet, after appearing on the list herself last year.

"Her vision was so clear and sparkling, she managed to persuade labels such as Marc Jacobs, Chloe and Jimmy Choo to sell their lines through an unproven business model. Sound obvious? It does now. Only because she did it first. The worlds of fashion and commerce have changed dramatically in the past 10 years, in part because of a woman who likens herself to a lazy rock. I'm buying stock in rocks."

Time magazine has released its top 100 list earlier this morning and is set to honor all the winners next week Tuesday, during its annual gala in New York.

Photos: Céline creative director: Phoebe Philo, Net-a-Porter founder: Natalie Massenet