Nuriya Kabirova, final year fashion atelier student at the University for the Creative Arts (UCA) Rochester has been named the 'Rising Star' at this year's Golden Shears competition. ​"I am so pleased to have won the Rising Star award!" said Nuriya​ on her award​. "The competition standard
was so high this year and I honestly didn't think I had a chance when I saw the other entries. When they announced my name I was over the moon."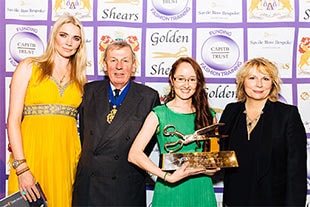 The annual Golden Shears competition is a bespoke tailoring competition which seeks out the next future talents of tailoring, where professional Savile Row tailors assess the designs of tailoring apprentices and students from all over the country.​ This year's judging panel included ​The competition's judges this year were entrepreneur Piers Linney and prominent British designer Betty Jackson.
​ Nuriya was awarded the title by coming in third place in the competition, receiving 1,000 pounds as well a silver shears trophy as her prize for her outfit, which was inspired by a Rubik's cube and consists of a coat and trousers crafted from wool from Bateman Ogden. "I chose their wool because they had a very big selection of bright colours that suited my concept," added Nuriya. "I made the garments in my second year when I was taught by Alan Norris, former Savile Row tailor who was privileged to tailor for the Queen." ​
​ "I am absolutely thrilled that Nuriya's skills in design, cutting and tailoring have been recognized through this prestigious award," noted Chip Harris, course leader at UCA for BA (Hons) Fashion Atelier. "It is well deserved and all the Fashion Atelier staff and students are delighted with her success. The Rising Star Silver award is a fitting accolade." ​
​ ​
Photo credit: ​ ©Jon Bradley