Premium New York department store Barney's has tapped fashion veteran Yasmin Sewell to create a private-label fall capsule collection, based on her own personal style. Known as 'Yasmin Sewell for Barneys New York,' Sewell is also the face of the 18 piece collection. Part of the British fashion

industry since the mid-nineties, the Australian born designer first opened her own store in London's Soho before taking on senior buyer roles for department stores such as Browns and Liberty London.


She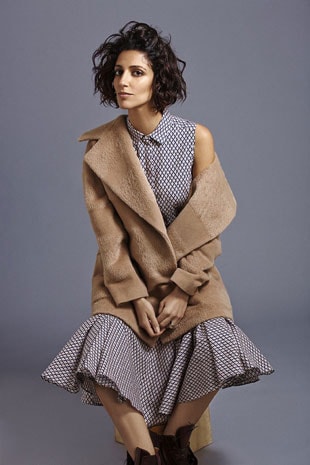 went on to become creative director of the showroom Paper Mache Tiger, which is owned by her husband Kyle Robinson, launch her own streetwear label Être Cécile, and start up her own fashion consultancy. Sewell regularly works with brands such as J.W. Anderson, Chloé and Acne and helps guide their creative vision, something that caught the department store attention.
"We were thinking of a lot of people, but I thought of Yasmin in particular because she has a very strong sense of personal style — she's mindful of trends but isn't trendy," said Tomoko Ogura, Barneys' senior fashion director. "I knew she would understand that we're a store at the end of the day and we need to sell."
Sewell launches 'Yasmin Sewell Barneys New York'
The capsule collection, which was made in Italy, offers outwear, knitwear, dresses and easy separates that reflect Sewell personal taste. "I had to think global," she said to British Vogue, when asked about the design process for the line.
"It had to be wearable enough, elegant enough, commercial enough - but also each piece had to be the kind of item you know you'll want to hang on to forever. I kept all the silhouettes pretty sophisticated, but really pushed on fabric, colour and of course quality, which wasn't an issue at Barneys. The collection is produced by one of the best makers in Italy."
Prices for the collection range from 295 dollars, or 173 pounds according to current exchange rate to 1,495 dollars (875 pounds) and is currently available online and instore at Barneys.
Image: Yasmin Sewell for Barneys New York